ChatGPT has been making a lot of noise on the internet recently, and for a good reason. The AI tool, essentially a chatbot, engages in conversation with all the knowledge and wisdom from the world wide web. Since it rose in popularity, ChatGPT has been used for generating business content, developing SEO strategies, and even assisting web developers with open-source projects. But can it do the work of an entire SEO content creation team? Is it a tool that can revolutionise the SEO industry as we know it?
This is why our team at QWERTYLABS is testing out how useful and effective this AI tool is in SEO practices. In this project, we'll create, design and audit a new website and regularly upload blogs based on a content plan made entirely by ChatGPT. We aim to see whether creating and maintaining an AI-developed site with little human interaction is possible. Will it rank on search engines? Can it outperform SEO strategies and content made by humans? Join us in our experiment, and let's find out.
QWERTYLABS' AI ChatGPT project
As ChatGPT and other AI tools become more popular, people will naturally become increasingly concerned over its risks. This is borne of worry about these tools taking over industries and fear of the threat of job loss and people using them for malicious purposes.
While these concerns are valid, AI advancements will likely continue and become even better. As such, QWERTYLABS wants to see how far these AI tools can go and how to integrate them into our current SEO strategies. Here are the goals we hope to achieve in this project:
Discover ChatGPT's benefits in website creation and management
We aim to see whether a website made using ChatGPT can compete against the highest-ranking sites on search engines like Google. This means the site's branding, design and content are created using ChatGPT with minimal human oversight.
Gain a deeper knowledge of using AI tools
The fear people feel about AI tools is largely due to their lack of understanding. With this project, we aim to develop a deeper grasp of different AI tools to know how they can be used to improve businesses and branding.
Understand the limitations of AI tools
Everything has limits; even these AI tools are still being developed and improved daily. Through our project, we want to discover these limitations and how we can address them.

The birth of sportsbookbacklinks.com
Now, let's get started. Here's how we built the website sportsbookbacklinks.com using ChatGPT:
Purchasing the domain
To kickstart the project, we bought the domain name 'sportsbookbacklinks.com'. Since QWERTYLABS is primarily a content marketing and SEO company for iGaming brands, it's a fitting website to see whether ChatGPT is the key to a winning content marketing strategy in this field.
Defining the scope of sportsbookbacklinks.com
Afterwards, we asked ChatGPT what it thinks sportsbookbacklinks.com is. As expected, the AI hit the mark in defining what the site is all about. Based on the domain's name, ChatGPT deduced it as a site that provides backlinks to sportsbooks or gambling sites.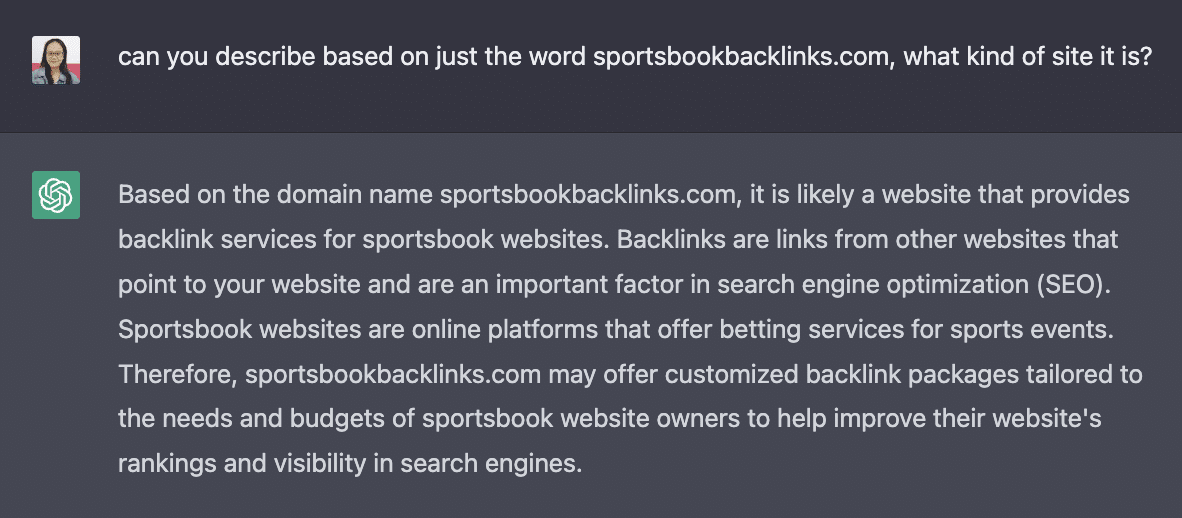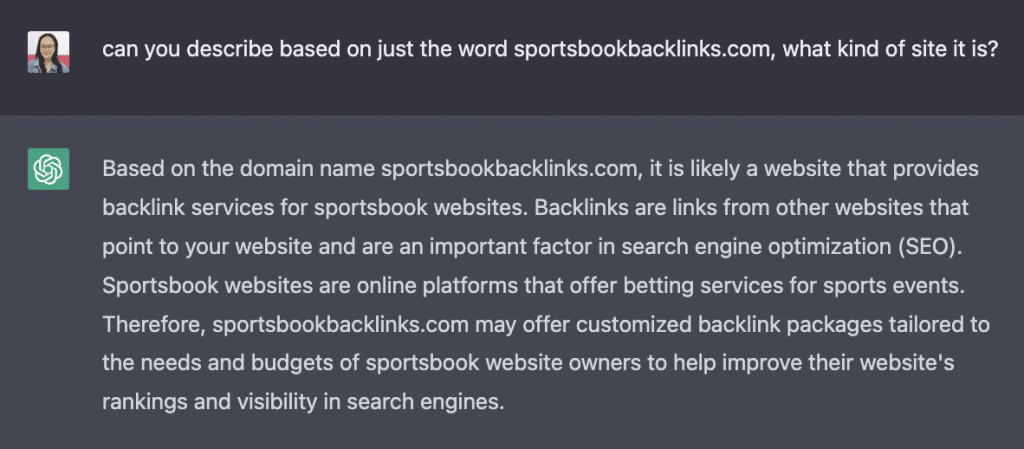 Identifying the branding of sportsbookbacklinks.com using ChatGPT
The next step is establishing the branding of sportsbookbacklinks.com. Again, we let ChatGPT give us ideas on the brand assets, like the site's logo, colour scheme, and overall design.
ChatGPT provides the design guidelines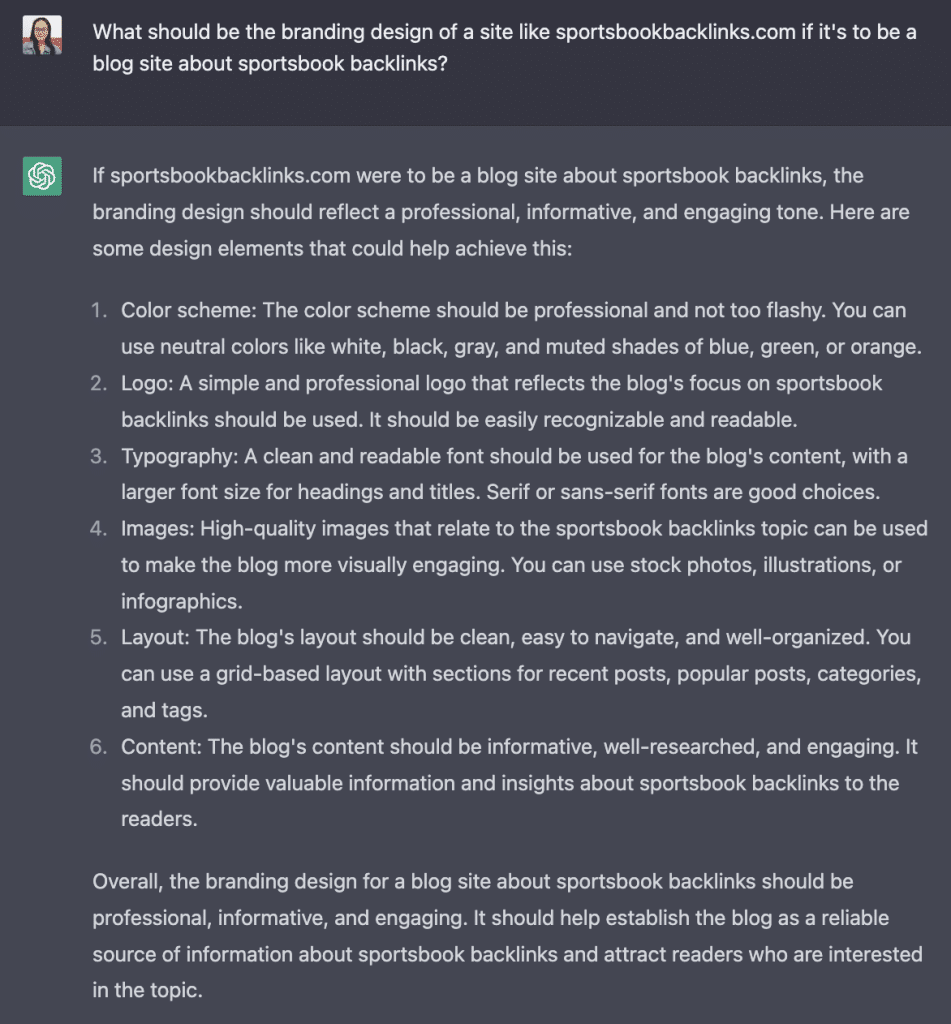 As seen above, it suggested a branding design for sportsbookbacklinks.com. To summarise, here's what ChatGPT proposed a blog site about sportsbook backlinks should look like:
Colour scheme: Professional and not too flashy. Neutral colours like white, black, grey, and muted shades of blue, green, or orange.
Logo: Should incorporate sports and backlinks. Example: Stylised sports icon with a link symbol or a sports-related image with a backlink arrow.
Typography: A clean and readable font with large headings and titles.
Layout: A clean and well-organised layout with sections for recent posts, popular posts, categories, and tags
For fun, we tried to see if ChatGPT could reason why it chose the above colour scheme. Here's what it had to say: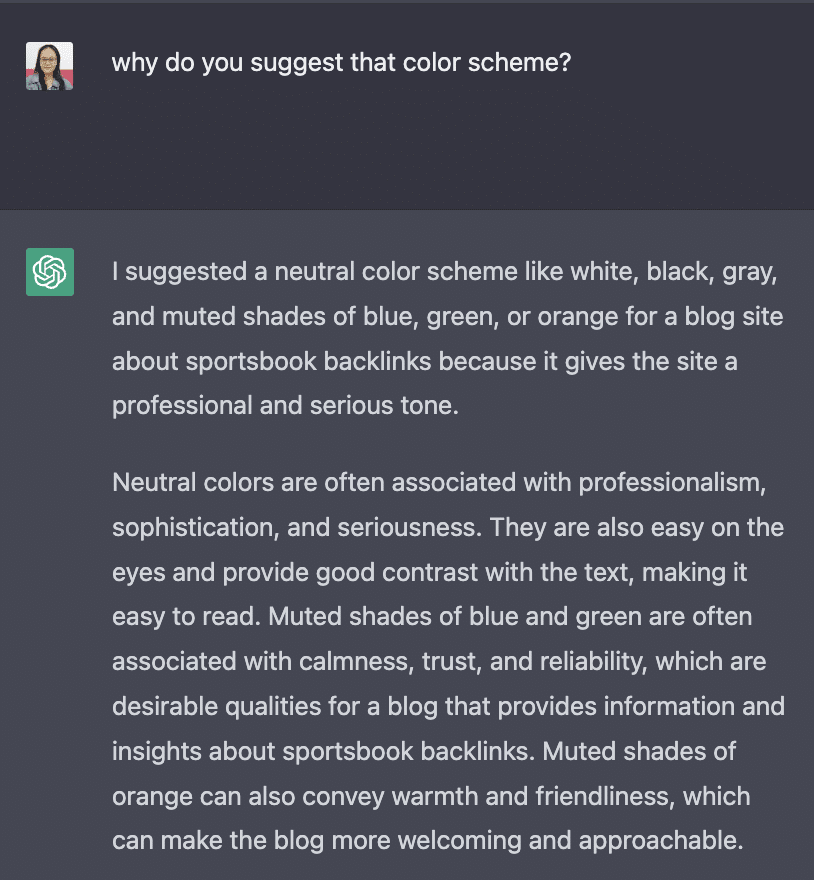 Now that it has properly convinced us, we went ahead and tried to conceptualise this website design. For this, we used the AI tool Midjourney to generate images that matched the criteria ChatGPT gave us.
Conceptualising the brand design
Midjourney is an AI tool for generating images. To use it, we headed to Discord and created a server with the Midjourney Bot to develop effective web design concepts based on ChatGPT's answer.
For the concept designs, we prompted the following words: 'beautiful website for sports, backlinks, blog, ui,ux,ui/ux, website, neutral colours, muted orange, muted blue, muted green' into Midjourney. Here are some of the concept designs it gave us: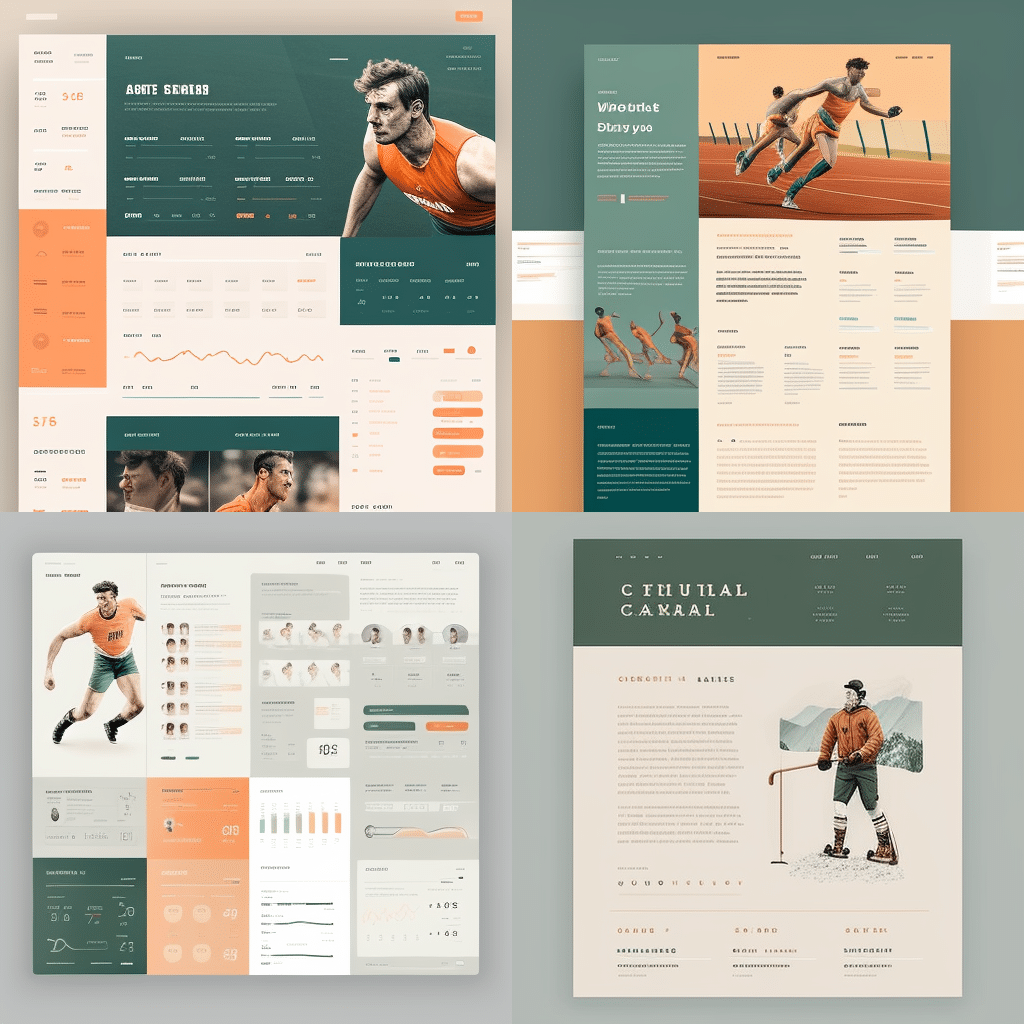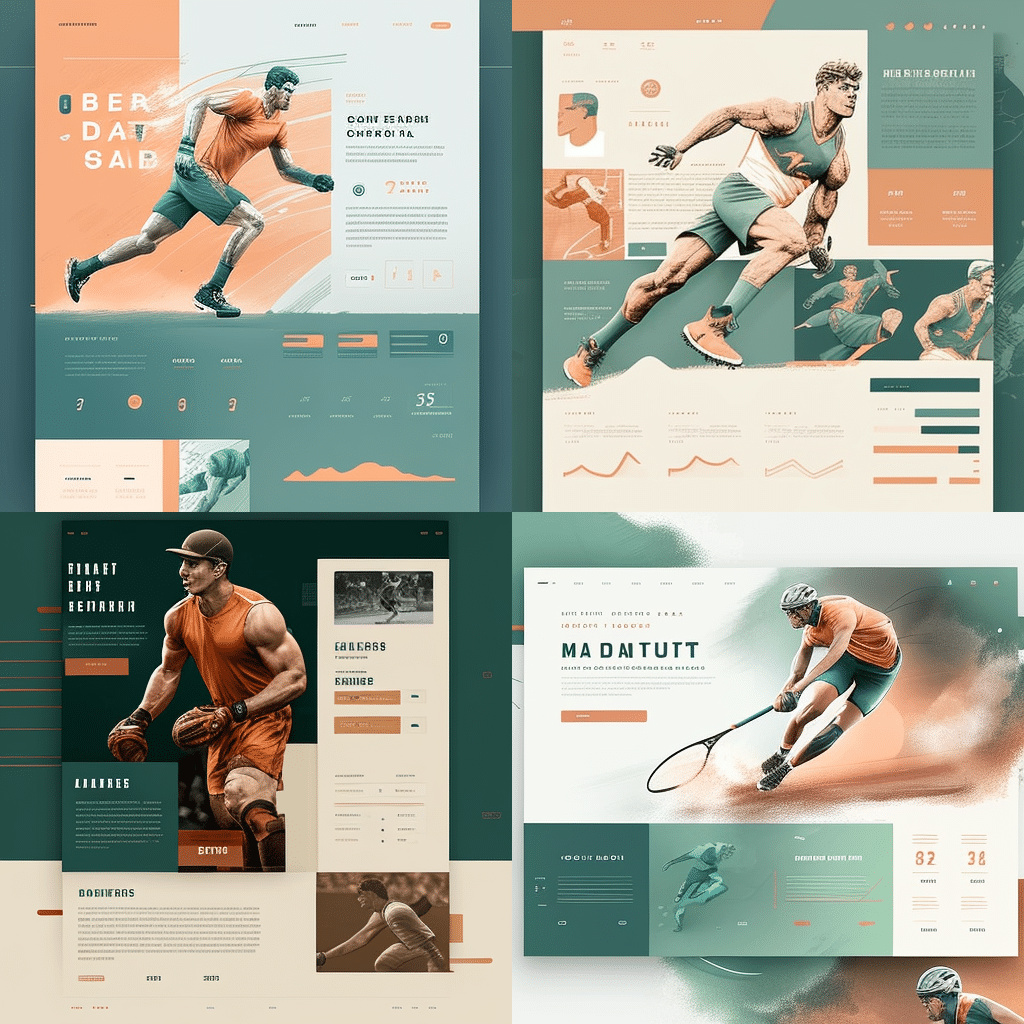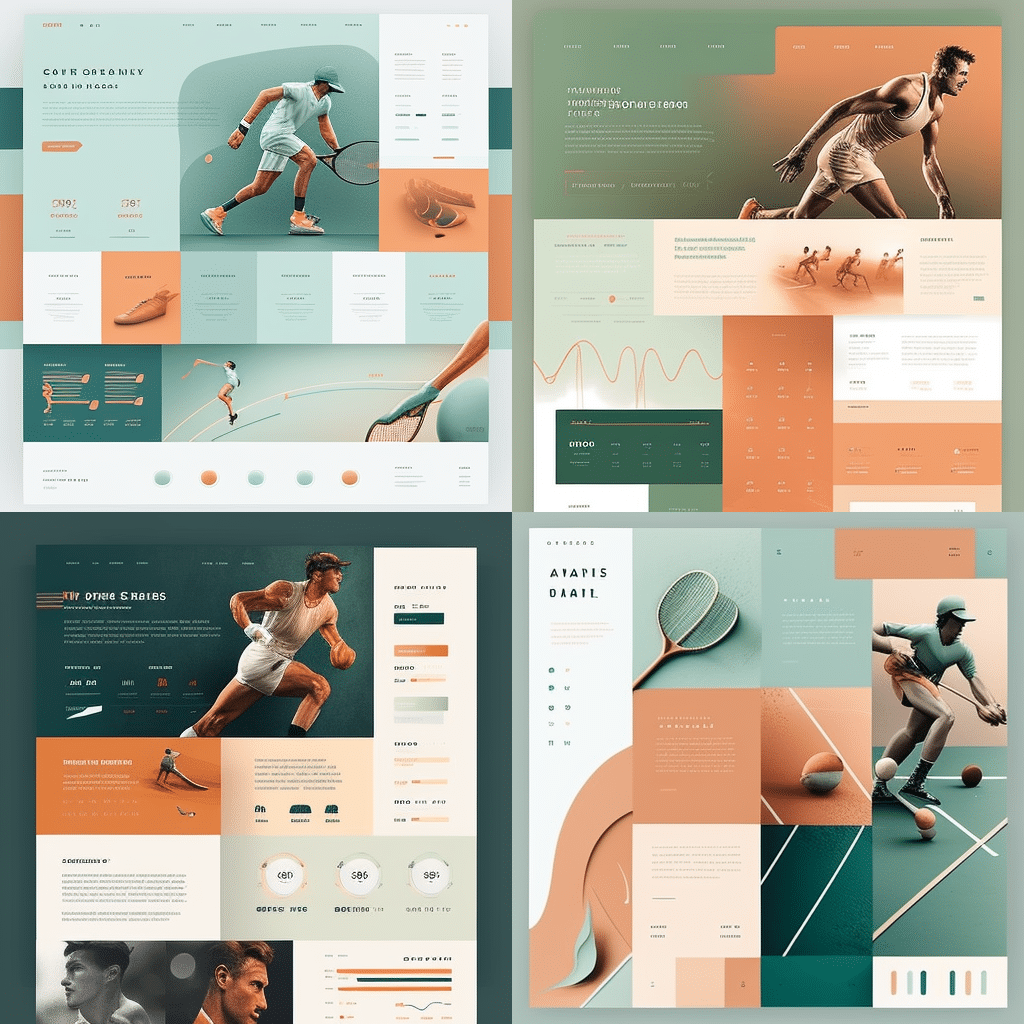 Using ChatGPT's brand design criteria, Midjourney produced the exact results. However, our team felt like it didn't fit the branding we had in mind for a sportsbook backlinks website. The layout and colours felt too muted and passive for a dynamic industry like sports.
We tried again, and this time, we changed our prompt to specify the colours we wanted using hex codes #BA78D1 and #F77354, which are the colour schemes of QWERTYLABS. We used this prompt: 'beautiful website for sportsbook backlinks, ui,ux,ui/ux, website, #F77354, #BA78D1, blog'.
Unfortunately, as you'll see below, we also didn't get the desired result: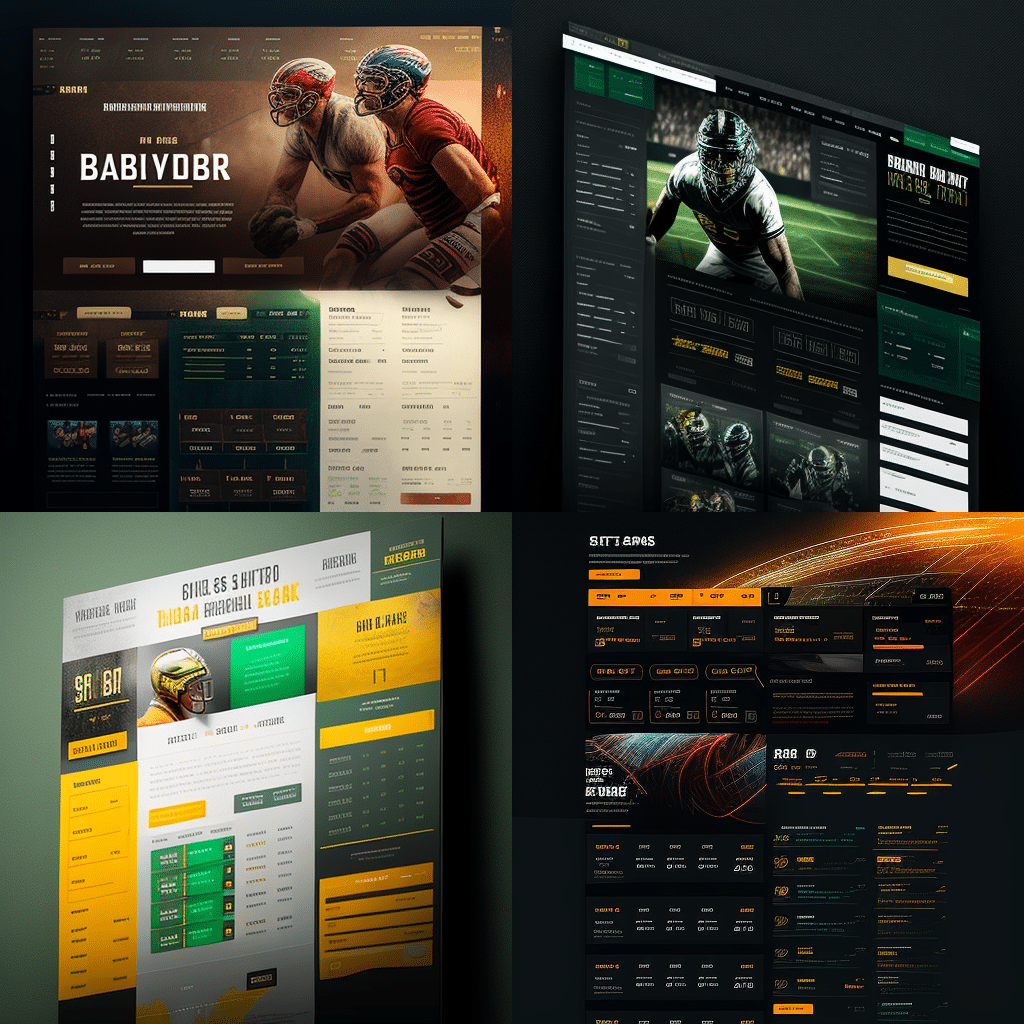 Realising that the Midjourney Bot didn't consider the hex codes we included in the prompt, we simplified it and asked for the colour purple and light pink or orange instead. These are the results we got: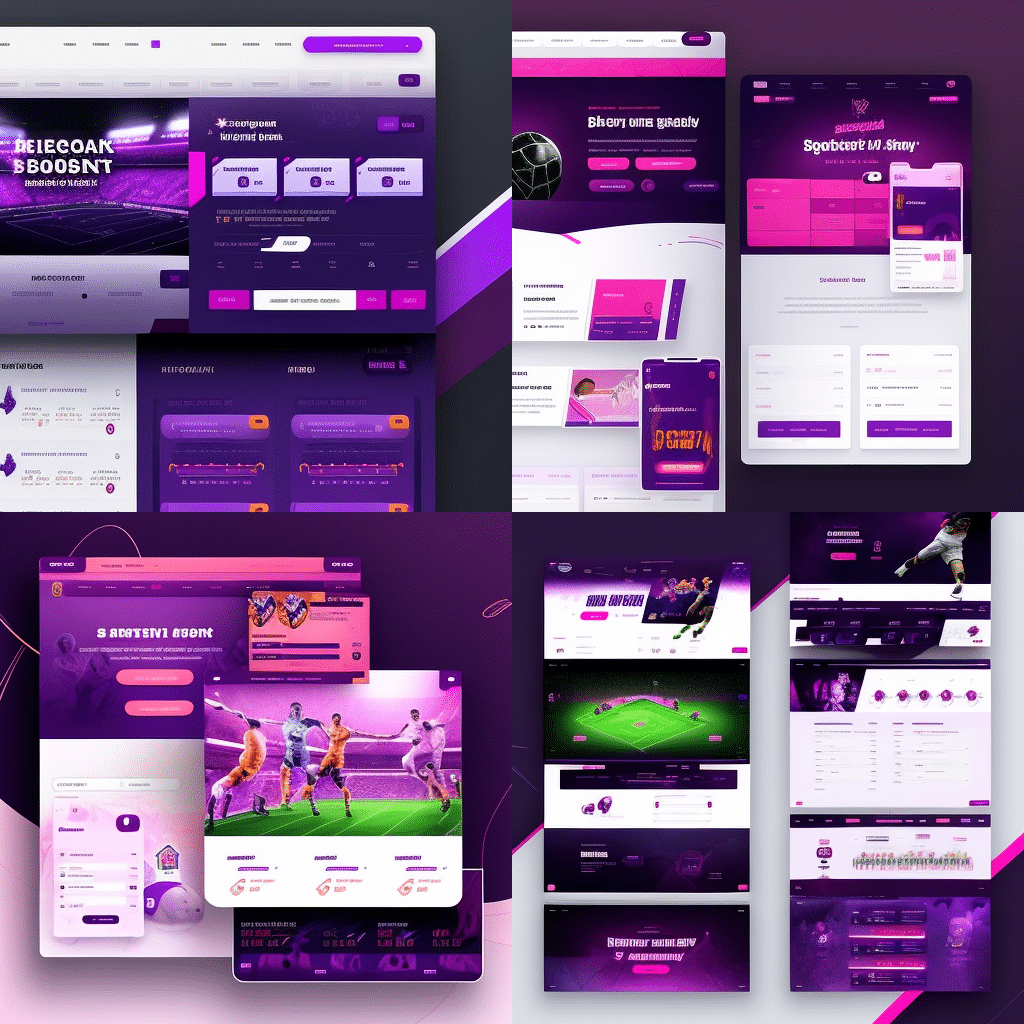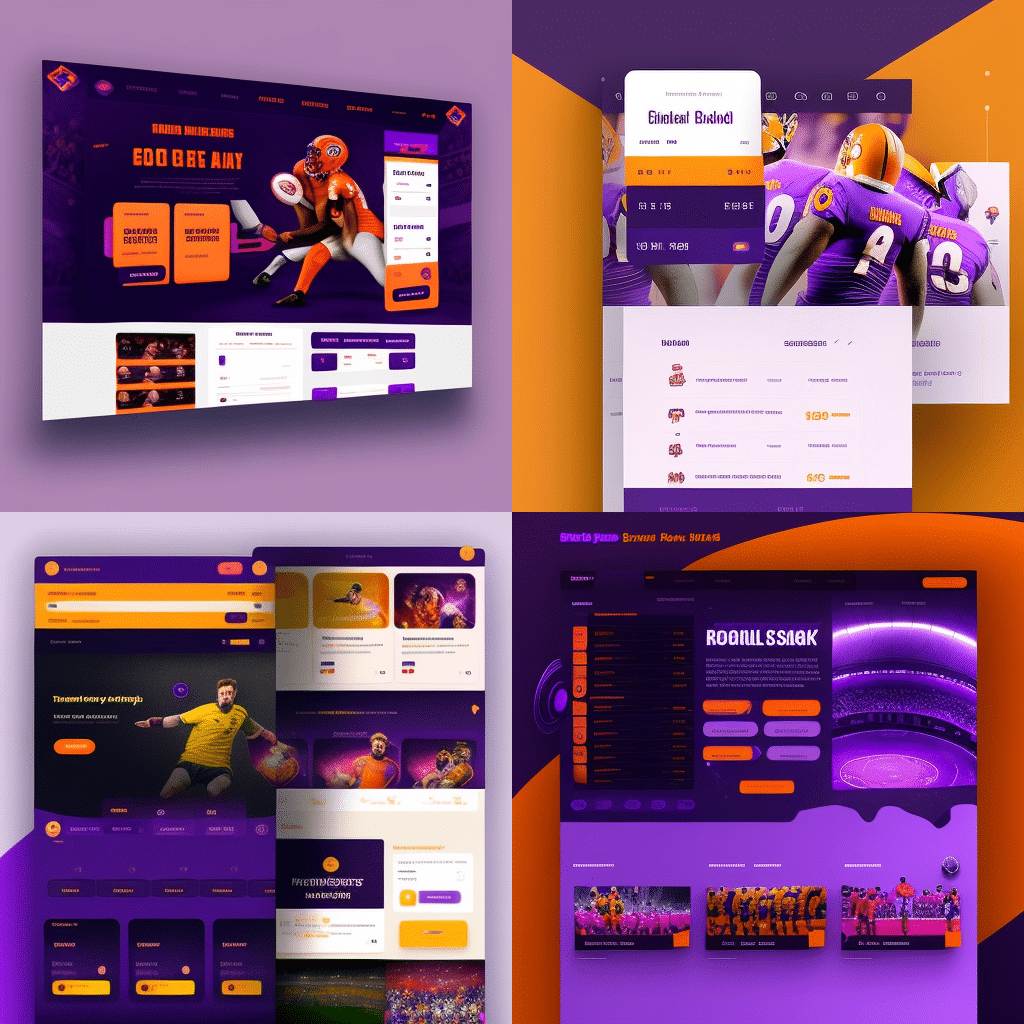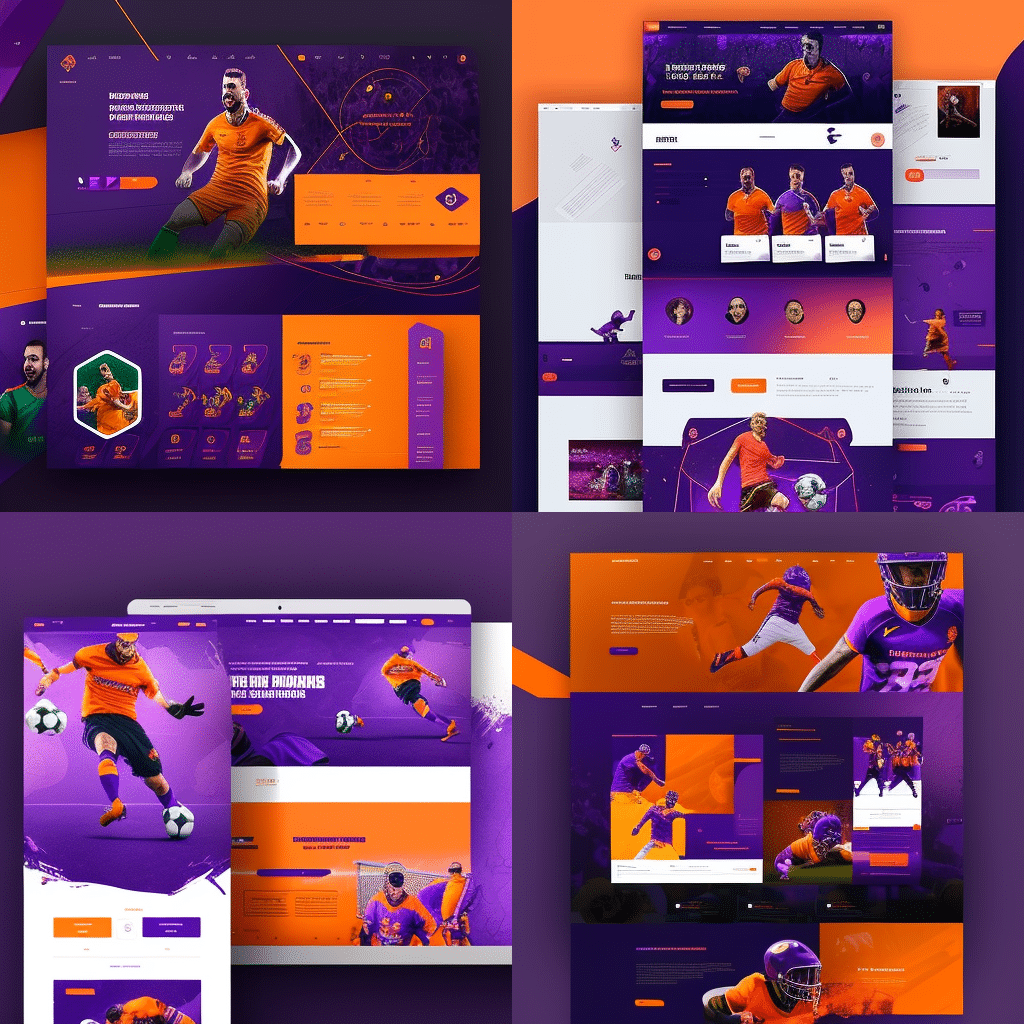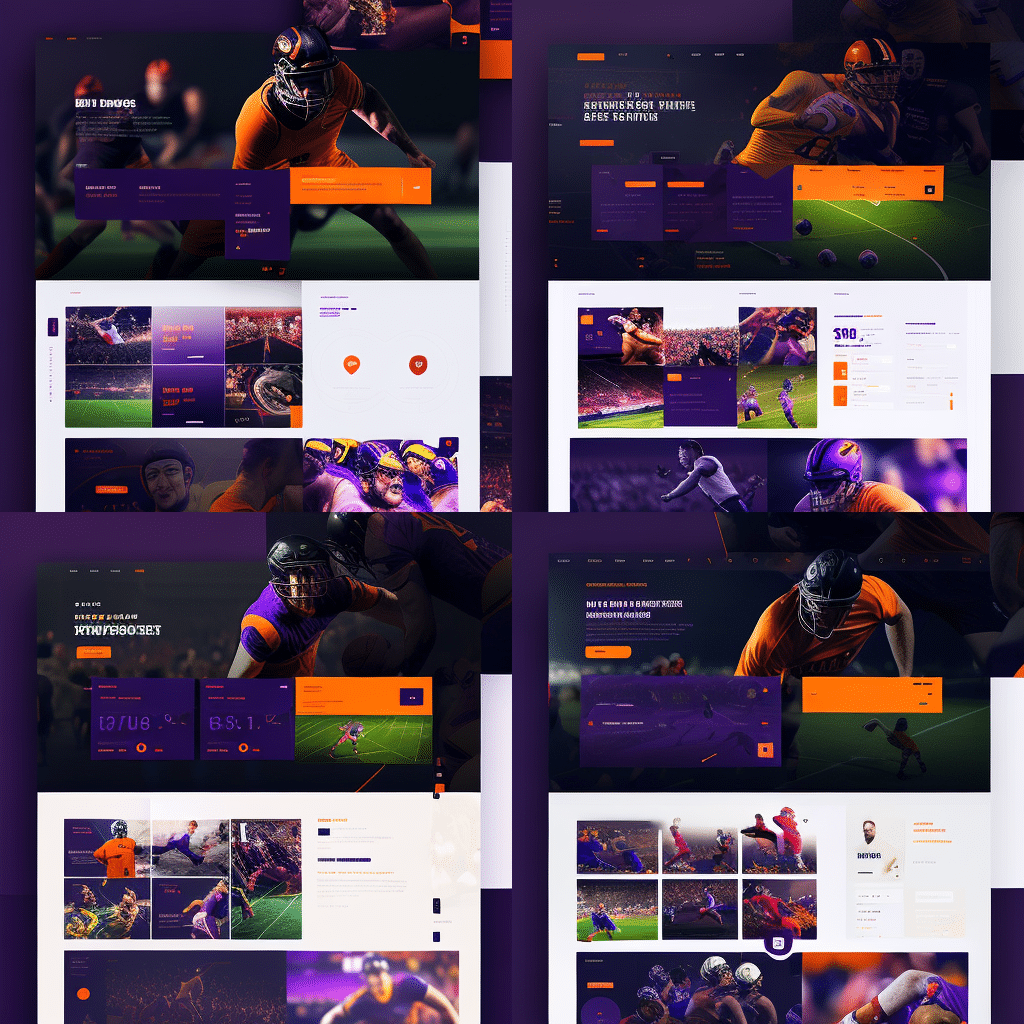 Ultimately, while the concept generated through Midjourney was pretty good, we wanted to go for a minimalistic design. So, we decided to use the same theme as QWERTYLABS and modify it to match what ChatGPT suggested.
Designing the brand logo for sportsbookbacklinks.com using ChatGPT
Since we were set on copying the design of QWERTYLABS, we turned to ChatGPT to see how we could accomplish this.
ChatGPT's logo design suggestions
First, we asked ChatGPT for its suggestions for a logo design. We specified a minimalist design copying QWERTYLABS's colours (hex codes #BA78D1 and #F77354).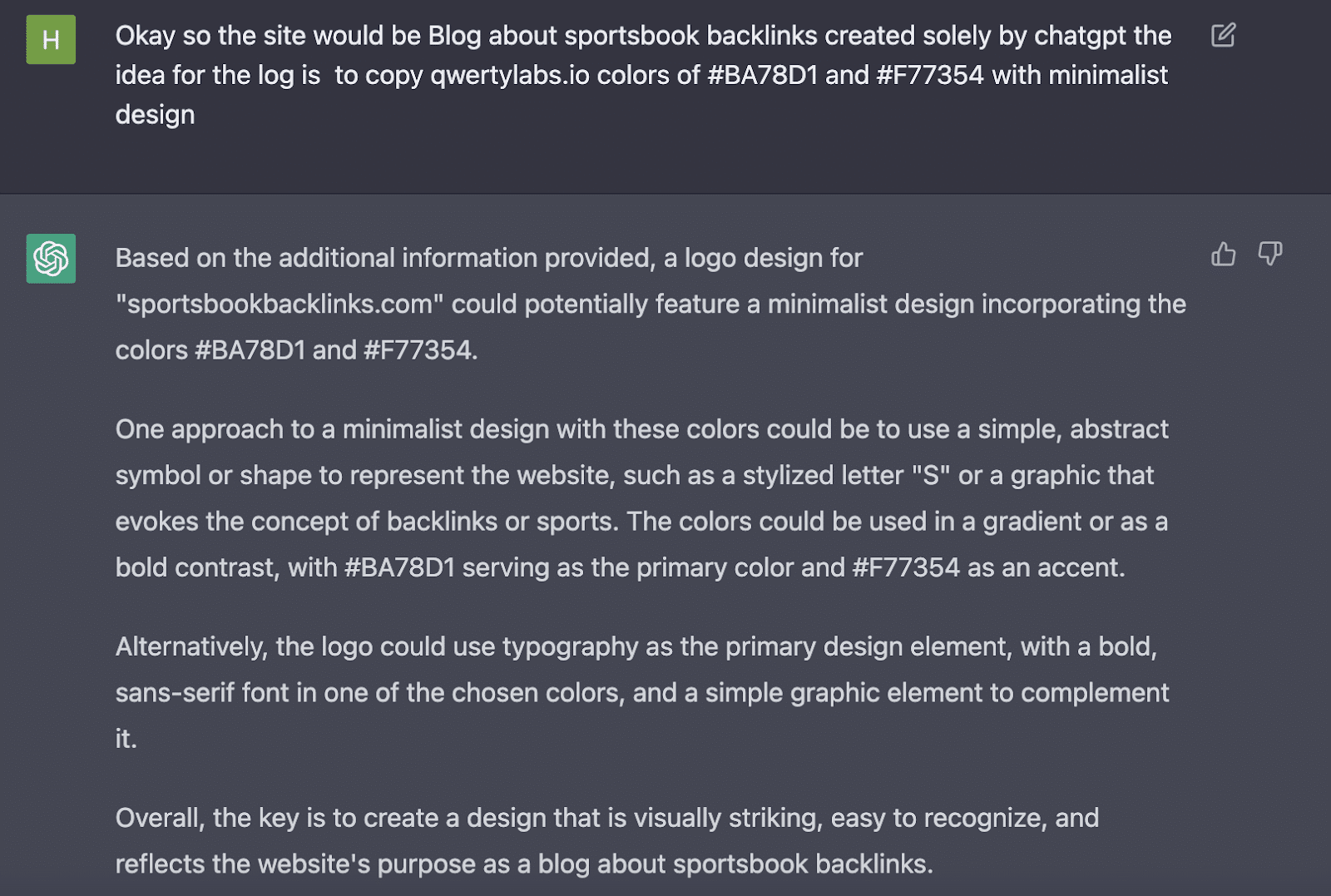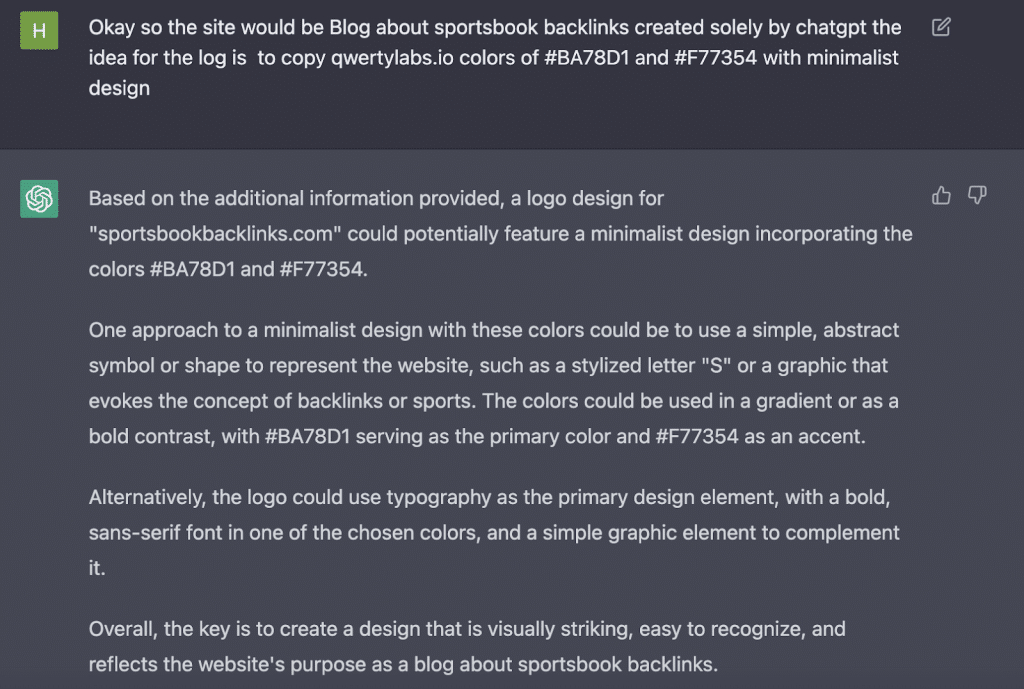 Here are the design criteria ChatGPT gave for the logo to achieve a minimalist design:
Use a simple, abstract symbol or shape to represent the website. Example: stylised letter 'S' or a graphic.
Colours could be used in a gradient or bold contrast, with #BA78D1 as the primary colour and #F77354 as the accent.
Use typography as the primary design with a bold sans-serif font and simple graphics to complement it.
Conceptualising the logo for sportsbook using Midjourney
Following ChatGPT's suggestion, we used Midjourney for a purple and orange logo for sportsbookbacklinks.com. Here are the results: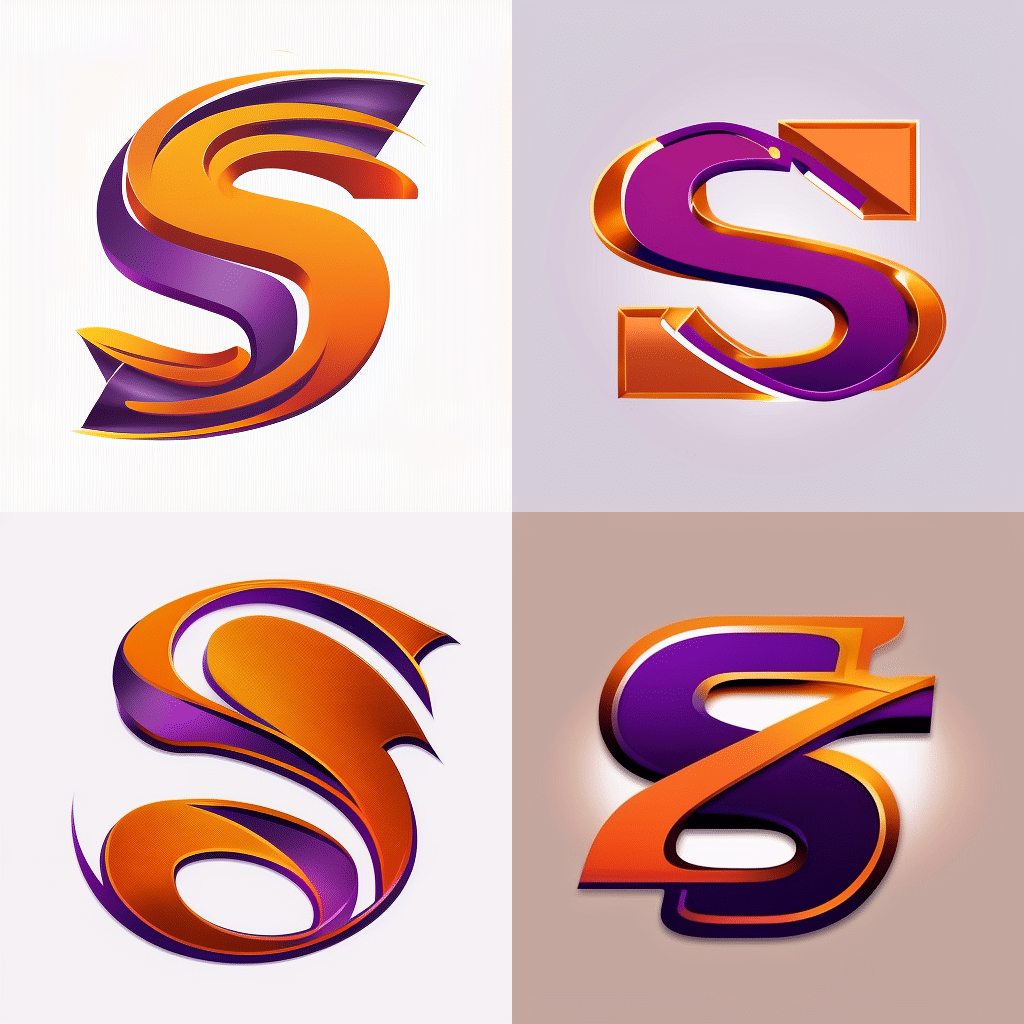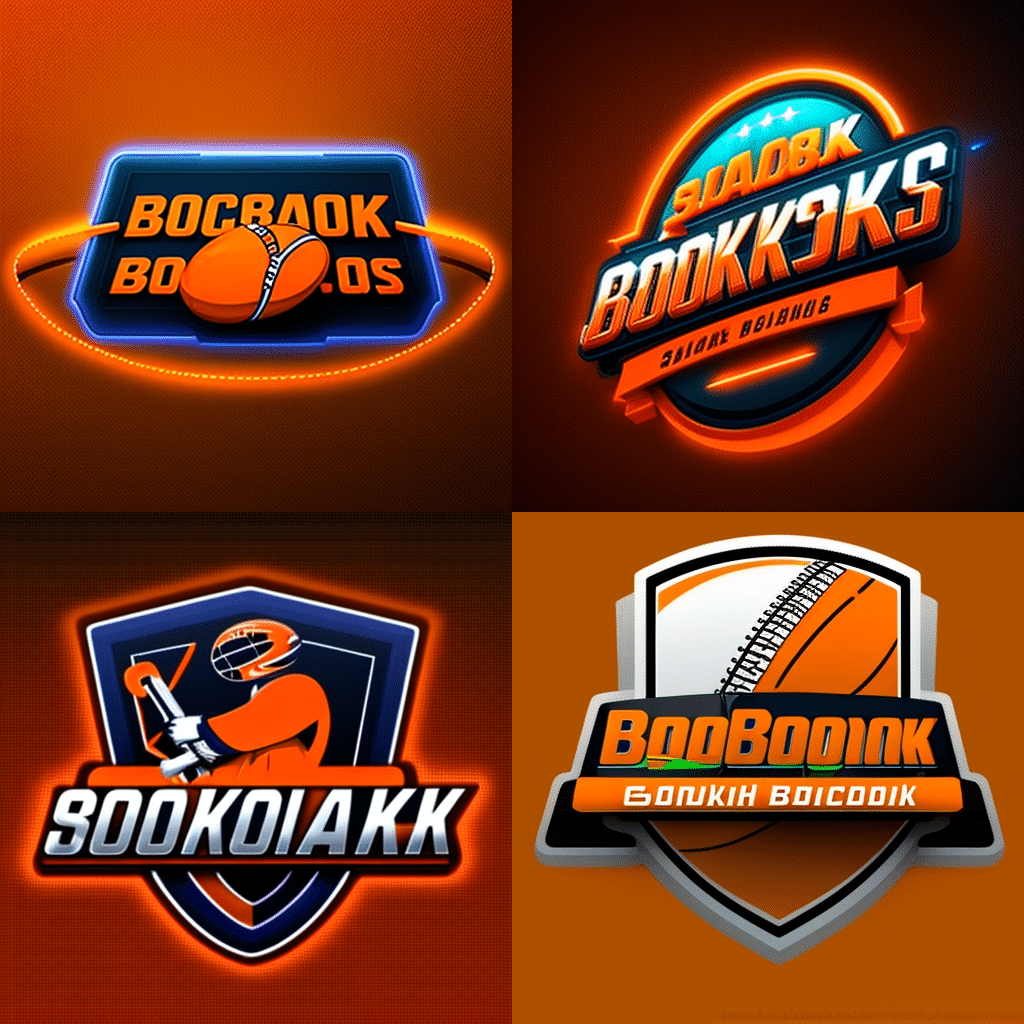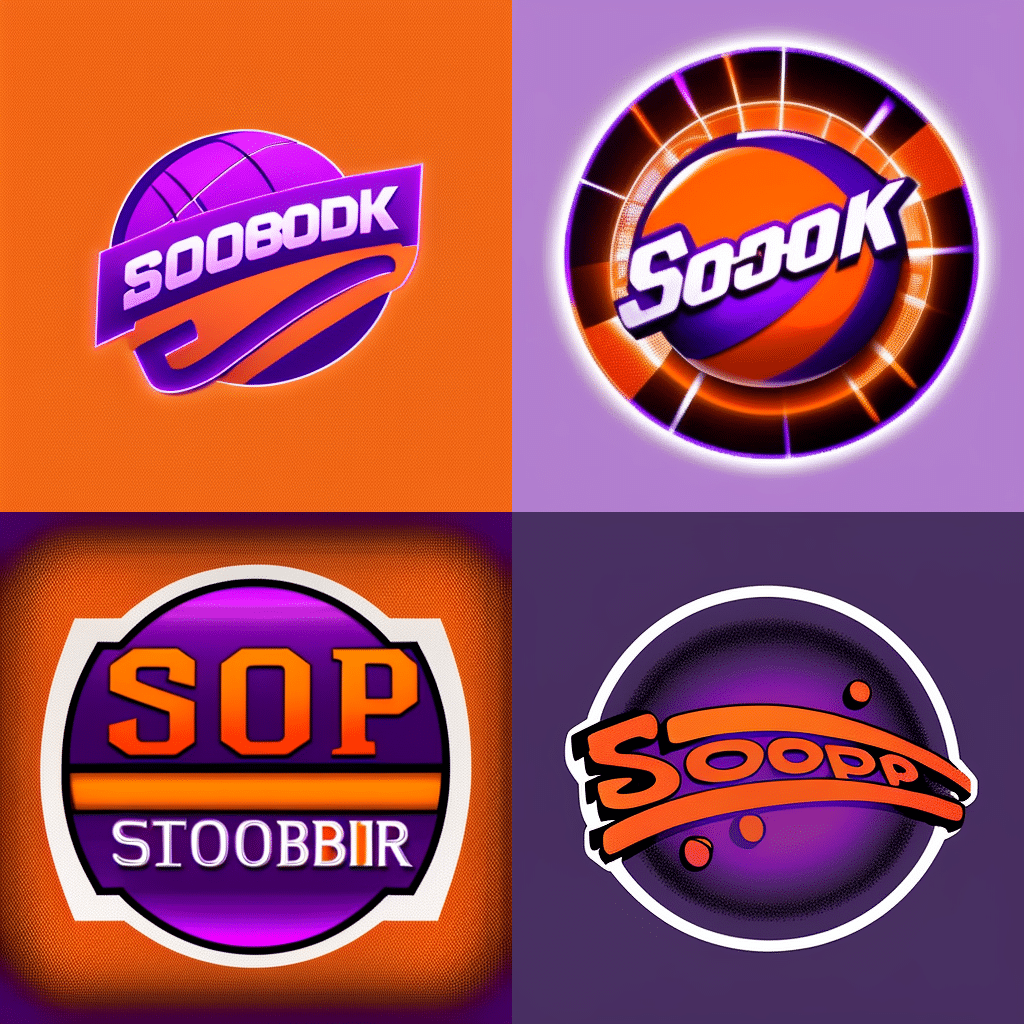 Although these designs aren't bad, we had a few issues using Midjourney to create a logo. The first problem is that since it can't read hex codes, we're limited to inputting generic colours that aren't aesthetically what we wanted. Secondly, we can't customise the designs beyond choosing from the variations Midjourney Bot provides.
As a result, we decided to use the graphic design AI tool called 'Looka'. However, the details ChatGPT provided for the logo were insufficient, so we asked for better design guidelines. Here is what ChatGPT had to say: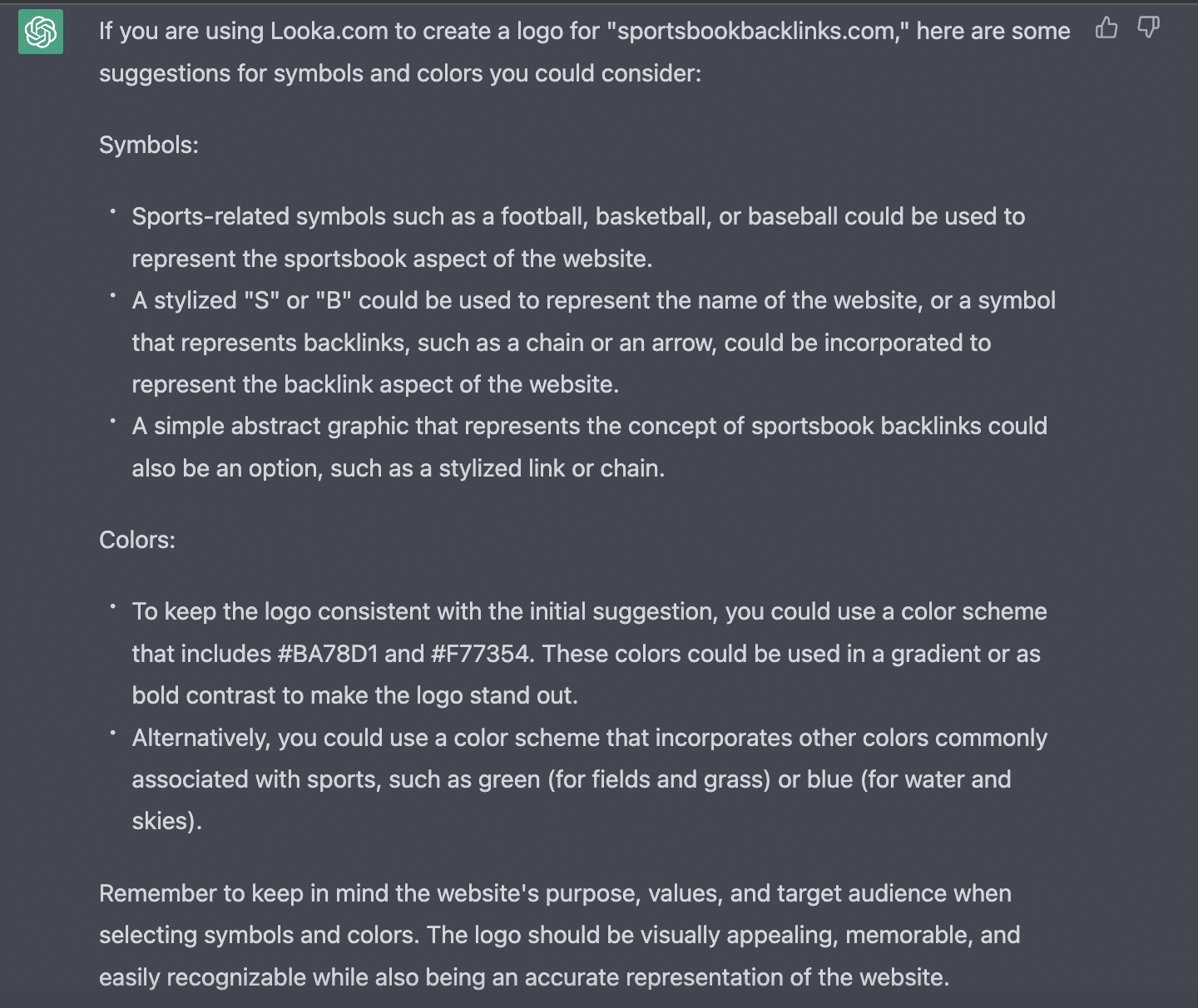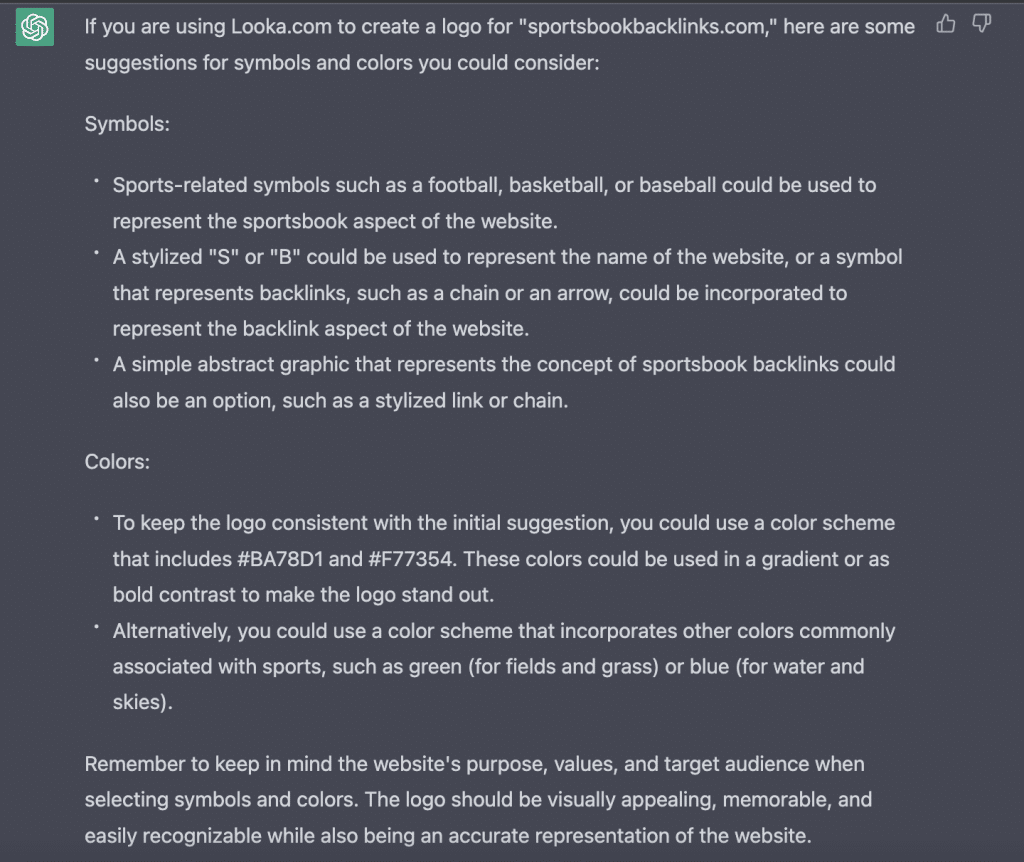 Creating a logo design using Looka
Here are the design guidelines from ChatGPT that we kept in mind when generating the logo design on Looka:
Use sports-related symbols such as football, basketball, or baseball. These will be used to represent the sportsbook identity of the site.
Stylising the letters' S' or 'B' of the website's name or creating an arrow or chain symbol to represent the backlinks identity of the site.
A colour scheme associated with sports, such as green (for fields and grass) or blue (for water and skies).
Then, we created a logo in Looka by inputting the website domain and providing what industry it's part of.




Looka asked several more questions, including picking logo samples, colours, and symbols. For this, we referred to the information we got from ChatGPT and selected them.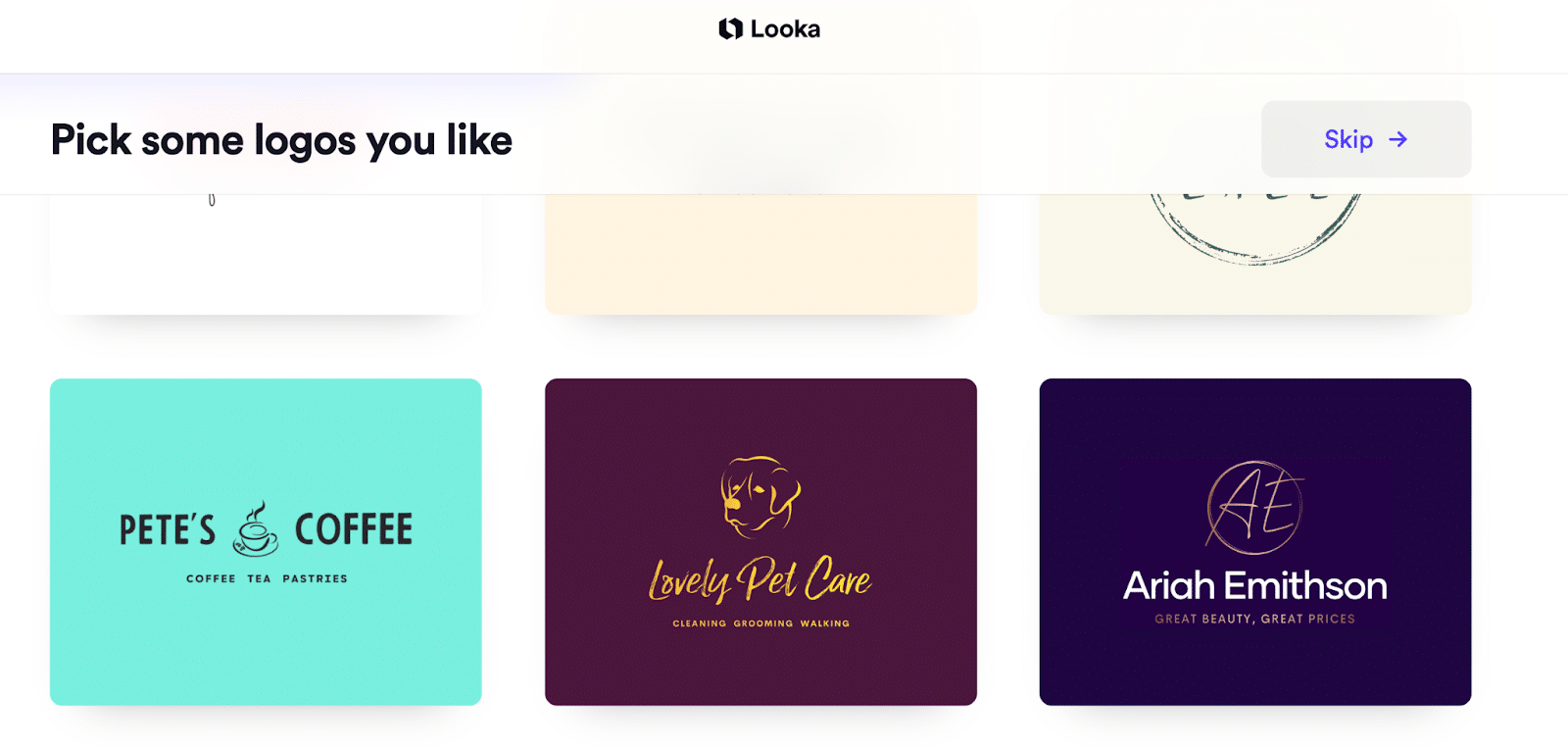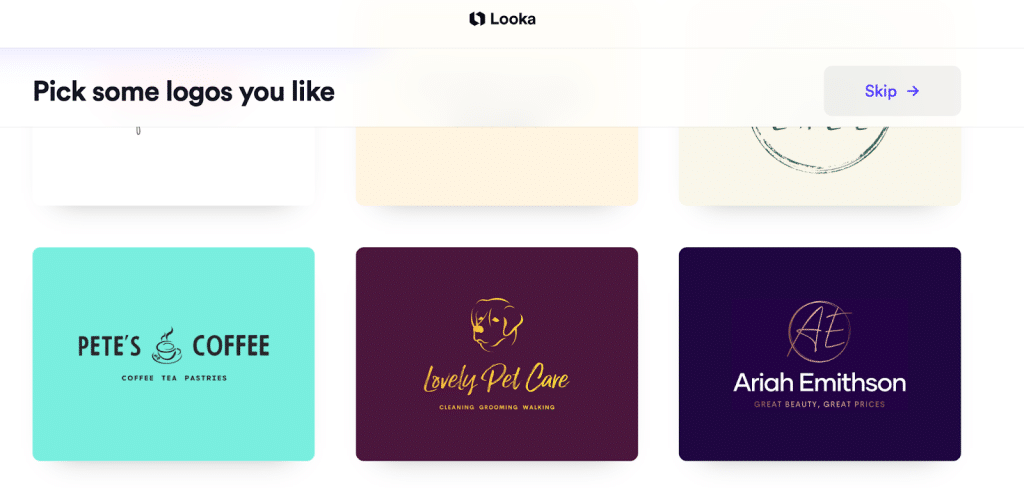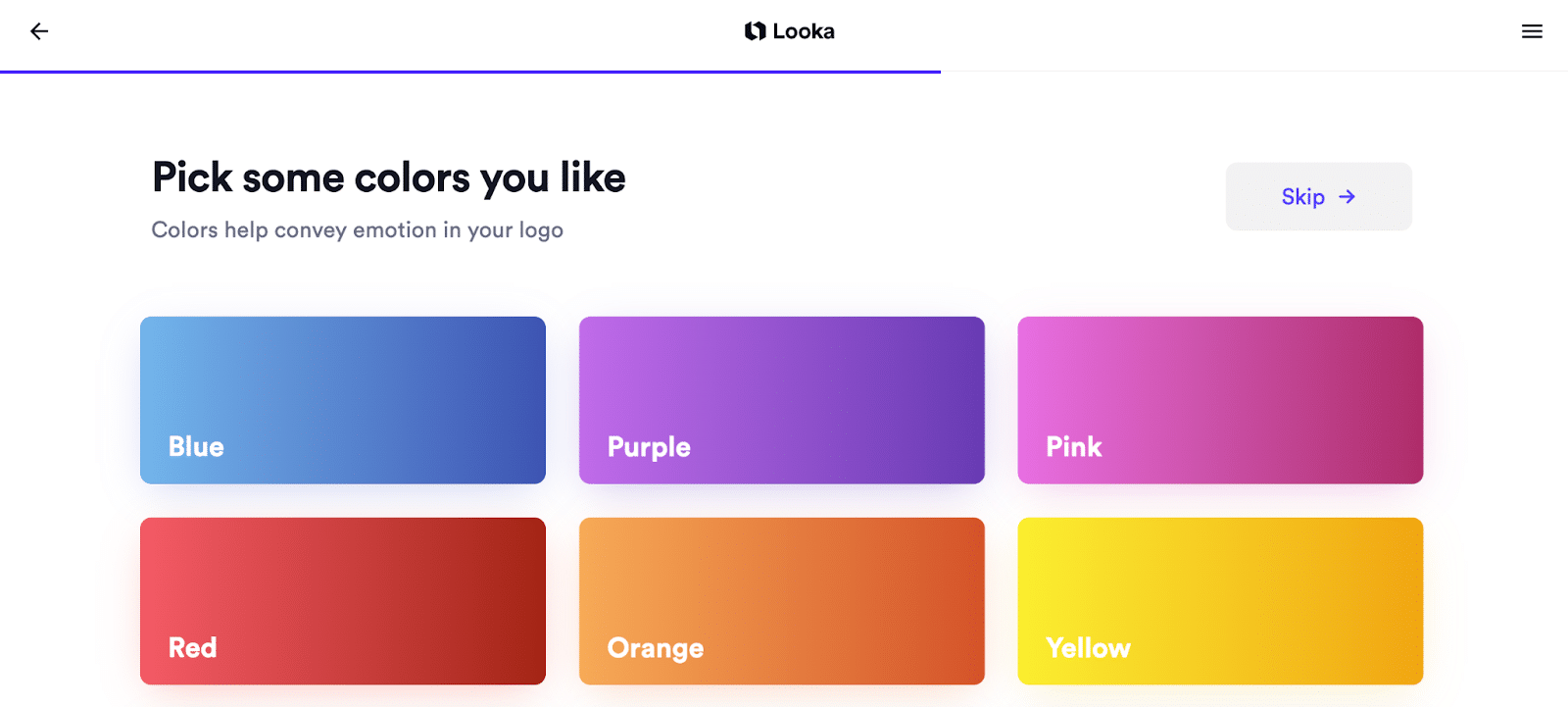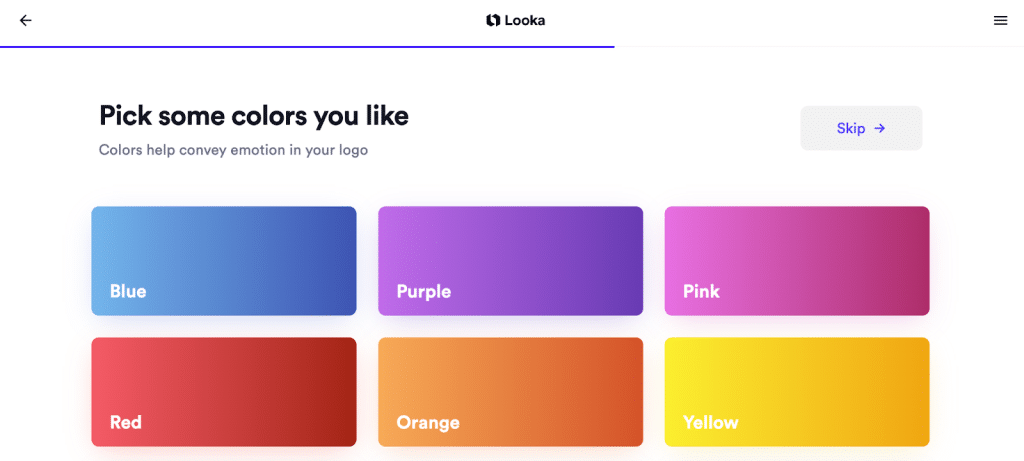 Create a website slogan using ChatGPT
Another thing Looka asked for is the website slogan, which we decided to get from ChatGPT. As expected, ChatGPT didn't just give one but ten slogans to choose from: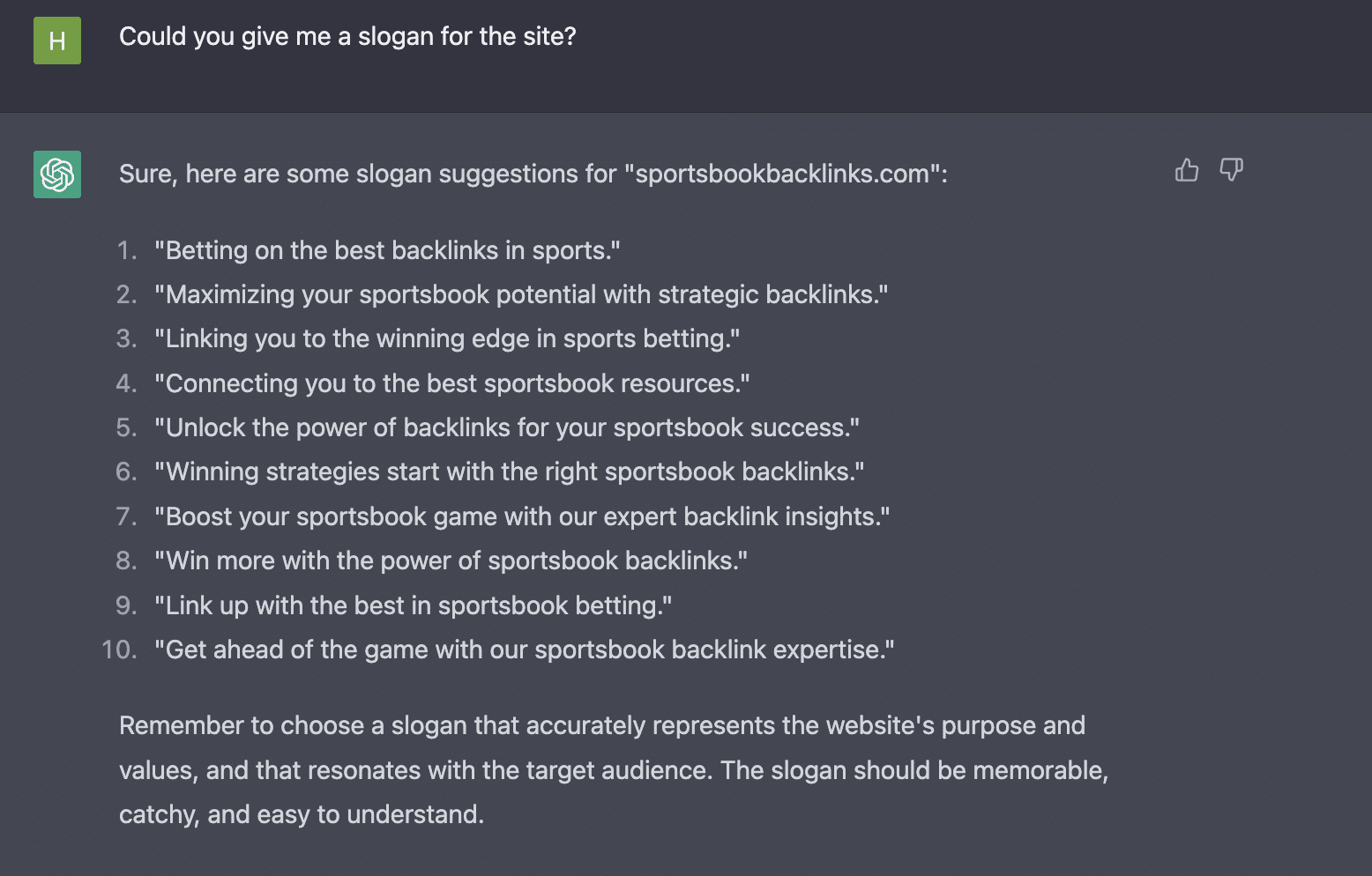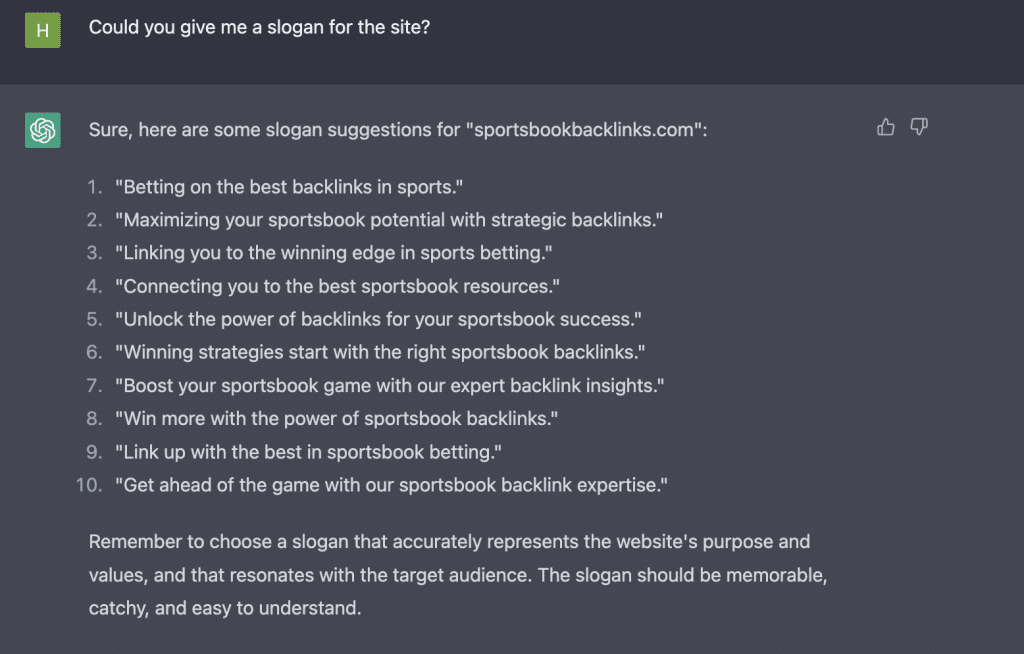 We chose the first slogan ChatGPT provided and inputted it into Looka to finalise the process.


After a few minutes, we got several design suggestions from Looka that closely matched all the information we put in.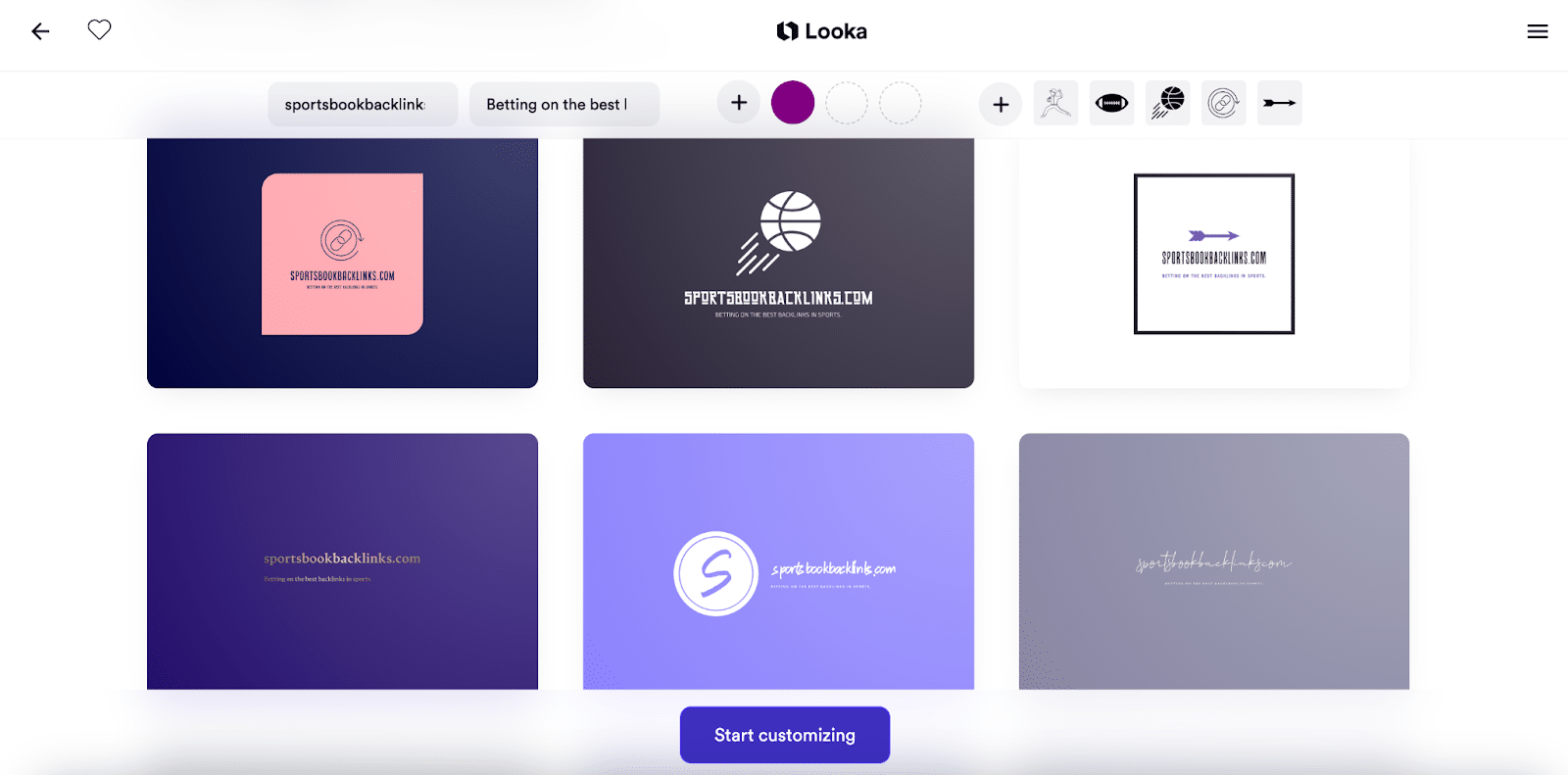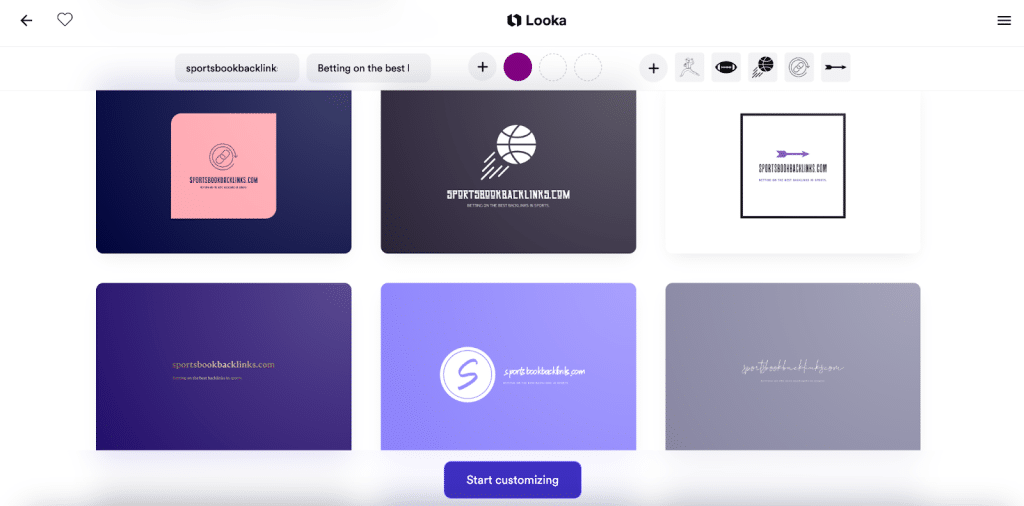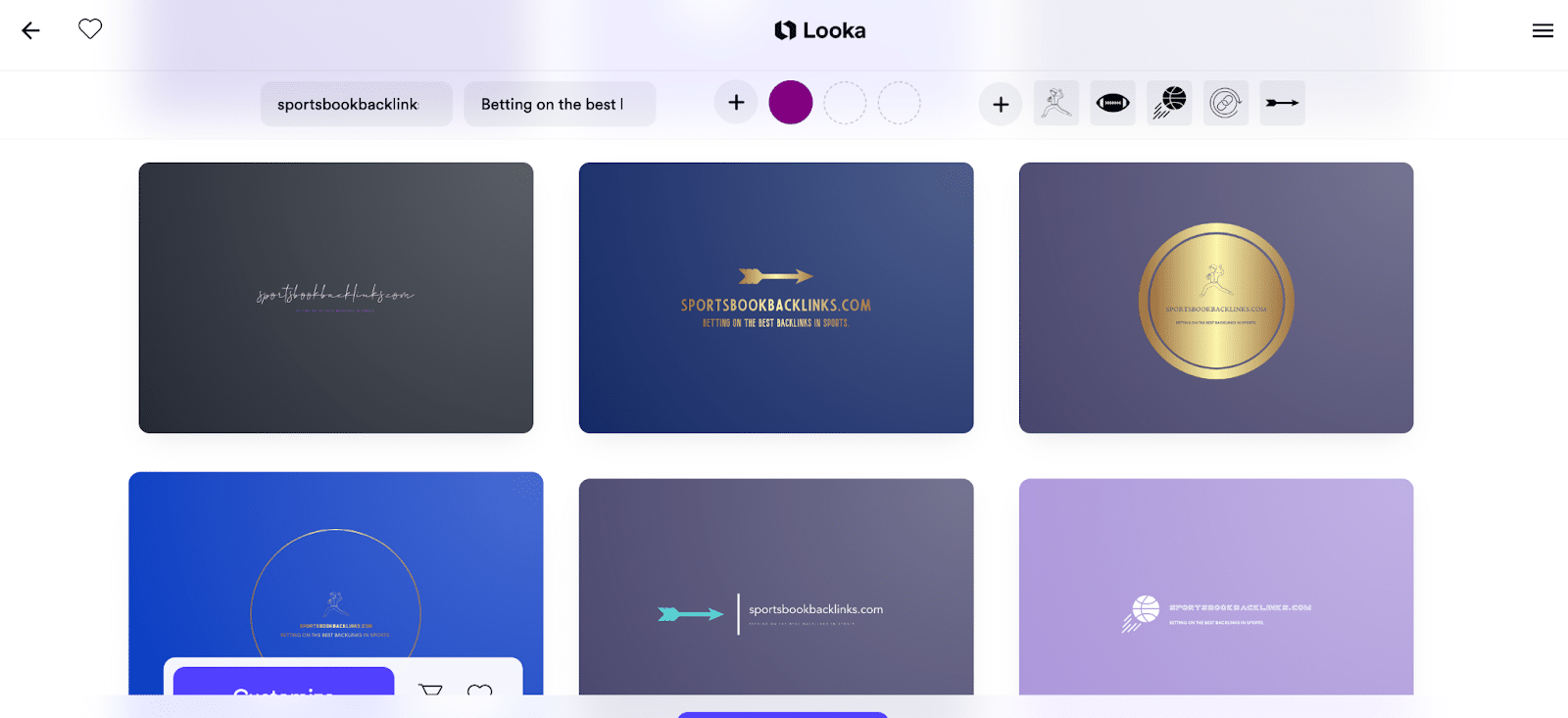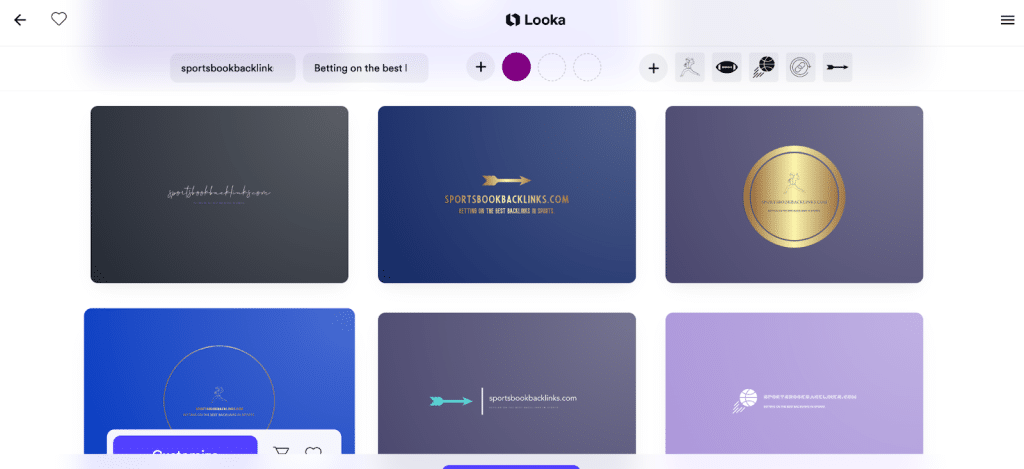 After looking through the suggestions, we customised the simple one to achieve our desired results. See the changes from the variations we got from Looka: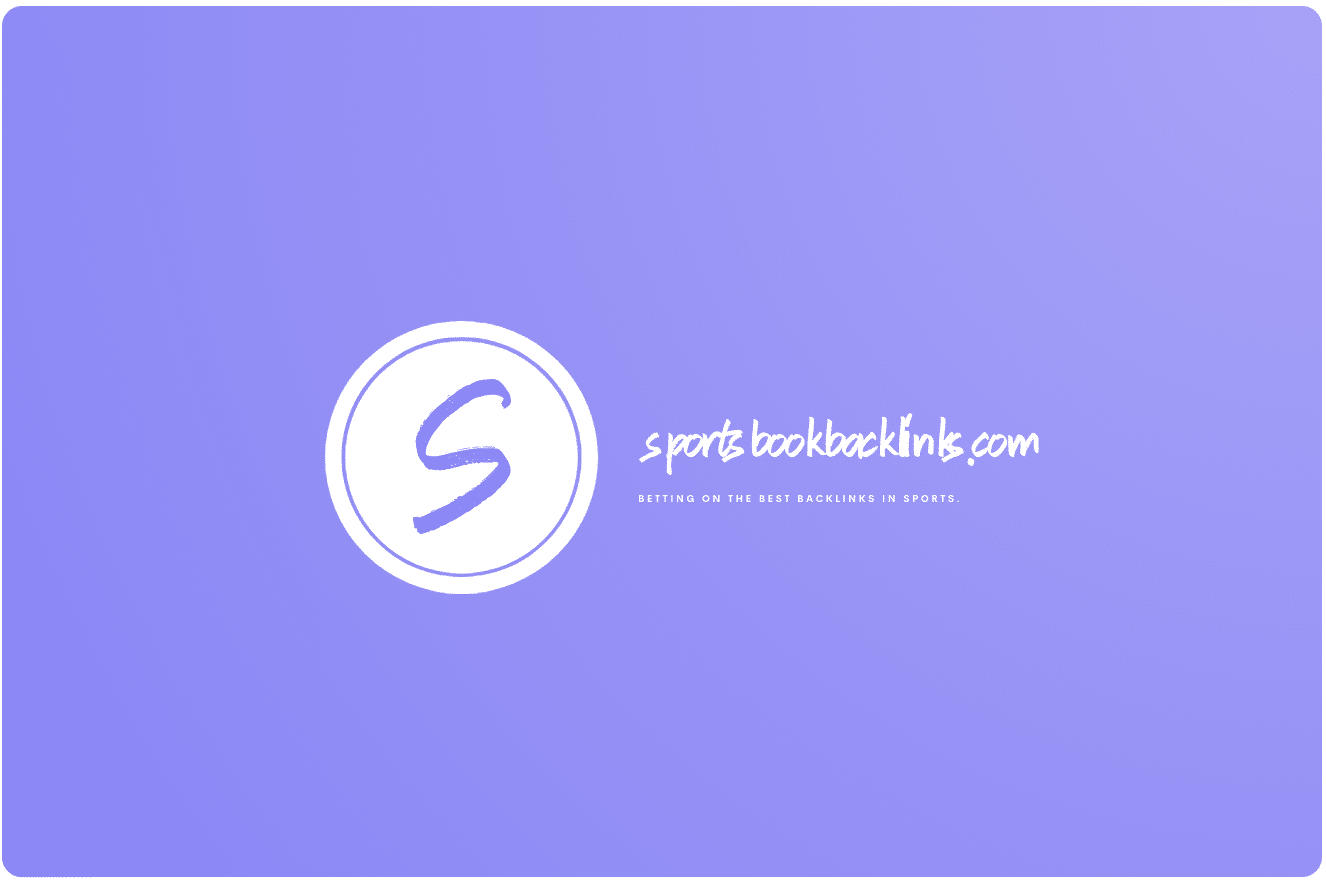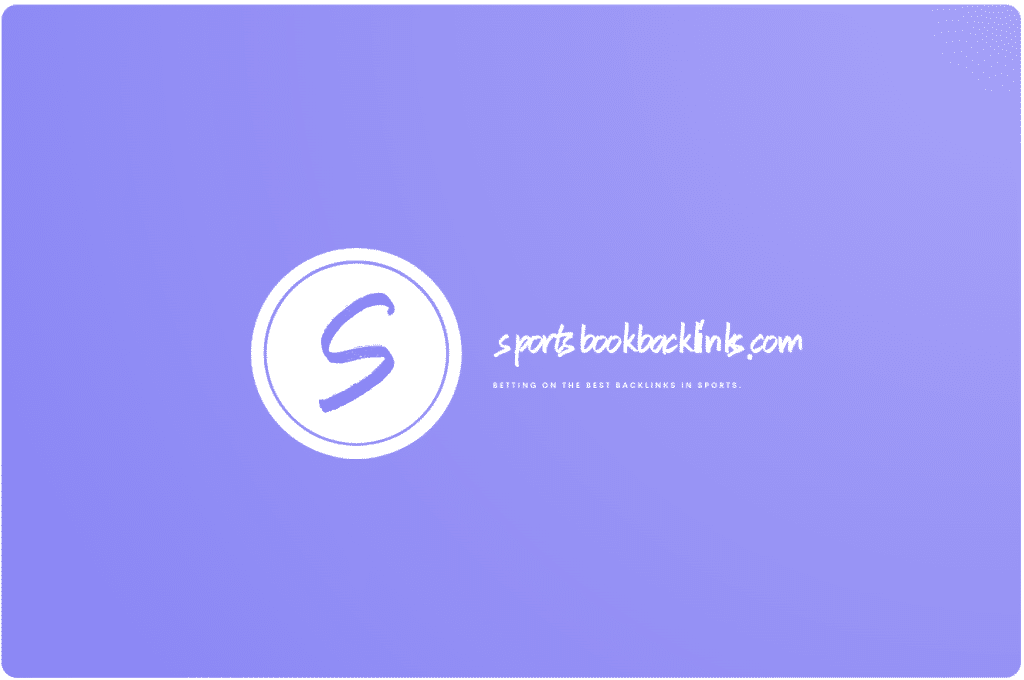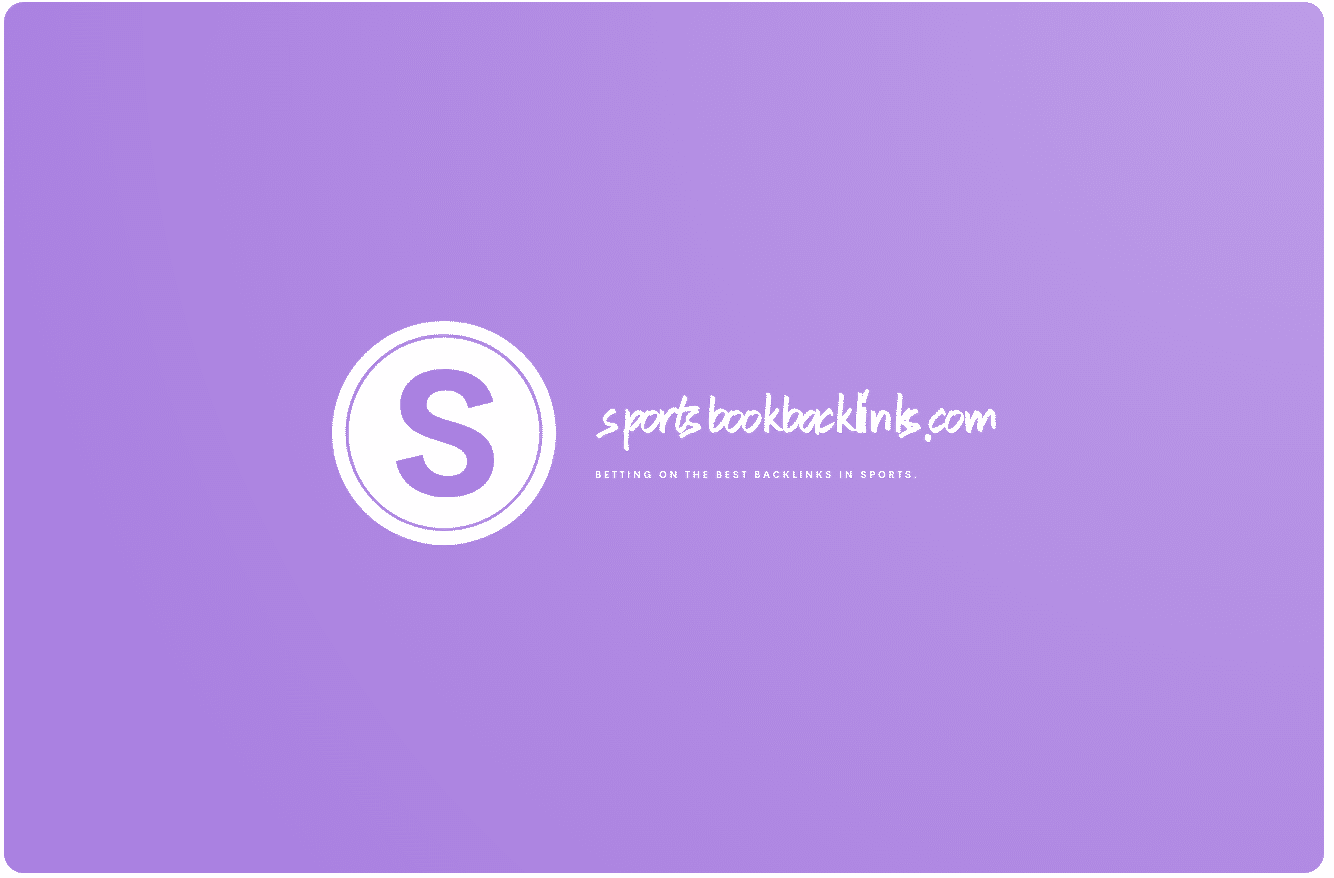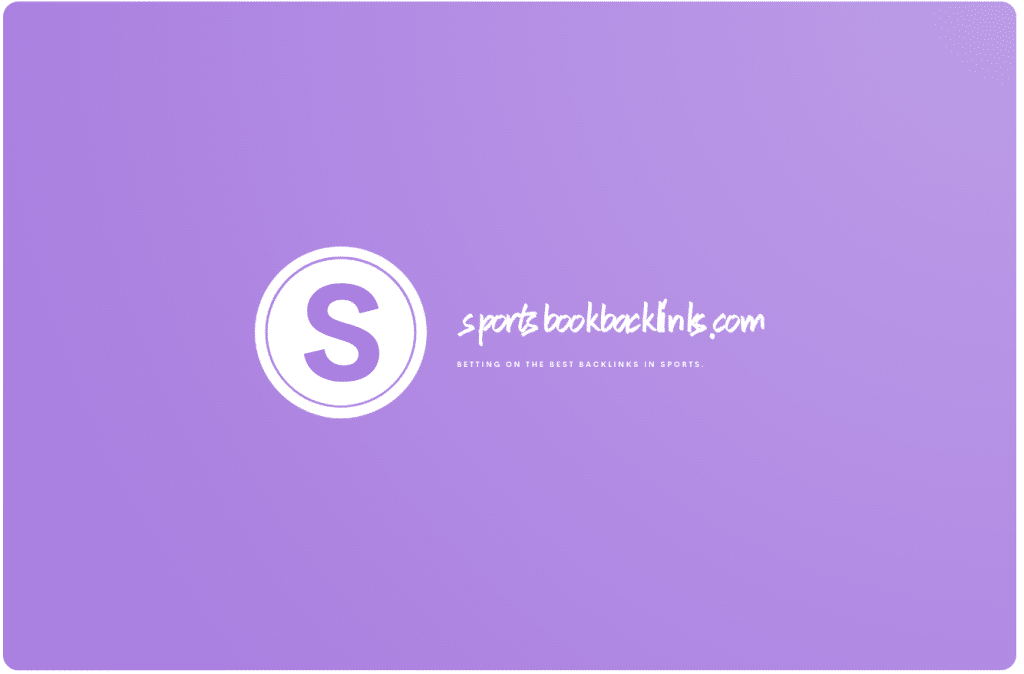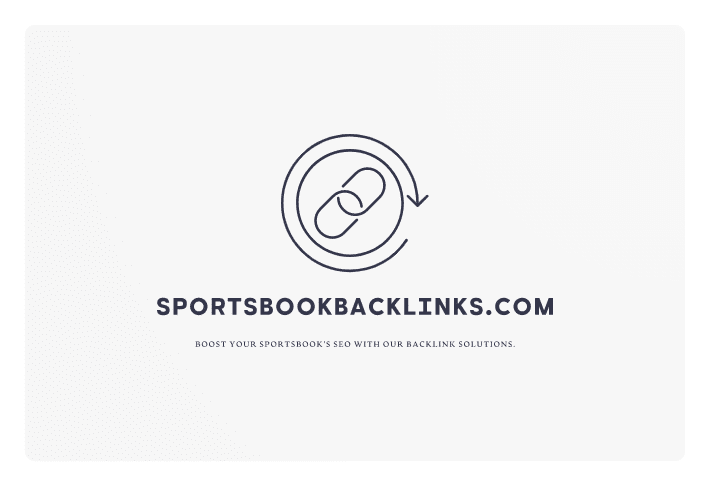 The final design we used for sportsbookbacklink.com incorporated all of ChatGPT's design guidelines, as seen below: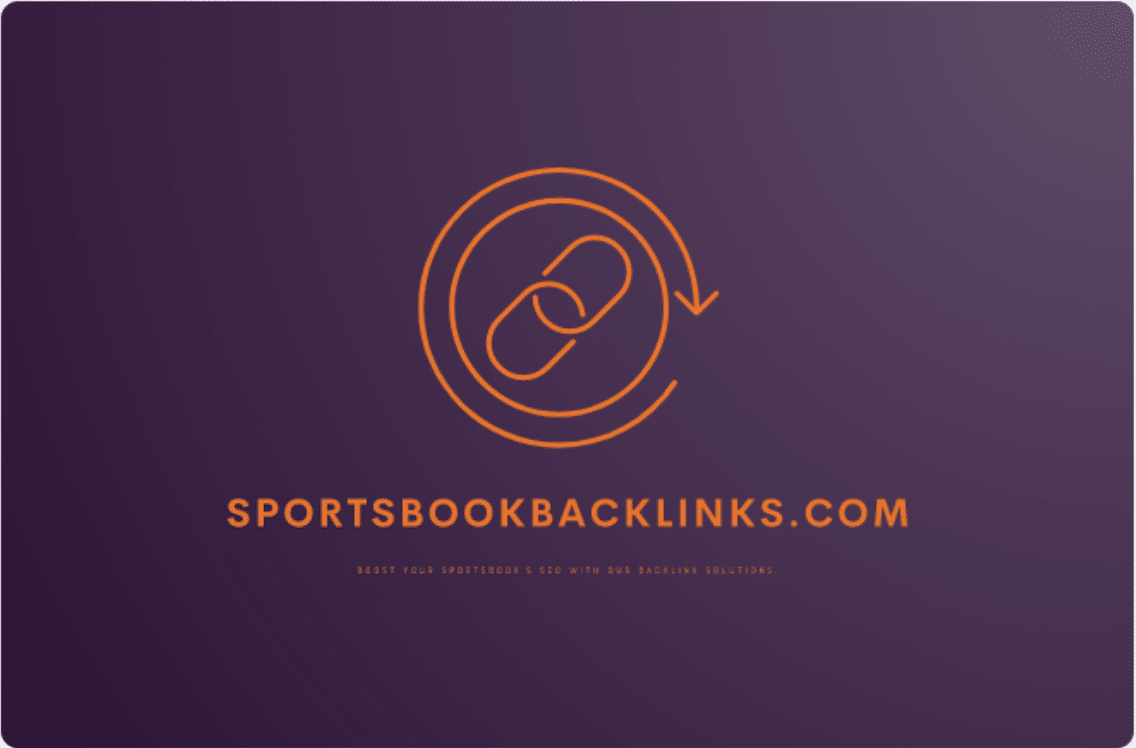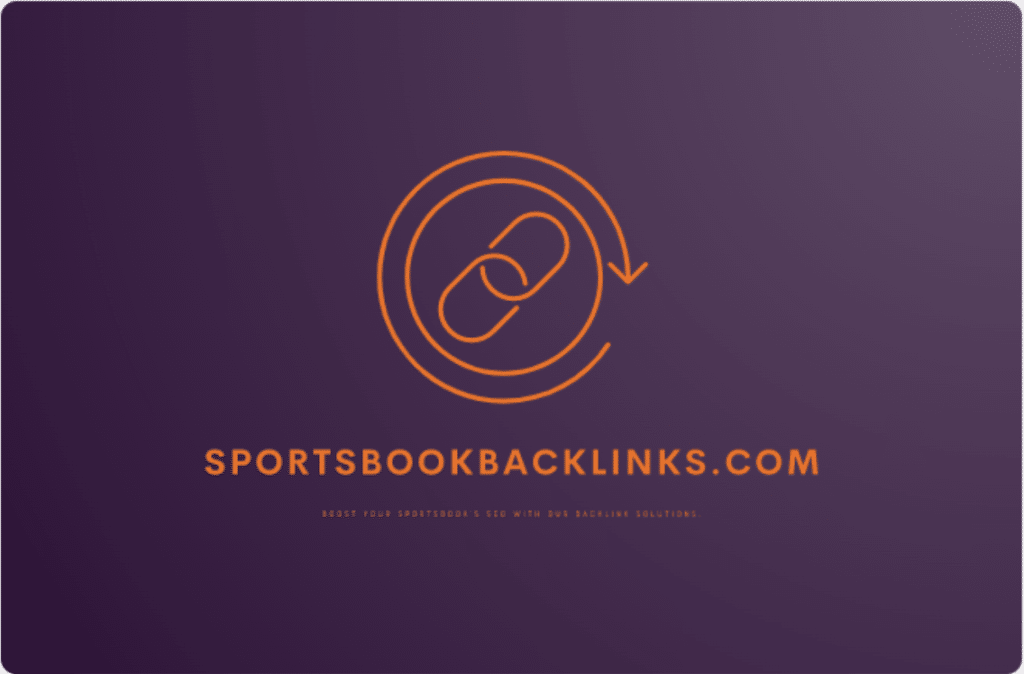 Additional design elements
The logo is just one of the many images we needed to complete the design of sportsbookbacklinks.com. To generate the images we needed, we turned back to Midjourney Bot on Discord and developed images for the homepage with the help of BlueWillow AI.
When you look at QWERTYLABS' homepage, you'll find an adorable robot welcoming you to the site. We wanted to imitate this and asked Midjourney Bot and BlueWillow to provide us with an adorable robot.
Here's what we got from Midjourney Bot: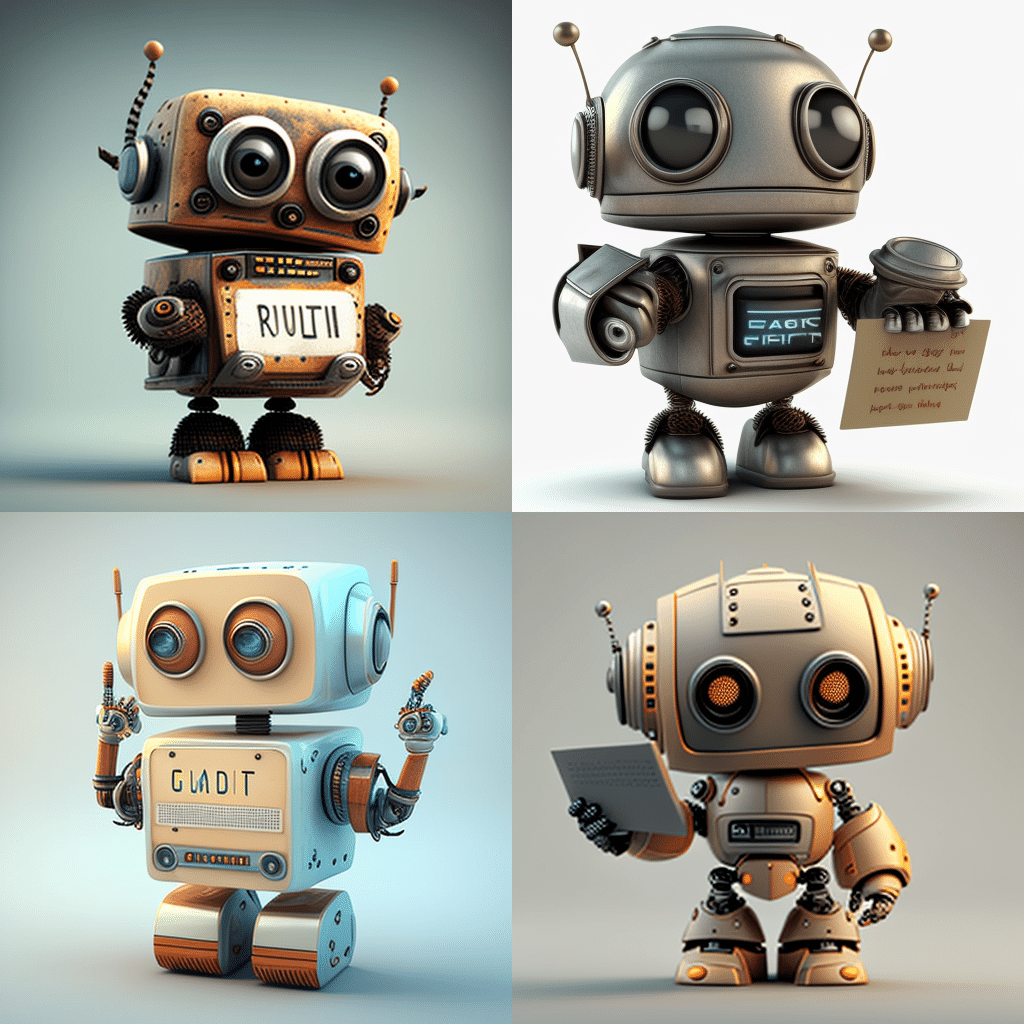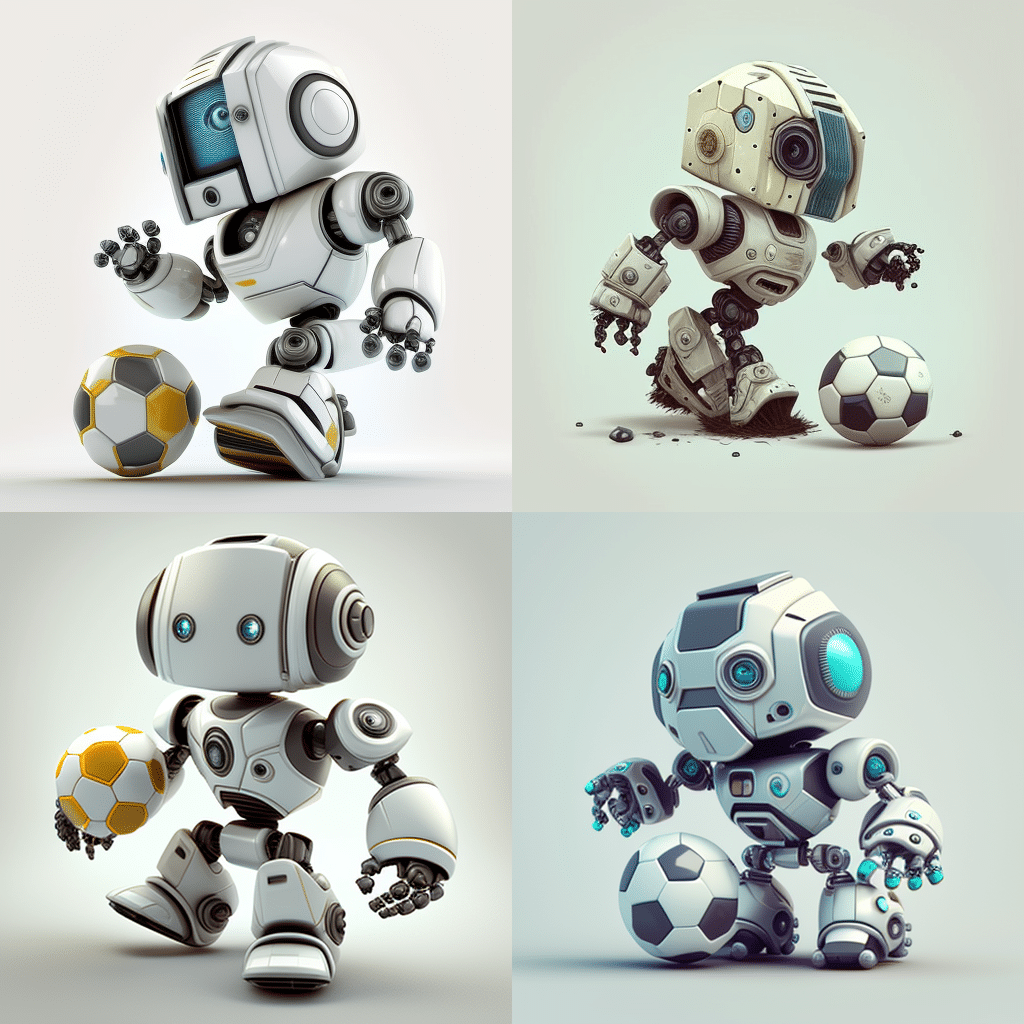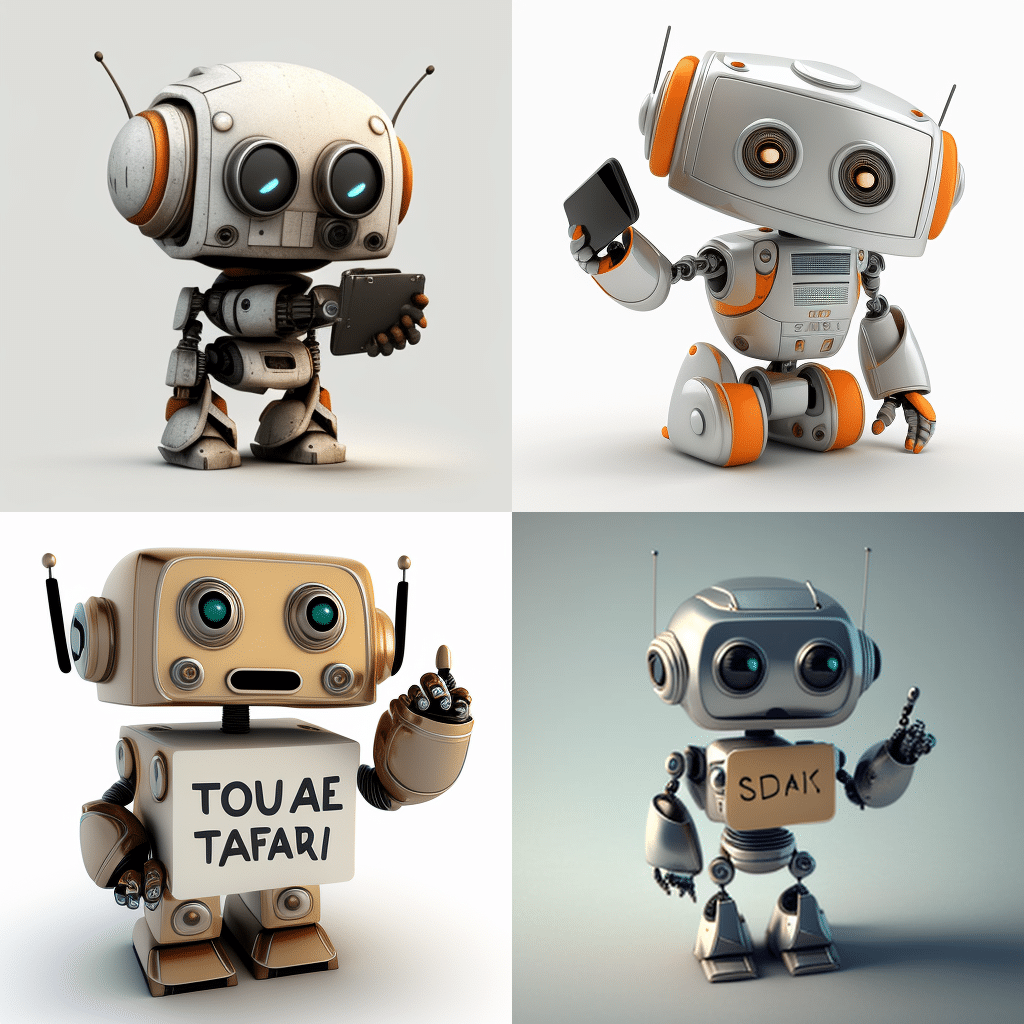 Meanwhile, here are the results from BlueWillow: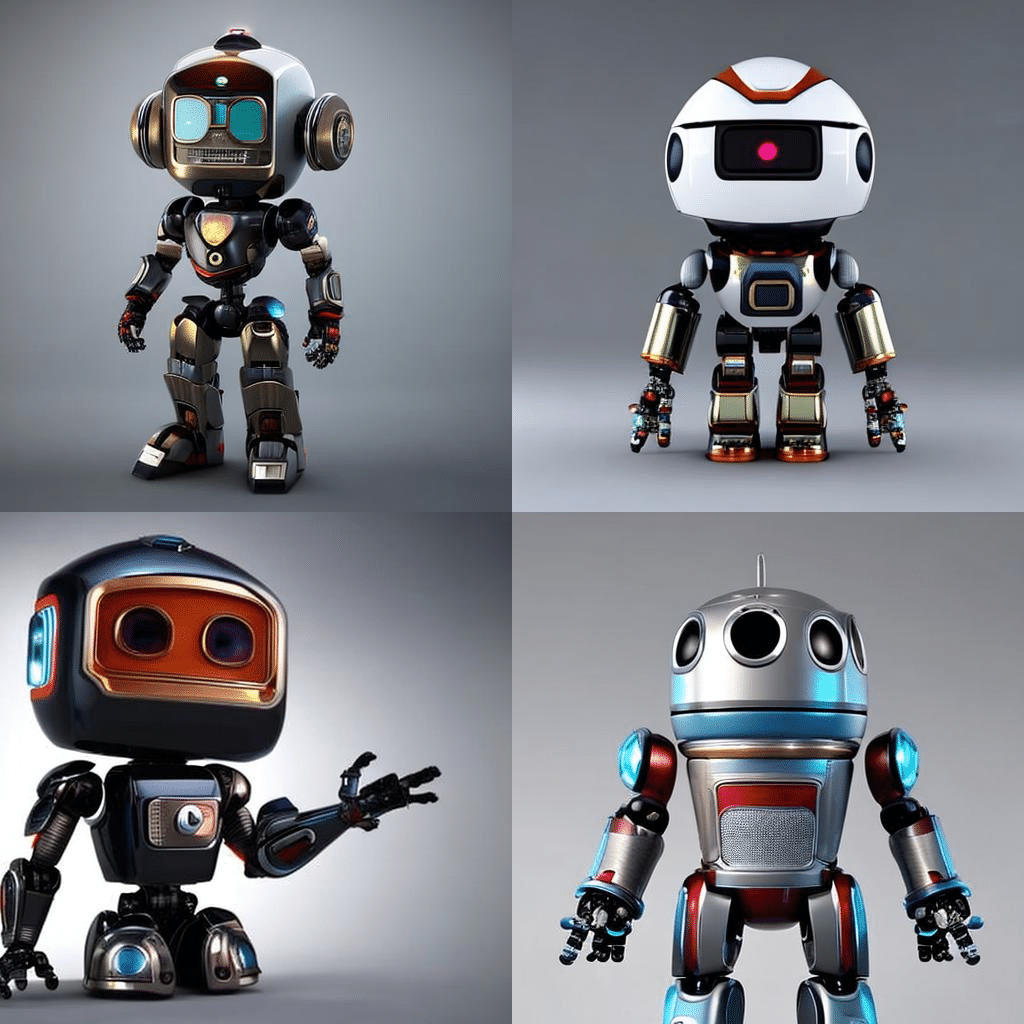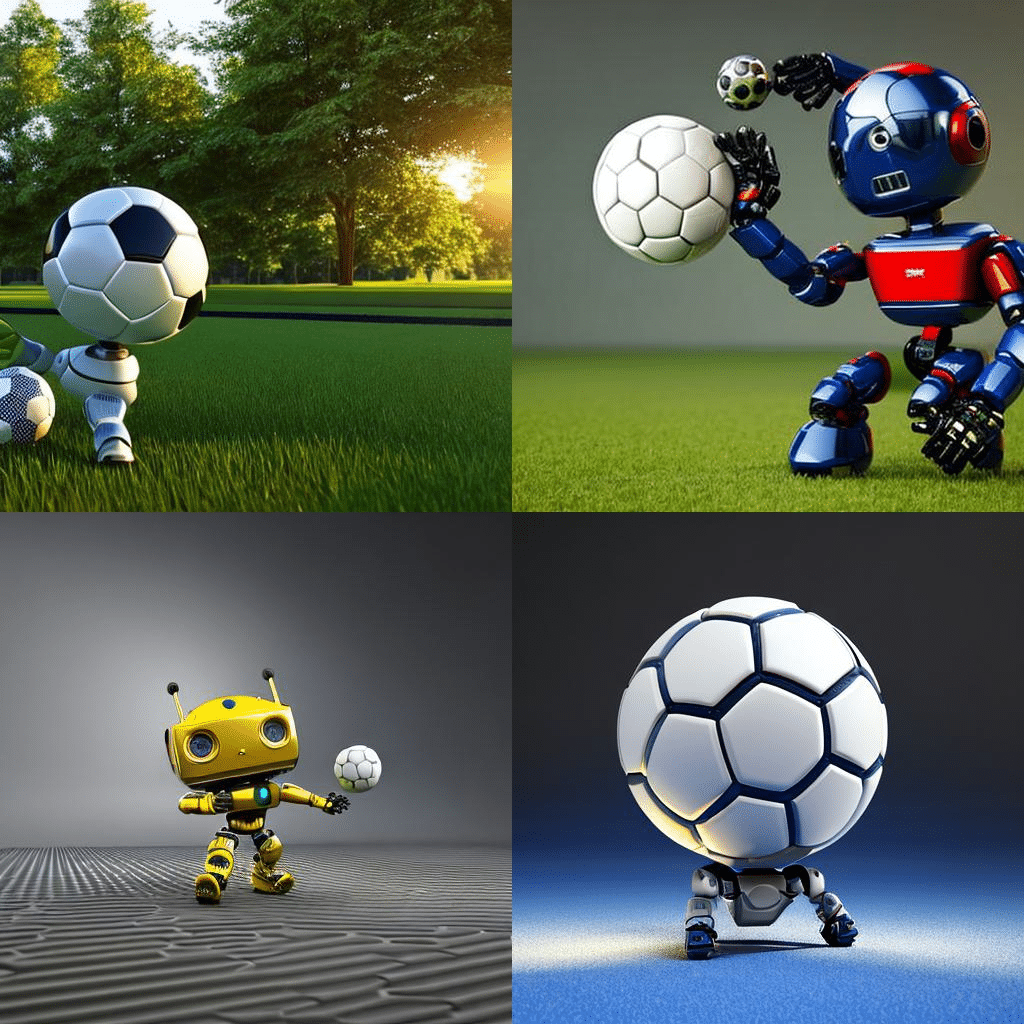 Both AI art tools provided us with great options, but we ultimately went for one of the robot images we got from Midjourney.
Afterwards, to further enhance the homepage and some text descriptions, we asked Midjourney Bot to generate more sports-related images to serve as banners and additional design elements. Here are some of the images generated for us: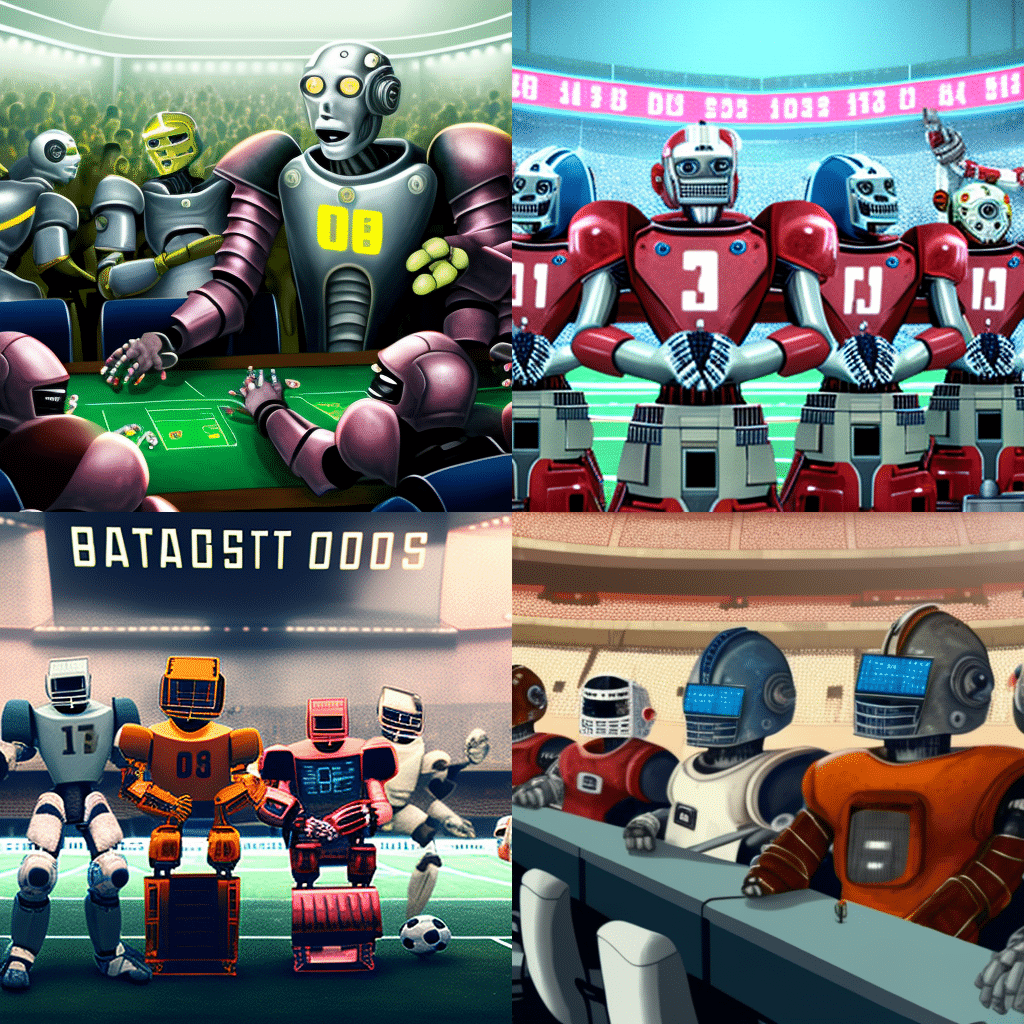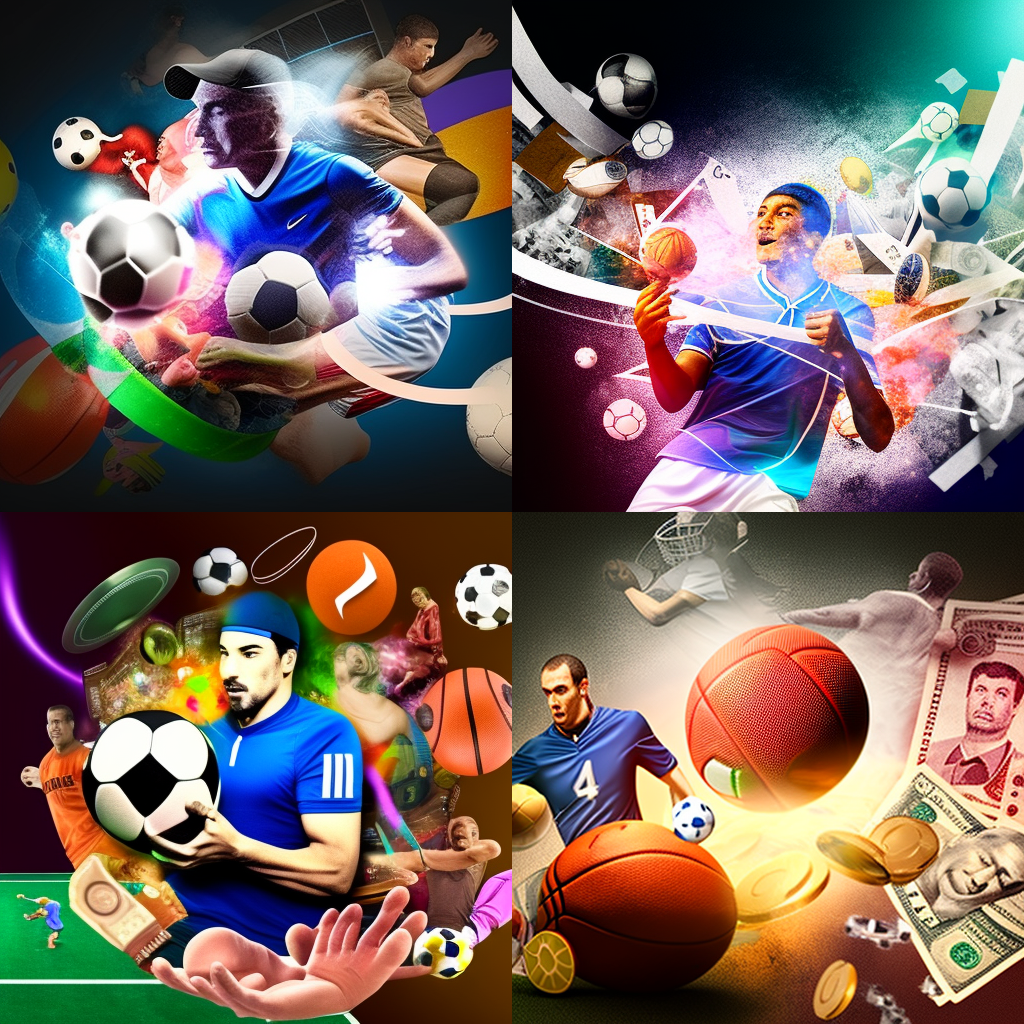 The final result: The sportsbookbacklinks.com design
After such a long design process, you must wonder what the final results look like. Fortunately, you can check it out when you visit sportsbookbacklinks.com, which is now live. To give you a little preview, here's a sneak peek of the homepage: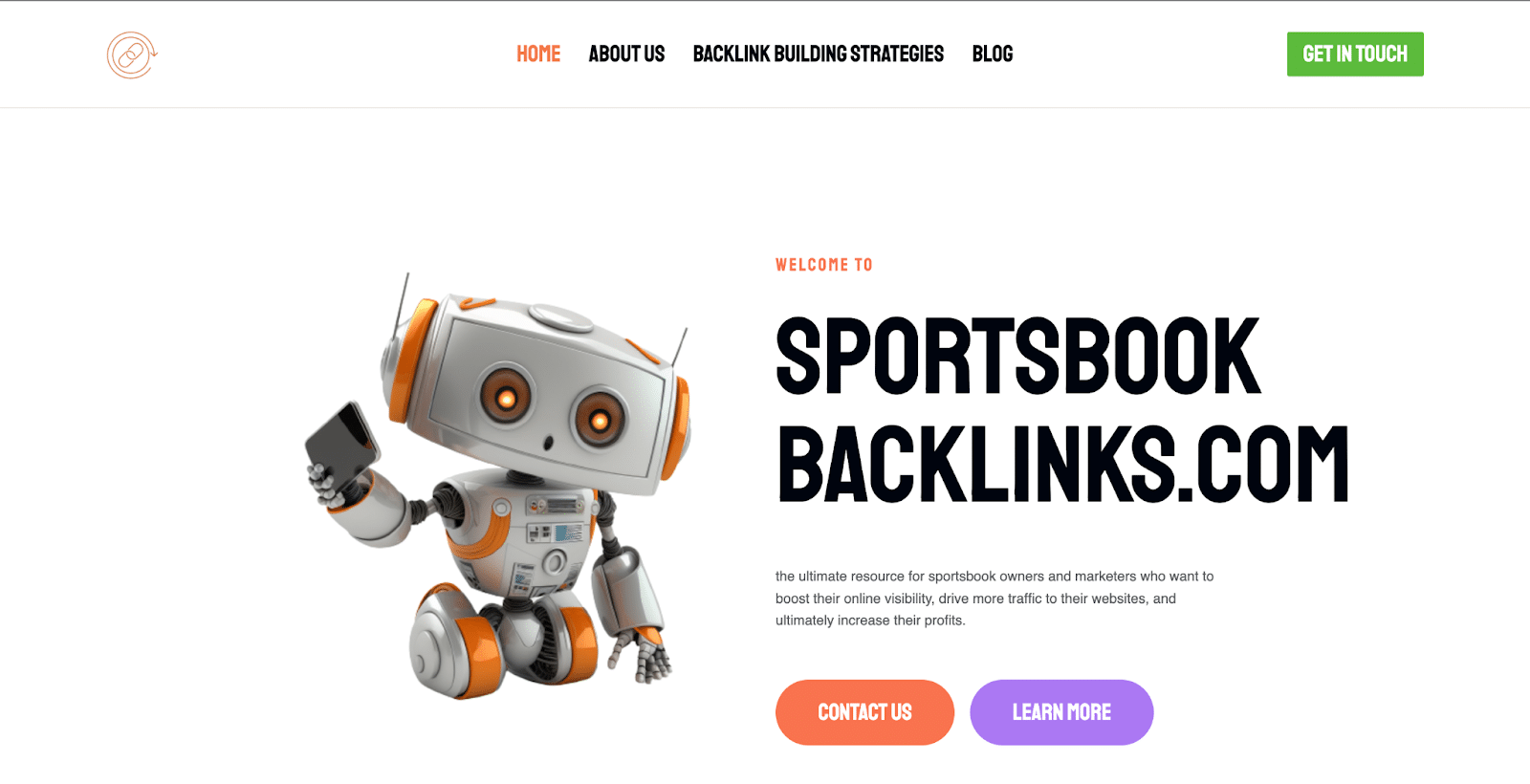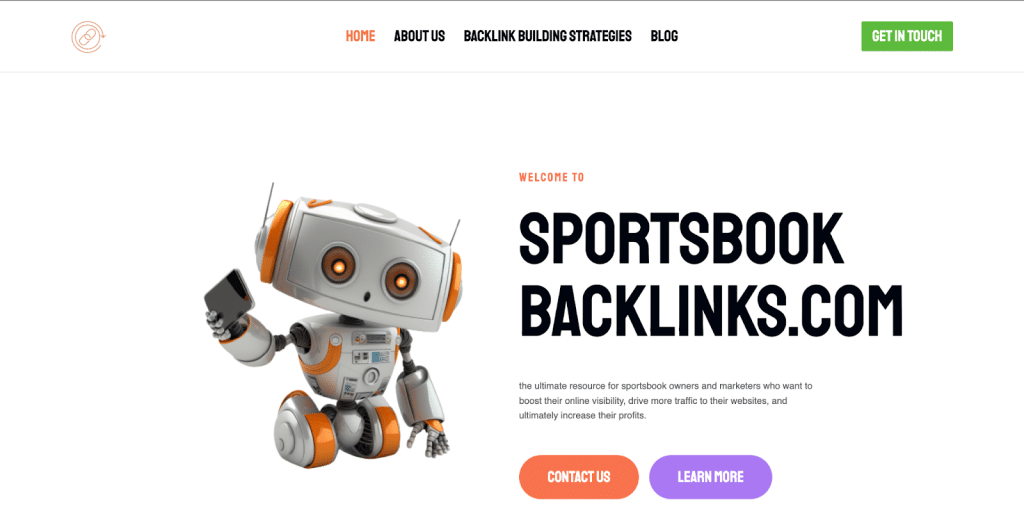 ChatGPT series: What comes next?
If you found this process intriguing, you'll be happy to know that there's more to come in our ChatGPT project. In the succeeding weeks, you can follow our journey as we use ChatGPT and additional AI tools to create and manage a fully-functioning website.
To give you an idea of what's to come, here are some of the topics we'll cover in the future:
Developing the website's content structure and calendar for the next six weeks through ChatGPT
Using ChatGPT to produce keywords and SEO content for the site
Using ChatGPT to audit the site's performance and discover areas of weaknesses
Examining the project's results after a month to see the site's overall SEO performance.
We've got an exciting month ahead of us as we explore the capabilities of ChatGPT as a tool for SEO content marketing. As you can see from our journey in developing a design for sportsbookbacklinks.com, there's quite a lot these AI tools can accomplish when you know how to ask the right questions.
However, what more can it accomplish? We're determined to find out and document the entire process for you, so visit QWERTYLABS weekly to follow along.