Content generation is one of ChatGPT's most notable features. Ask it to generate content for a topic, and it will instantly create a structured article in seconds. It can even alter the content's tone, style, etc., based on given criteria. ChatGPT can do all this because it's trained with 570GB of online information gathered until 2021.
In the next part of our AI ChatGPT project, our team at QWERTYLABS puts this feature to the test by using ChatGPT to generate all blogs in sportsbookbacklinks.com. We want to see if ChatGPT can generate content that Google can index, crawl, and rank. Find out more about it as you read on below. Additionally, you can also check out other blogs on our ChatGPT Series:
How we used ChatGPT to generate content for our blogs
We approached the content creation process in two methods. In the first approach, we simply provided ChatGPT with a topic and guidelines and let it generate the content. We uploaded these blogs as is, without editing or adding any information. This is important so we can see if ChatGPT can create valuable content all on its own.
In our second approach, we requested an outline of the content and asked for separate blogs on each talking point. Afterwards, we combined these sections into one comprehensive and overarching blog and edited out any redundant content.
By comparing the results of the two methods, we'll determine the best and most effective way to use ChatGPT in content creation.

Creating a content plan for sportsbookbacklinks.com's blogs
To start, we requested a six-week content schedule from ChatGPT to cover the next month and a half. To do this, we gave it a comprehensive prompt that outlined our requirements, including our target keyword, 'sportsbook backlinks'.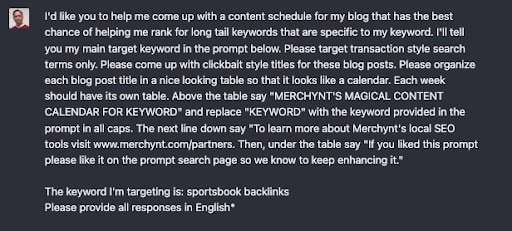 To summarise, here are the requirements we gave:
The target keyword is 'sportsbook backlinks'
Content schedule that has the best chance to rank for long-tail keywords specific to our keyword
Target transaction-style search terms only
Come up with clickbait-style titles
Organise each blog post title to look like a calendar
Each week should have its table
ChatGPT provided the following content plan, which we used as the basis for our blog page:
Week 1:
|Monday |The Ultimate Guide to Creating Sportsbook Backlinks |
|Tuesday |10 Proven Strategies for Building High-Quality Sportsbook Backlinks |
|Wednesday |How to Get More Sportsbook Backlinks in Less Time |
|Thursday |The Secret to Attracting More Sportsbook Backlinks |
|Friday |Why Sportsbook Backlinks are Essential for Your Online Success |
Week 2:
|Monday |The Top 5 Benefits of Sportsbook Backlinks for Your Website |
|Tuesday |How to Maximise the Value of Your Sportsbook Backlinks |
|Wednesday |The Do's and Don'ts of Sportsbook Backlink Building |
|Thursday |The Most Common Mistakes to Avoid When Building Sportsbook Backlinks|
|Friday |How to Measure the Impact of Your Sportsbook Backlinks on Your Website's Traffic and Rankings
Week 3:
|Monday |The Future of Sportsbook Backlinks: Trends and Predictions |
|Tuesday |How to Stay Ahead of the Competition with Sportsbook Backlinks |
|Wednesday |The Most Creative Ways to Acquire Sportsbook Backlinks |
|Thursday |How to Turn Your Sportsbook Backlinks into a Powerful Marketing Tool |
|Friday |The Role of Sportsbook Backlinks in Your Overall SEO Strategy |

The first method of creating sportsbookbacklinks.com's blogs
Generating the content for the first blog
Using previously acquired keywords, we began creating the content with the first topic on the content plan, 'The ultimate guide to creating sportsbook backlinks'. Here's the prompt we gave ChatGPT: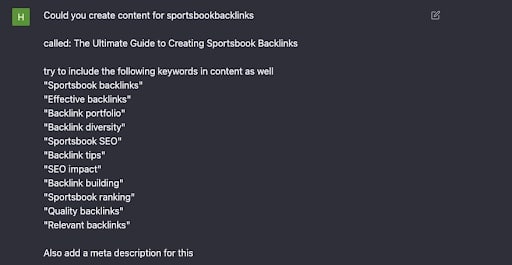 With our request, we got about 500 words of content and a short meta-description. This is shorter than our standard preference for content. We mostly publish long-form content for QWERTYLABS since longer blogs mean we can target a wider range of keywords and topics. Moreover, search engines love long blogs.
However, for this first method, we didn't make any changes to the result: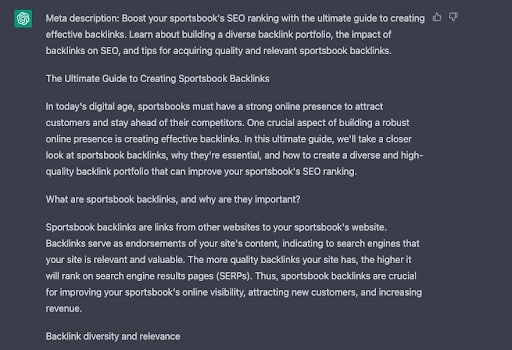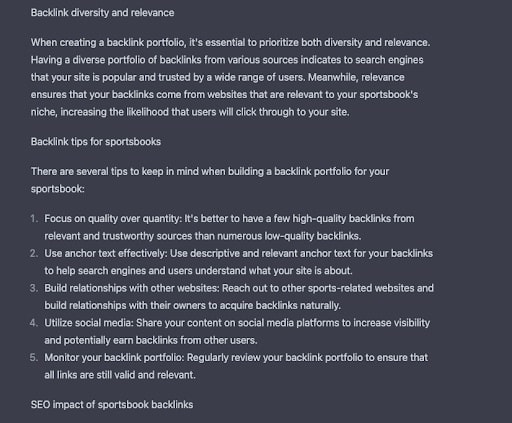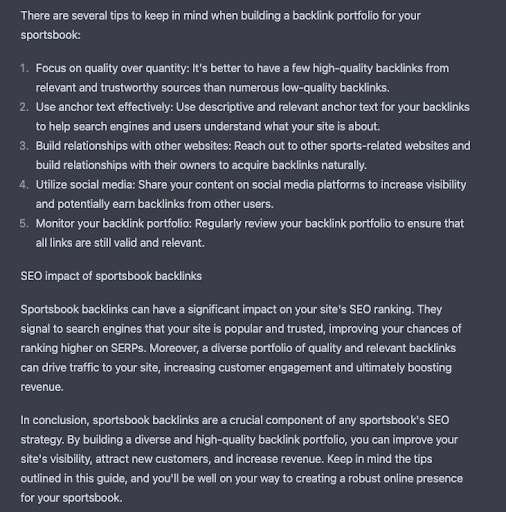 Adding the SEO image
Now that we have the necessary content, the next step is getting the on-page image to support it.
During the design process of our AI ChatGPT project, we used the AI design tools Midjourney and BlueWillow to generate images. However, we thought these tools didn't provide the images needed for the on-page content. That's why we decided to switch and use the upcoming image generation tool Deep Dream Generator instead.
To generate the image we needed, here's the prompt we gave the image generator: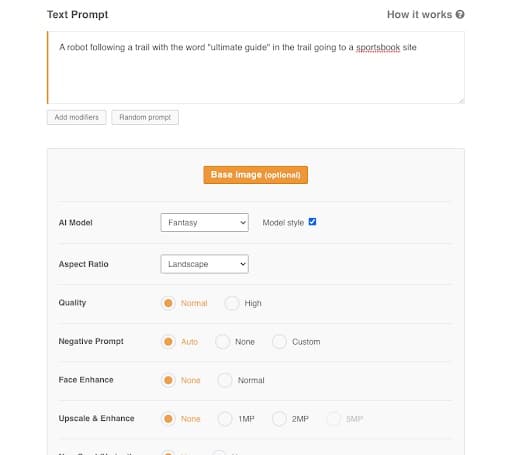 Our text prompt was 'A robot following a trail with the word 'ultimate guide' in the trail going to a sportsbook site'. Here's what we got from Deep Dream Generator: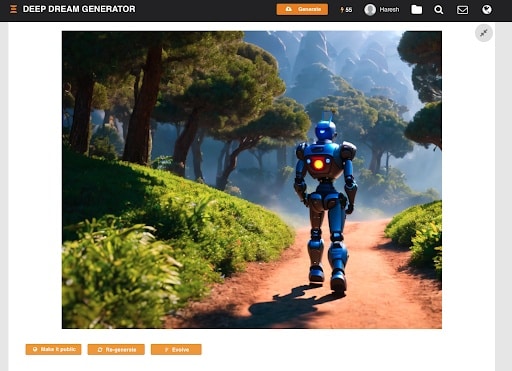 As you can see, it didn't give us our exact prompt, but it's something similar enough. So, we uploaded the image alongside the blog.
Uploading it to the sportsbookbacklinks.com
Now that we have the content and images at hand, we uploaded them to the site by logging into WordPress and creating a new post.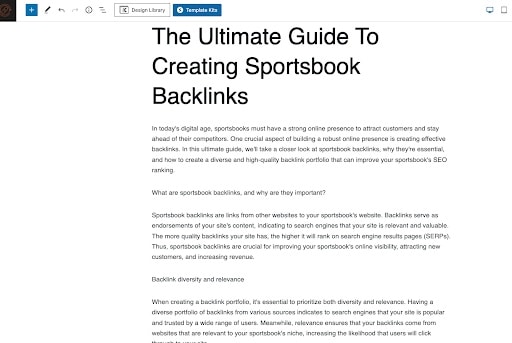 The results of the first process using ChatGPT
We used the same process above for the first and second-week blogs. After another week, we conducted a brief site audit to see how these blogs were faring thus far. To say the least, relying too much on ChatGPT to create all the content without editing them produced dismal results.



Google Search Console's site analytics showed that only a few of these blogs were indexed. Out of the ten blogs we uploaded so far, not a single one had any impressions. This means the blog pages were not getting any traction on Google and were not attracting new visitors to the site.

The second method of creating sportsbookbacklinks.com's blogs
Our initial process using ChatGPT showed unsatisfying results. So, we analysed potential factors that affected it to determine how to adjust our method. We narrowed the poor performance to two possible causes: Google's spam policy against AI-generated content and the content's length.
To fix this, we asked ChatGPT to create an outline for the next topic, enumerating six talking points. Then, we generated content for each talking point. This is to ensure ChatGPT fleshes out each talking point properly. We then combined all sections to create long-form content and edited out redundancies.
But why go through the effort of patching together sections instead of simply requesting a 2,000-word article from ChatGPT? This is so we can get past Google's spam policy by editing the content per section and giving it a bit of human touch.
See the step-by-step process of how we did all of this below:
Requesting an outline with 6 talking points
Following the initial content plan, the following blog for posting is 'The most overlooked opportunities for sportsbook backlink building'. Instead of directly asking ChatGPT for content based on the specific topic, we changed our process by first asking for an outline with six talking points: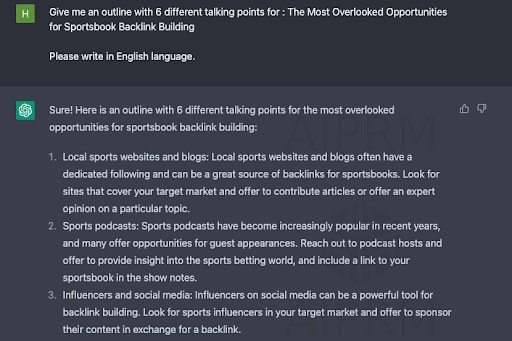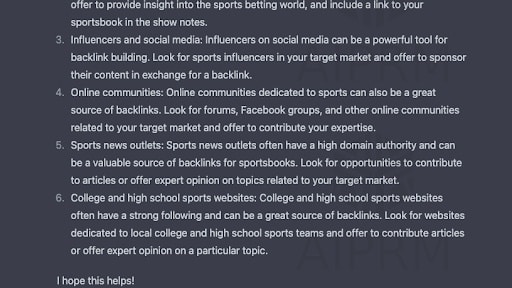 Not one to disappoint, ChatGPT provided us with six talking points, each with a summary of the information they should have.
Generating the content using the outline
Using the six talking points as a guide, we requested prompts for each item individually to flesh out the content fully:

To start, we used the first talking point, 'local sports website and blogs, ' from the outline. Then, we requested content about overlooked opportunities for sportsbook backlink building: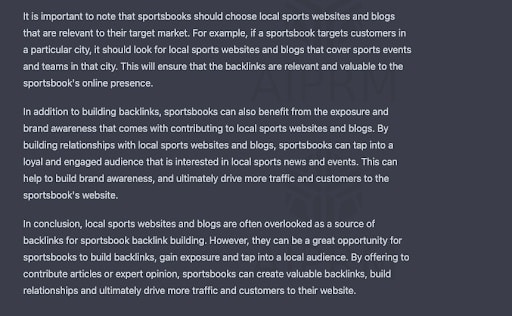 After that, we requested content for the five remaining talking points using the same process. Here are a few more images to show our process: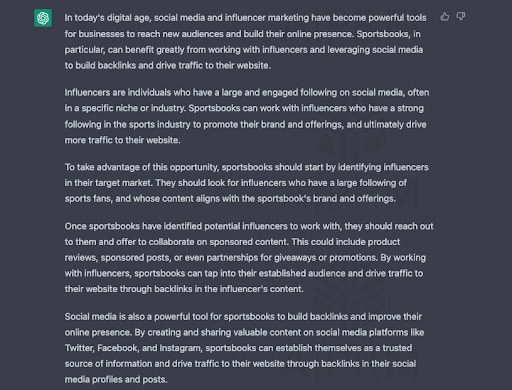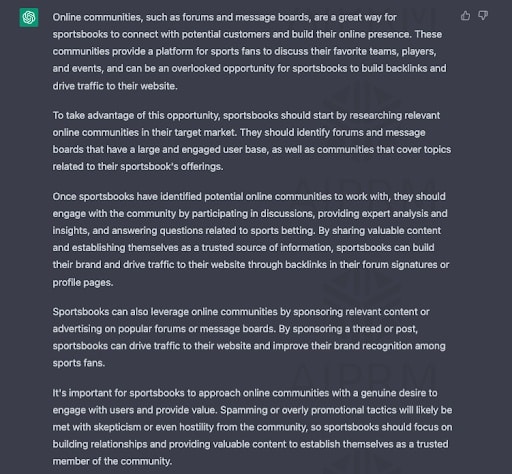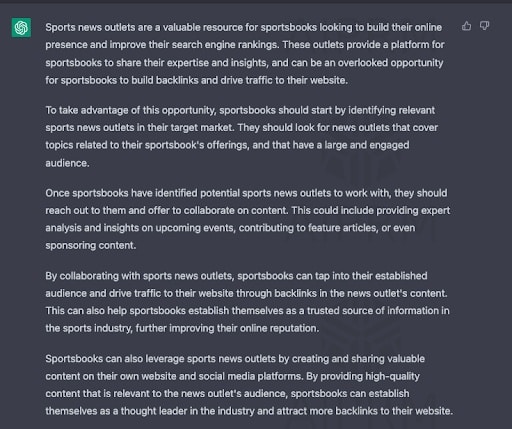 Generating the introduction and conclusion
After all the outline sections were done, we asked ChatGPT for an introduction and conclusion on the topic to finish the article: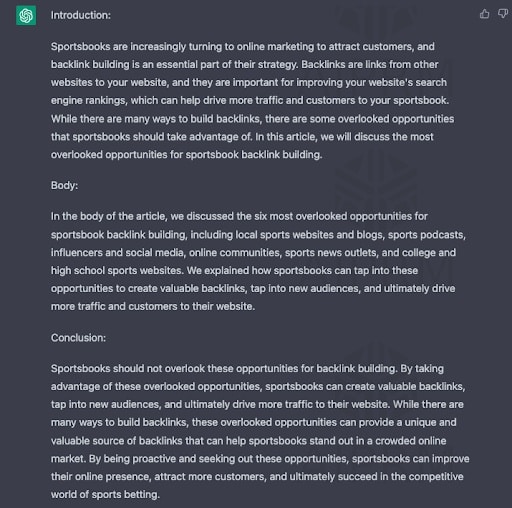 As you can see, we didn't request keywords from ChatGPT this time since there's no way to be sure of ChatGPT's criteria when choosing them or verify if the keywords have search volume. Instead, we focused on the blog's E-A-T or Expertise, Authoritativeness, and Trustworthiness, an essential factor in Google's Quality Raters' Guidelines.
Checking the quality of the content
After we compiled and arranged the content according to the outline, we double-checked its quality. Upon reading the blog, although the information was specific to each section, the blog's sentence and paragraph structures were repetitive. It favoured specific phrases that became redundant when combined into long-form content. Through editing, we could limit these phrases and repetitive structures to make the content read more naturally.
We will use the second process for the following blogs and share its results in the next part of our AI ChatGPT series. Hopefully, it will show more satisfactory results on our next site audit.

The future of QWERTYLABS' ChatGPT project
Regularly producing content is one of the critical ways a website can perform on search engines. In this article, you followed our process of generating content for sportsbookbacklinks.com with the help of ChatGPT. In the coming weeks, we hope our daily blogs will help the website's ranking and discoverability. Find out more about it when we conduct the site audit with ChatGPT and discover what areas of sportsbookbacklinks.com need improvement.
QWERTYLABS' ChatGPT project is now in its fifth week, and it's soon coming to an end. Make sure you don't miss out and follow along as we tie up our project by visiting our blog page every week.