As AI continues to progress, so does the QWERTYLABS AI ChatGPT project. Through our experiment, we continue our goal of discovering whether AI can maintain a website with minimal oversight. So far, we've learned that the current AI technologies still require a lot of human intervention. All throughout, we've updated our system to better fill the gaps that AI cannot. Find out more about QWERTYLABS' journey as we maintain sportsbookbacklinks.com with the help of various AI software, with ChatGPT at the front and centre.
What we set out to do with sportsbookbacklinks.com
It's been two months since QWERTYLABS' AI ChatGPT project began. What started as a means to determine ChatGPT's full capabilities has now resulted in a fully-functioning website known as sportsbookbacklinks.com.
With the sportsbookbacklinks.com site up and running, we thought this would be the perfect time to look back on how the project began. Throughout the last two months, we've faced ups and downs as we:
After all these steps, we now take a look at the results of the project. In this process, we try to gauge whether we've accomplished what we set out to do and what the future holds for this project.
How the sportsbookbacklinks.com progressed since its launch
Improvements after the audit
During our last update, we conducted an audit to see sportsbooksbacklinks.com's performance. We looked at the site architecture, content structure, crawlability and indexing, site speed, and more. If you've been following the series, you know that the sportsbookbacklinks.com website had mixed results. We passed some of the website QA tests, while we failed in others. The three criteria we failed at and have since improved on are:
Impression and clicks
After implementing a new way to generate content using ChatGPT, we've now improved our impressions and clicks, as shown below.




The image above shows the poor results of the site from early March to early April. However, towards the end of April, the site significantly increased in impressions, which means the site is possibly gaining more interest. Admittedly, these impressions still do not reflect in the click-through rates (CTR), which we still have to work on in the future. All things considered, it's clear we've taken a step in the right direction to make the site more appealing to our intended audience.
Indexing and crawling
Aside from impressions, we've also improved on the technical side of things. Now, all the pages of sportsbookbacklinks.com have been crawled and indexed by Google. That means we're much closer to getting our pages to rank on Google's Search Engine Results Pages (SERPs).
Homepage speed
Another aspect that had dismal results during our first auditing was the loading speed of sportsbookbacklinks.com. We need to fix this critical factor since slow loading speeds can turn off site visitors. To address this problem, we re-optimised our images to make the file sizes smaller and minimise the number of images on the homepage. This did the trick, and now, the homepage passes the test with flying colours.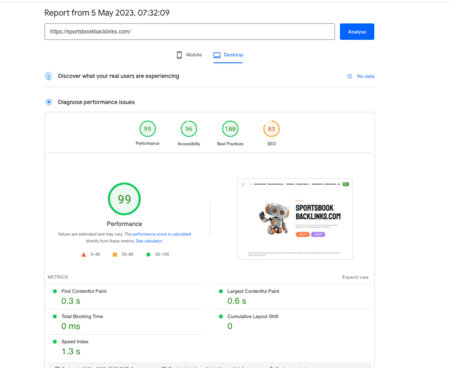 New methods we implemented
We've adjusted most of our processes in using ChatGPT to better accommodate the results we wanted to see in this project. Check out the latest methods we started using below:
Using ChatGPT-4
If you've been following ChatGPT and its updates, you're probably aware that it has recently released a paid version called ChatGPT-4. We've secured a spot in this paid version and started using it for our latest content on sportsbookbacklinks.com.
Thanks to the latest ChatGPT version, our content generation process has become simpler since the answers ChatGPT provides are now less redundant compared to the older versions. Due to this, we spend less time cutting down repetitive text and can instead focus on the content quality.
Even the quality of the content has been improved. At present, we no longer use the AIPRM extension, which focuses on improving ChatGPT's tone and writing style. With ChatGPT 4, the AI already used the tone and writing style we were looking for, which removed the need for an extension to alter it.
Blog creation process
Since seeing the results of the last audit, we've altered our content creation process significantly. Before, we would publish content ChatGPT provides based on our prompts. This often resulted in short-form content that had more or less 500 words. But now, we take the time to review the content we get from ChatGPT and make sure to check the quality of the information. Thanks to ChatGPT 4, our involvement in editing the content has lessened significantly.
Page interlinking
Page interlinking is essential since it helps Google crawl a website properly. This is a factor we've overlooked while creating the website. Fortunately, we've now addressed this. When you visit sportsbookbacklinks.com, you'll find all pages have internal links.
Posting schedule
Before, we followed ChatGPT's suggested content strategy of posting content daily. However, we've adjusted this to publishing a post every other day. This was done to have more time to manually check the quality of the content before we published them.
The future of QWERTYLABS' AI ChatGPT project
QWERTYLABS' AI project has come a long way since its launch, but there's still further to go. Although sportsbookbacklinks.com is now up and running, we've yet to see whether it can perform just as well as established platforms.
As we continue the project, we'll cover the following topics in our future posts:
Updating site images with the paid Midjourney AI
1st quarter review of sportsbookbacklinks.com.
Discover what more QWERTYLABS can accomplish with our AI ChatGPT project by checking our blogs regularly for updates.