Pillar page SEO: Why it's essential for your online casino site
A pillar page covers all aspects of a topic on a single page. It's the high-level core page containing links to cluster pages for clear site architecture. Creating these is a popular strategy to make your site more crawlable. But not everyone does it because of how hard and time-consuming it is. However, pillar pages can be the solution to your page's ranking problem. If created correctly, it can provide more organic traffic to your site. Here's QWERTYLABS' guide on what it is and how to optimise it for your casino SEO strategy.
What is a pillar page?
A pillar page is a comprehensive piece of content that provides an overview of a main topic and introduces in-depth articles about specific subtopics. It's like a table of contents with cluster pages representing individual chapters. It serves as the main landing page within a content hub and the cornerstone of your content strategy.
A pillar page represents your most important content themes and presents users with subjects that are relevant to them. It's often long-form, evergreen content that covers the whole topic to offer a comprehensive picture of the subject. eBooks, reports, guidelines and long-form websites are some examples of content pillars.
Why pillar pages are important in casino SEO
Having a pillar page for your online casino not only organises your platform but also boosts your site's SEO. This means improving search engine rankings, link-building and conversion rates, which increases your site's authority and enhances user experience. Find more reasons why pillar pages are crucial in casino SEO below:
Improves search engine ranking
Creating pillar content that provides valuable answers to user queries can raise your site's ranking since search engines like Google prioritise pages with comprehensive and in-depth content. Since pillar content is a comprehensive piece of content, having one in your platform can increase your chances of ranking higher on search engine results pages (SERPs).
Enhance user experience
If your casino site's bounce rate is high, you might not have good SEO results since Google and other major search engines interpret a high bounce rate as bad content. You can fix this with a pillar page design. Pillar content engages and retains users on your platform. When you have a pillar page, you provide your users with in-depth and comprehensive content, which encourages them to stay longer.
Effective link-building strategy
When you create extensive and in-depth information, you increase your chances of attracting links from other websites. This increases the authority and reliability of your website, which improves rankings.

How to create a pillar page: The step-by-step guide
Now, here's the complex part: creating a pillar page. The first thing you need to do is develop your topic cluster. You have to uncover the keywords needed, come up with blogs and categories and write cluster pages per niche.
To make it easier, follow the steps below.
Choose a topic
The first step is picking a topic relevant to your platform and target audience. It should be broad enough so you can create multiple blog posts about it. However, avoid too broad topics that are too tedious or unnecessary to cover completely.
Do keyword research
After choosing a topic, it's time to do extensive keyword research. You need to do this to discover search queries about your topic cluster SEO. To do this, you can use SEO keyword research tools like Ahrefs, Surfer SEO and InLinks.
Another way to discover helpful inquiries is to use Google autocomplete suggestions and similar searches at the bottom of the SERPs. It provides you with more info on how people search.
Write cluster pages
Creating pillar pages is much easier when there is already content in your cluster pages. A topic cluster or cluster page is a group of articles or blog entries on related issues within a subject that, when combined, gives a thorough comprehension of that subject. Write these first before your pillar page to avoid putting redundant information.
Write your pillar page
Pillar posts are intended to holistically cover a topic and include internal links to cluster pages. But when creating one, remember to keep subtopics short so you can elaborate on them on cluster pages. You have to make your readers want more, so they can visit the related page. However, it still should have enough information. It can be tricky, but this is important so that your readers and Google are satisfied with the search query.
Optimise your pillar page
Remember to optimise your pillar page for on-page SEO. This includes:
Creating well-optimised meta tags
Using headers
Matching search intent
Creating readable content
Adding visual content.

Types of pillar pages
Not all pillar pages are the same. Some pillar pages have different elements, structure and content, but all target a parent topic and its related topics and keywords. Continue reading below as we explore different types of pillar content.
The Guide Pillar page
A Guide Pillar page gives readers a comprehensive overview of a certain topic and provides everything they should know about the niche. Most guide pillar pages are evergreen, like '101 guide for beginners' or 'ultimate guide to. The guide's cluster sections focus on certain areas within the primary topic, offering authoritative coverage on queries or special issues of interest to the readers.
The What-Is Pillar page
Most users search for 'What is + topic' on Google and other search engines to find answers to their queries. The What-Is page answers those search queries. This means that a What-Is page strives to define, describe and explain a subject.
This type of pillar page is useful if you're attempting to rank for a keyword aimed at beginners, where you're introducing a topic and subsequently offering comprehensive content that explores the issue in depth. If the subject is complicated, divide the themes or subtopics into chapters or parts.
This type is also perfect to use when you want to increase traffic to your site, mainly if the targeted keywords have high search volumes.
The How-To Pillar page
With How-To pillar pages, you're helping readers solve their problems and accomplish tasks through step-by-step processes or tutorials. Unlike the Guide pillar page, which covers a general topic, the How-To page goes into further detail. It's used to describe a procedure for newbies and experts, depending on the topic and search intent.
Pillar content examples
To help you better understand, we've provided a few examples of pillar pages from some of our partner brands.
Bitcasino Diamond Hand series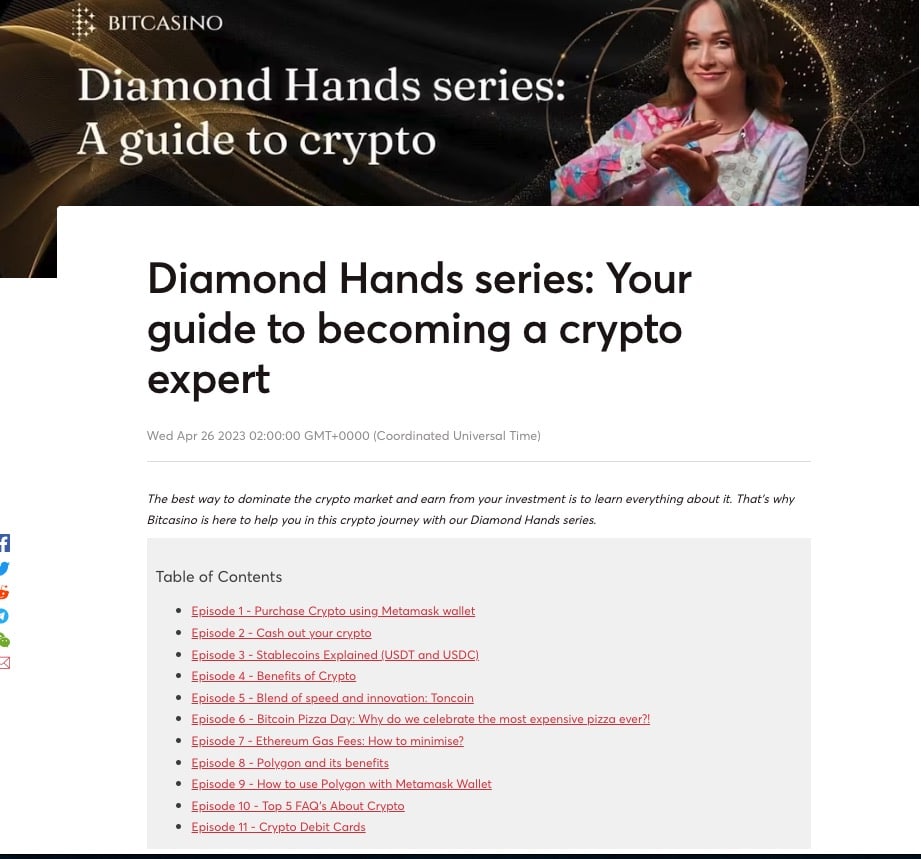 Here's a pillar page from Bitcasino about the Diamond Hand series for crypto enthusiasts, where you can learn everything about crypto and understand its market better. In this series, Bitcasino tackles several topics per episode regarding the crypto industry and how you can properly invest in it.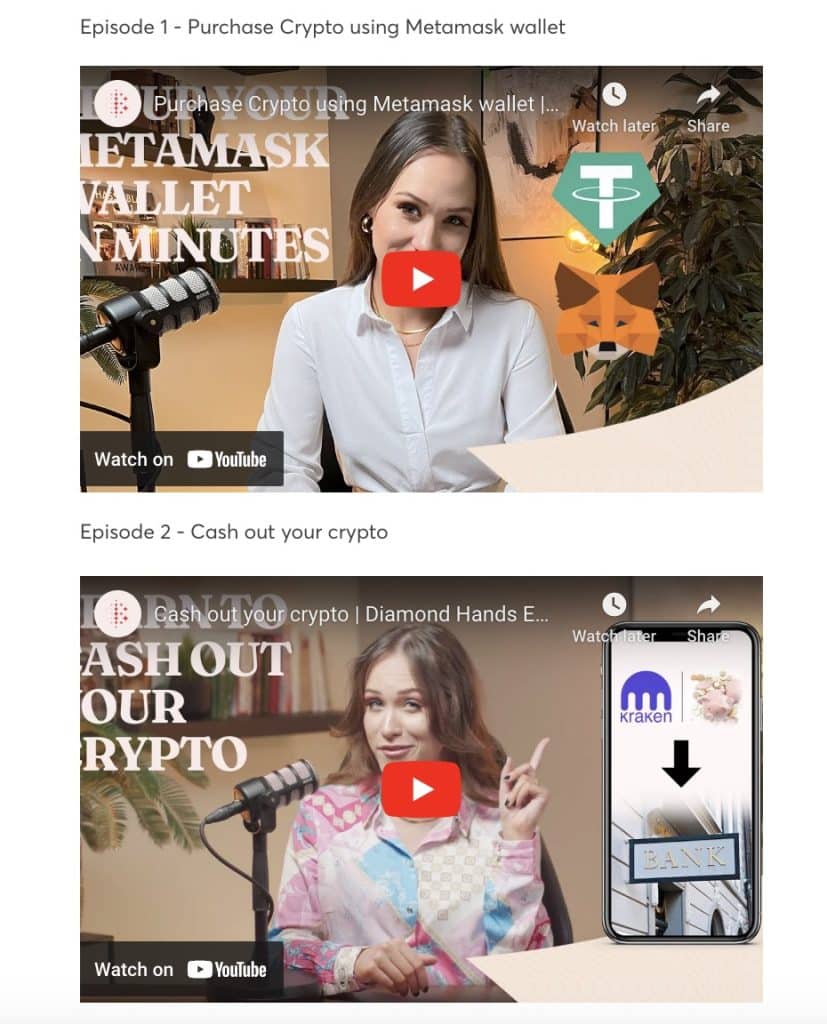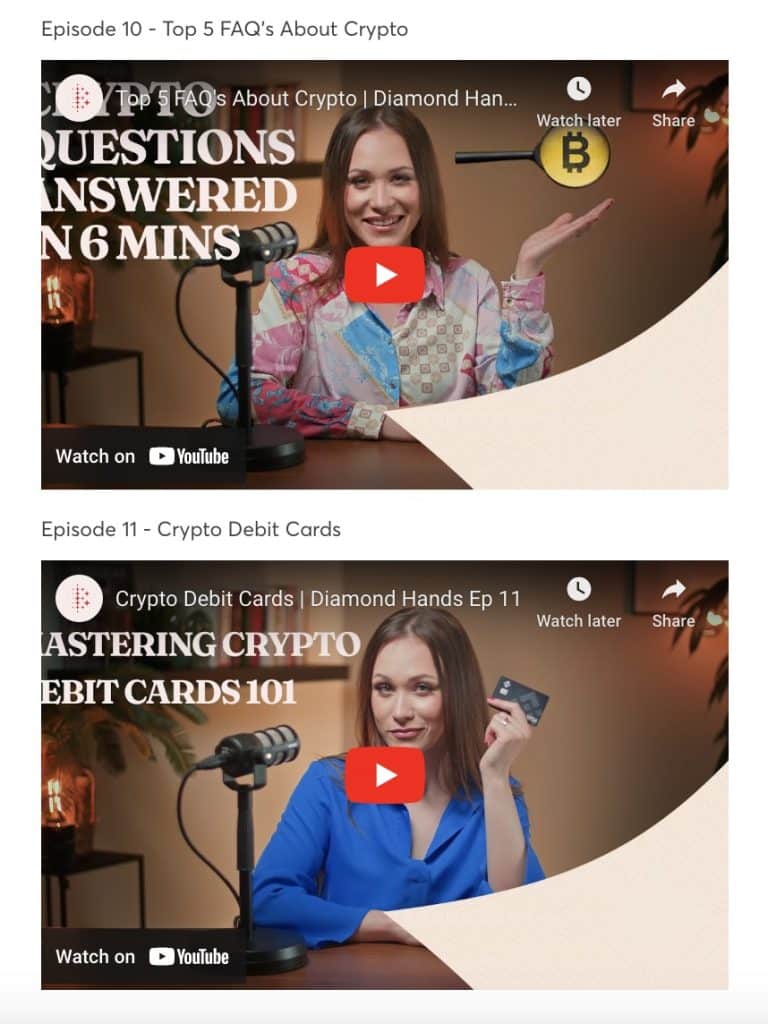 You can find here the ten episodes plus a blog post to further explain the topic. However, these are not the only episodes available for viewing. Bitcasino uploads weekly to update its players regarding crypto.
QWERTYLABS ChatGPT series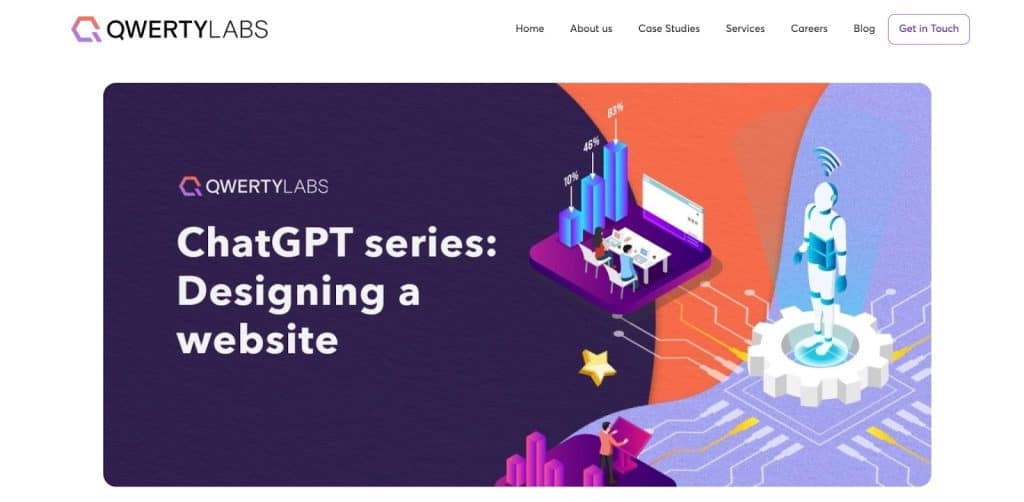 Here's a pillar page of our own about the popular AI, ChatGPT. In this ChatGPT series, we examined if a website built with this AI can compete with the top-ranking sites on search engines like Google. The site's branding, design and content were all developed using ChatGPT with minimum human input.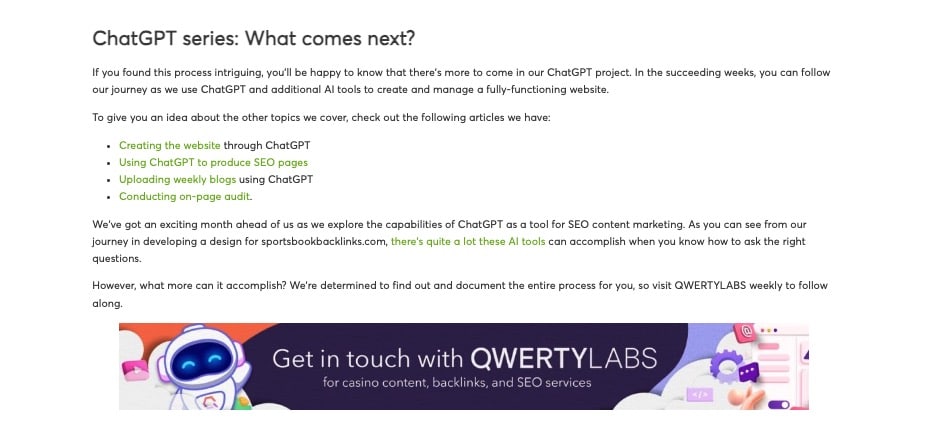 This pillar page links to all five parts in the series that cover every step in the process. It outlines the rest of the content you can check from that page. Get insights about the usefulness and limitations of using ChatGPT for your website here.
Boost your casino site using pillar pages with QWERTYLABS
Having a pillar page can help your brand's SEO rankings in many ways. If you have one, it can build topical authority, simplify navigation for users and search engines and improve your site's interlinking. Creating one can be complex, which is why QWERTYLABS is here to help your iGaming business. With our international SEO services, you can attain new levels of visibility and success online. Collaborate with industry experts and pros in link building and content generation and you will get the greatest metrics for your casino site. Contact us now!
FAQs
What is a pillar page in SEO?
A pillar page is a piece of content that provides a general summary of a key topic and connects to more detailed entries on specific subtopics.
What should be on a pillar page?
A pillar page provides comprehensive coverage of the subject on a single page with space for more in-depth research in cluster blog entries that link back to the pillar page.
What is the difference between a blog and a pillar page?
A pillar page gives the whole SEO pillar strategy structure and links to the other pages in the cluster using relevant keywords and hyperlinks. Blogs may or may not be a part of a larger content cluster.
What is a content cluster?
A content cluster is a group of articles or blog entries on related issues within a subject that, when combined, give a thorough comprehension of that subject.
How long should a pillar page be?
A pillar page needs to be long enough to contain all the content relevant to that broad topic but not so long that users start to lose interest. A pillar page often has 3,000 words or more.