Making niche content is how you can engage with your established audience but expanding it is also important. To do so, you need to widen the scope of your content by using commonly used statements or talking about popular topics. Using short-tail keywords is the best way to do that. You can mention certain topics so long as they are relevant to your main subject or use them in a variety of ways to expand on your point.
Many content creators already use short-tail keywords in blogs, articles, and social media posts. However, it is best used in practice with a thorough understanding of the subject. If you want to learn how to use short-tail keywords effectively, this guide from QWERTYLABS is for you.
What is a short-tail keyword?
To better understand what short-tailed keywords are, it's important to learn etymology. A standard search engine optimisation (SEO) practice is to group keywords by search volume and conversion rate.
Search volume refers to the number of times people have searched for certain words or phrases. Conversion rate is the frequency users clicked on a link provided as a result of their search query.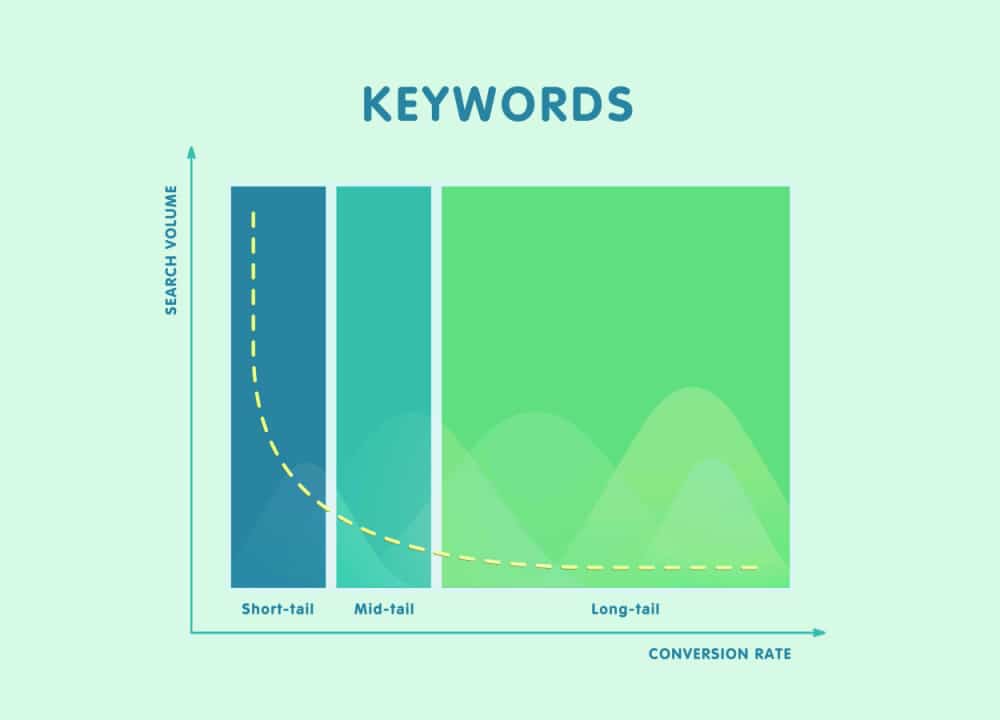 The graph above shows that many keywords are searched (y-axis), but some don't generate a large number in conversion. Keywords on the left are called 'short-tail' because their queries are high but have low demand, resulting in minimal conversion. The opposite is the long tail which refers to more specific query phrases. Their specificity results in low search volumes, but they have high conversion rates.
Short-tail keywords are search queries that can be described as 'broad' or 'generic' because they lack focus. Hence, they yield many search results, and the user only looks for one specific type of content.
Importance of short-tail keywords
Any online business prefers high conversion rates because it's the statistic that generates traffic. However, short-tail keywords are vital to any content marketing strategy. They are the foundation of any topic, and using them can rank your content higher on topical queries. Here's a run-down of the importance of short-tail keywords both for generic uses and for casinos specifically:
Short-tail keywords' importance in general
Using short-tail keywords lets you join the large list of results from as many queries as possible. It is used as the starting point of research, perfect for attracting users who are still finding their way around the topic. If your content has a strong-enough topical background, it's bound to get clicked by anyone going down the rabbit hole.
Short-tail keywords' importance for online casino platforms
The online casino industry is already a niche topic with short-tail keywords rooting from 'casino', 'crypto game', and 'casino bonus'. Potential customers are more likely to use short phrases or single words when looking for a new game or service they'd like to try, and that's the market you need to grab.
Millions of gamblers will simply type 'casino', and your goal is to have links leading to your webpage appear on the first page of the search results. Besides having links leading to your online casino, you can also establish backlinks on content that can score high as well. Putting ads on blogs featuring casino games or explaining online gambling topics is a great way to benefit from other people's use of short-tail keywords.

Examples of short-tail keywords
Short-tail keywords with QWERTYLABS can generate strong traffic. The secret lies in how the words and phrases are applied in every content, which Google can recognise and score accordingly. Tools like Google Analytics and Ahrefs can help show how well a content will score in a search and the criteria include how they would look in a given content. Here are a few examples of how QWERTYLABS use short-tail keywords for casino content:
Online casino content in general
Short-tail keywords for casino-related topics can start with a word as simple as 'casino'. Search results can be popular gambling sites in the user's region and the most-featured bonuses among related pages. Here are three more short-tail keywords but with more specific scopes that your target audience tends to use:
Online casino
People searching for 'online casinos' are typically looking for new gambling platforms to try. It can be further specified what kind of gambling service they are looking for. A few more examples would be 'browser casino' and 'mobile casino app'. They can also be looking for gambling sites that accept a specific currency. Thus, they would use keywords like 'crypto casino' for cryptocurrency traders or add Tether (USDT) or Bitcoin (BTC) to narrow their options. Consider using these if your online casino can satisfy any of them.
Casino Bonuses
Search results for 'casino bonus' will typically showcase available offers at various gambling sites. You can attract certain users by showcasing what kind of promotions you offer. This is why different kinds of deals are put into categories such as the following:
Welcome bonus
No deposit bonus
Match deposit bonus
Free spins bonus
VIP and/or loyalty bonus
Cashback bonus
Referral bonus
Reload bonus
Users can also add what type of currency they prefer. Most users will find suggestions of the types of bonuses they are looking for in their local currencies. Some bonuses can be exclusive to the United States dollar (USD), Euro (EUR), and cryptocurrencies like BTC and USDT, which will yield fewer results unless included in the query.
Online sports/esports betting
Searches for short-tail keywords for online casinos will typically stay within casino games. Thus, people who plan on betting for competitive sports or esports will need to use different queries. This includes 'sports betting', 'sportsbook', or 'online bookmaker'.
Many users will search for the name of the sport, video game, or league followed by the word 'betting' to be more specific. Such queries are still counted as short-tail keywords. They become too specific if the search includes the bookmaker's name and the teams/players in a match.
Specific casino games
Online casinos have thousands of games available, all of which can fall into a handful of categories. The traditional list revolves around titles inspired by brick-and-mortar gambling houses. Here are some examples of short-tail keywords for specific categories:

Slots
Gamblers can also refer to slots as 'online slots' or 'online slot games'. This is the category for games with reels operated by random number generators (RNG). Titles under this can also be grouped into what game mechanics they have in common. Many of them are named like the following:
Jackpot slots
Progressive jackpot slots
Megaway slots
Buy-in bonus games
Cascade/avalanche slots
Scatter reels
Most gamblers don't search for these specific keywords and would usually settle for 'slots'. However, they are great foundations for casino content exploring different online game mechanics for new gamblers. QWERTYLABS has created a lot of content revolving around each one of these and you can use them as backlinks for your games, too.

Table games
Table games are the second major category of online casino games next to slots but the number of titles in it usually only reaches up to a hundred. What it lacks in quantity it makes up for in the strength of the identity of its varieties. They are more often searched in their specific sub-categories like the following:
Online roulette
Online baccarat
Online blackjack
Online casino poker
Online sic bo
Online andar bahar
Online craps
Adding the word 'online' is often essential to differentiate it from its brick-and-mortar counterparts. Your casino can offer other niche table games, like backgammon and dominoes, which you can also use to attract potential customers. Likewise, users can also be broader and simply type short-tail keywords like 'card games' or 'dice games'.
Sports and esports betting
Betting on competitive games is often considered separate gambling from casino games, but most gaming websites offer both services nowadays. Many of these have partnered with QWERTYLABS to find their respective target audiences. The popular short-tail keywords on this topic often include leagues, clubs, and athlete names.
Most bookmakers also identify sports and esports betting, but both are on the same platform. Thus, much casino-related content about 'sports betting' also applies to esports.
Games and leagues
The importance of short-tail keywords in sports betting revolves around separating different sports or games from each other. Football fans, for example, need to use 'football betting' or 'soccer betting' to find pages and bonuses dedicated to them. The same is true for video game fans who have to type the title of the game they want to bet on.
Typing the league name like 'English Premier League' can be specific, but it's still considered a short-tail keyword because it's still a broad query. It yields results covering various aspects like the latest updates, current standings, best websites for betting, and fan discussions of the topic. However, adding 'sports betting' with it will make it a long-tail keyword because it shows results specifically leading to sportsbooks. The same happens when you add the year of the league.
Clubs and teams
Looking up clubs or teams is much more sensitive in search queries because any additional description will count as a long-tail keyword. For example, looking up 'Arsenal' in football or 'Evil Geniuses' in Counter-Strike: Global Offensive (CS:GO) count as short-tail. Adding their respective leagues or the year will count as a long-tail keyword. Keep the short-tail keywords as much as possible when making content that is not specific to any season or news.
Athlete and player names
Queries about athlete or player names fall into the same situation as searches for clubs and teams. A name like 'Lionel Messi' is considered a short-tail keyword because searches can yield news, statistics, and biographical information about the person. Any word to add to this like their team name or any year number will make it a long-tail keyword yielding results of his performance.

Ways to apply short-tail keywords
The examples of short-tail keywords are vast, but their applications are easy. QWERTYLABS is known for masterfully using search queries in simple yet effective ways. Google prefers content where keywords are used a lot but not too much. Just keep their use concise and organic because SEO scores can decrease when used in excess. Here are three places where you should put short-tail keywords for the best score on search engines: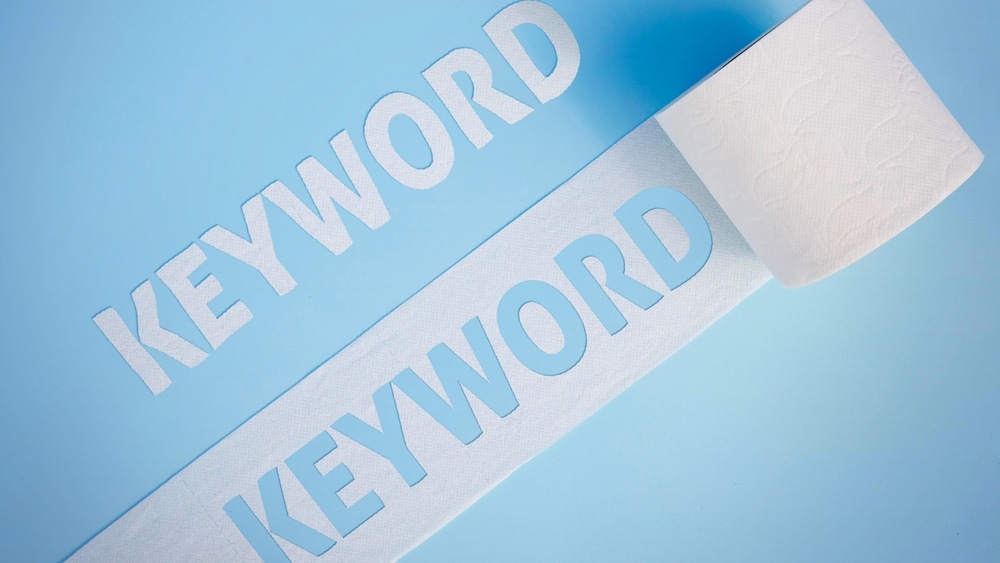 Page headlines and talking points
The page headline can be your content's title or the meta title of the link leading to it. Use the main keyword once to show what the page is about. It can be a form of a statement encompassing the content, usually for advertising casino bonuses. Likewise, it can also be a question that the content aims to answer, which can take the user to your casino's frequently asked questions (FAQs) page.
If the page contains an article or blog, you may apply short-tail keywords to its talking points or subtitles. Each heading can explore different topics related to the keyword in question. It's a great idea to attract various users to one page. Google also likes highlighting a sentence or two that answers specific queries containing the keyword.
Page meta description
The meta description is the short one or two-sentence description by the link leading to your page in Google search results. Just add one short-tailed keyword to establish further what the page is about to attract users into clicking on it. Short-tail keywords are great in this part of the content because it is only up to 150 characters long. Simply mention the topic, then add a call to action, encouraging the reader to check the rest of the content.
Body of most talking points
The body is where readers expect to see answers to their queries, and you have to add short-tail keywords on several areas to keep them focused on the topic. It is complex in practice because using too little can confuse, while too much can make it prone to misuse.
The best way to keep keyword use in a proper amount is to practise moderation. Never fluff for the sake of adding it into sentences that are part of a paragraph where it's already mentioned. Also, for clarity, use them in proper contexts, such as when explaining what they mean or when comparing them to another topic.
What to avoid when using short-tail keywords
Just as there is a proper way to use short-tail keywords, there are also many mistakes that a writer can make. QWERTYLABS has a long history in content creation and is wary of these pitfalls, and it takes years of specialisation in SEO to avoid them efficiently. Here are crucial mistakes to avoid in using short-tail keywords:
Neglecting the relevancy of the talking point
Content creators with no knowledge of SEO will think that rambling about any topic related to the keyword will suffice, but this can do more harm than good. Google can scan and score content based on what kind of answer it is trying to provide or how well a reader can jump from one topic to another. It's an easy mistake to make because a short-tail keyword is broad. The best way to keep content revolving around a single topic is to focus on answering one question at a time.
Not focusing on the user's query
The point of using short-tail keywords is to attract search engine users to your blog, but you have the duty to provide what it is they are looking for. Don't add it in content focused on a different topic. This mistake can happen when the writer mentions a keyword in passing despite most of the paragraph being dedicated to a different one.
Keyword stuffing
Keyword stuffing is the excessive use of the same short-tail keyword within the content. It's better to mention it once as a noun and then refer to it in succeeding sentences in pronouns. Keywords can be used again at the beginning of every paragraph but keep each one into three to four sentences long.
Level up your casino content with QWERTYLABS!
Making casino-related content using short-tail keywords is easy if you have a strong network of backlinks to back up every page. QWERTYLABS can help you build it from the ground up with help from a high-calibre team of content creators. We offer every SEO and content creation service you need to reach your target audiences. Contact us now to work together to establish your casino platform as a leading brand in the industry.