As Japan slowly opens its doors to online gambling, international casino sites are looking for a way to break into the Japanese market. It's challenging for most gambling companies since they must also consider the country's digital landscape. On top of that, other factors such as culture, consumer behaviour and law regulations on gambling are critical in marketing your casino site to Japanese players.
Learn all about Japan's digital marketing and gambling scene and trends you can use to promote your online casino site at QWERTYlabs.
What does the digital marketing landscape look like in Japan?
A digital marketing landscape is a collective term referring to websites, emails, social networks, mobile devices and other types of online content. It helps companies spot the trends and opportunities that allow them to break into a market. Below are the current trends in Japan you should consider:
Japan's current population
As of writing, Japan's population is 125.8 million and 90% are internet users, according to Data Common, an open-source census. Additionally, based on AsiaPac's findings, a Japanese citizen spends an average of 4 hours and 25 minutes on the internet daily. Most of their online activities include video streaming, vlog-watching and listening to music and podcasts. At the same time, Japanese users frequently use search engines such as Google and Yahoo Japan to look for products they need.
So if you're aiming to enter the online casino industry in Japan, you can maximise the opportunity to rank better in these search sites through effective SEO practises to be more visible to the country's users.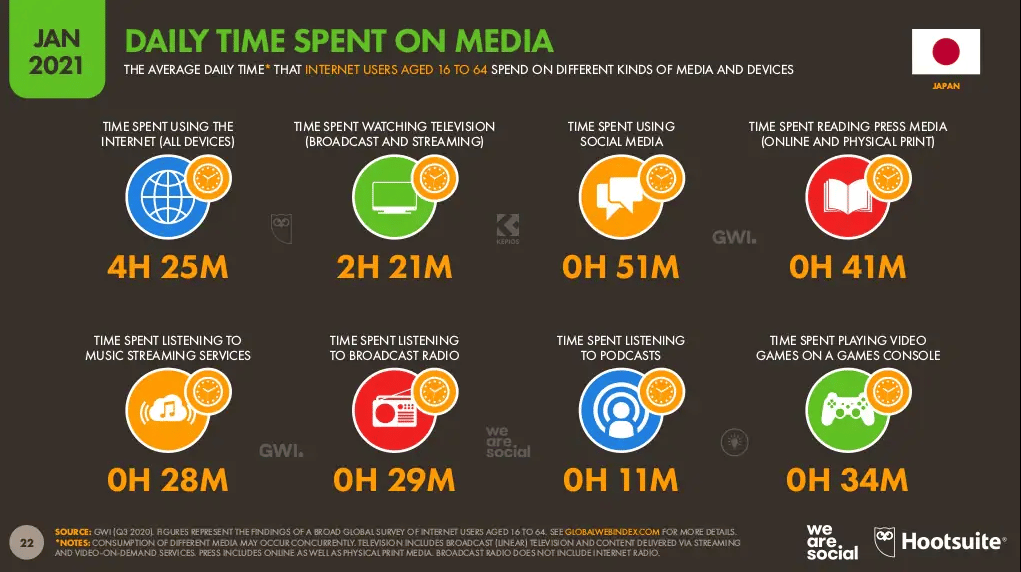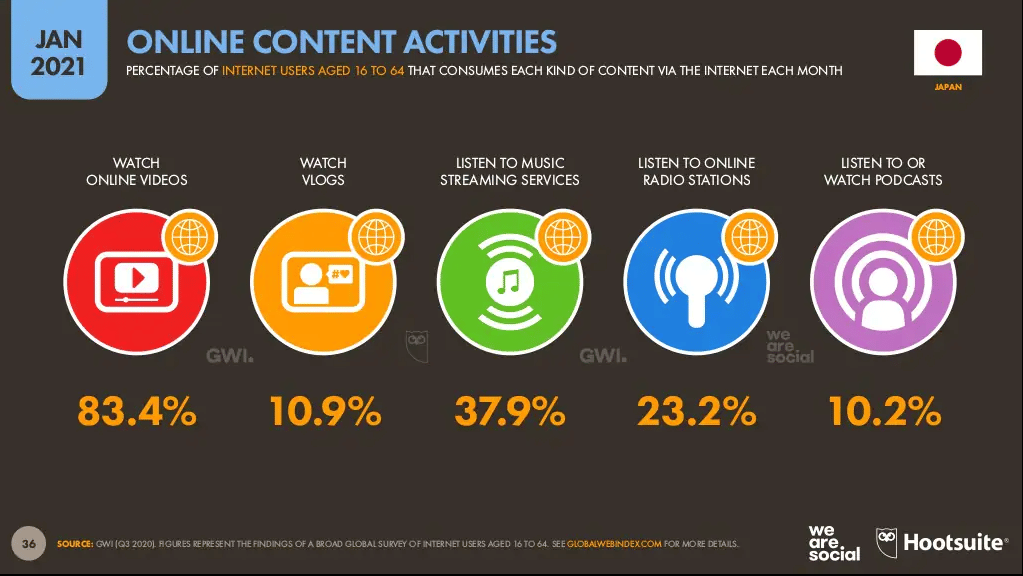 Photos retrieved from Asiapacdigital.com
Biggest social media platforms in Japan
The social media platforms the target market frequently uses are part of the digital marketing landscape. As shown in the graph below, the top 2 social media platforms in Japan by a large margin are Youtube and LINE (a music streaming service). Following behind are Twitter, Instagram and Facebook.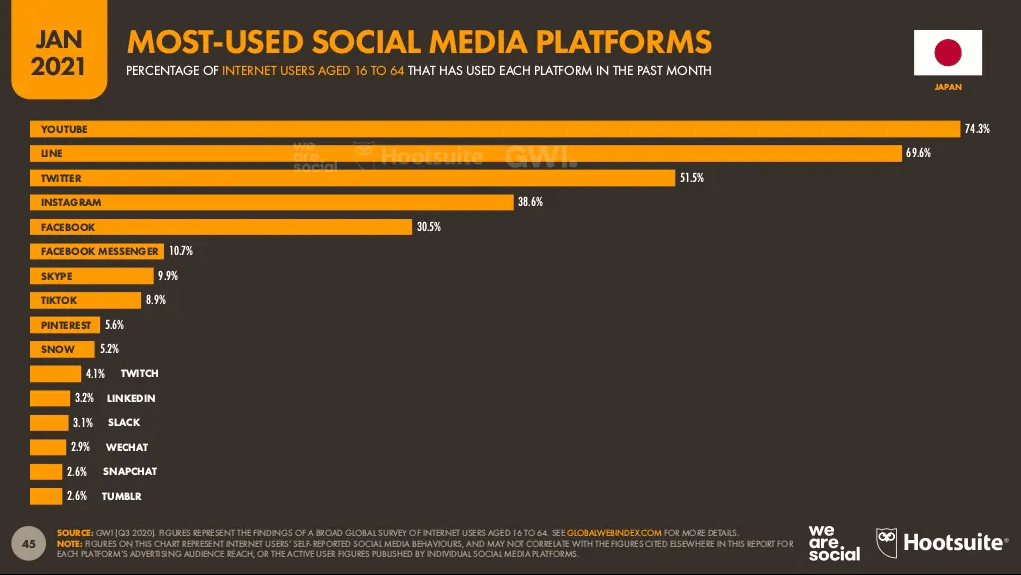 Retrieved from Asiapacdigital.com
Understanding Japan's gambling culture
Before marketing your online casino in Japan, it's essential to understand its culture and policies. It helps you tailor your site based on your audience's behaviour and to ensure you won't violate existing laws. Below are some of the things you need to know about Japan's casino landscape:
Limiting regulations regarding gambling
In Japan, citizens are not allowed to gamble or have to pay high fines or face imprisonment, as stated under the Chapter XXIII of Japan's Criminal Code. However, the country provides exceptions to this law as long as gambling establishments like pachinko slots and lotteries contribute to the general economy. Otherwise, all betting activities are punishable by law, given their non-compliant methods. So before marketing your online casino in Japan, consider the following clauses to prevent violating laws.
The common gambling games in Japan
Given the strict gambling regulations, most forms of gambling, such as table games and slots in casinos, are prohibited. However, that does not mean that people cannot wager for entertainment. They can still enjoy this luxury through gambling games such as lotteries, pachinko and sports betting:
Lotteries – Japan has a law about lotteries known as the Takarakuji law, which states that the country's 47 prefectures and 12 specially designated cities have the right to host lottery games. These are accessible through lottery ATMs or scratch cards available in various convenience stores. On top of that, at least 50% of any form of lottery prize pool should automatically go to the Japanese local governments or charitable organisations.
Pachinko – These are mechanical machines for entertainment found in Japanese parlours. Its gameplay crosses pinball, classic arcade games and slot machines. Since cash prizes are not allowed in Japan, pachinko users receive tokens, cigarettes and other trinkets as rewards.
Sports betting – Horse racing, soccer, bicycle racing and powerboat racing are the most popular sports available for gambling. Citizens can place their bets via ATMs or purchase tickets from convenience stores.
These games are state-regulated and expected to provide a portion of their profits to the Japanese government. It makes them exempt from the Japanese Criminal Code regarding gambling.
There are only a few land-based casinos
Japan has passed a law under the Integrated Resort Development Act, which allows brick-and-mortar casino establishments built as resorts with tourist facilities such as conventions, casino games, recreational activities and hotel accommodations. It's to promote and improve Japanese tourism and support its regional economies. The popular casino resorts in Japan are located in Roppongi Hills and Odaiba.
The rise of online gambling in Japan
Even with strict regulations on casinos, online casino sites are booming in Japan. The attractive welcome bonuses and promotions have enticed people to try this form of entertainment. On top of that, these gambling websites provide convenience for users to have fun at home.
What are Japanese consumers looking for?
Minimalist products
Japanese people are known for their minimalist lifestyle. When designing your site, consider this factor and create an online casino that will appeal to Japanese customers. You can make the layout clean, easy to use and accessible. Additionally, make sure it's scalable across devices to avoid page delays.
Luxury-centred
Japan is one of the largest luxury markets in the world, and every designer brand you can think of is present in stores. Since Japanese consumers are keen on quality, they do not mind spending a lot of money on tried but tested products. Market your product as high quality and emphasise how it can be valuable to them long-term. You can do this by making the design more elegant with exclusive offers such as bonuses and promotions complimenting their lavish taste.
Personalised
Creating a personalised experience for online users will make them feel seen and essential since your content speaks directly to their interests. Consequently, this motivates them to support a brand they can relate to.
Why do you need to apply content marketing to online casino sites?
Content marketing on your casino site will make it more visible and increase traffic. Below are the reasons why:
Helps in educating the audience and increasing brand awareness
Traditional marketing tends to push potential customers away because of its 'in your face' methods that appear overwhelming. On the other hand, content marketing creates brand awareness and educates your audience about your brand. Instead of providing facts about your company, the material offers valuable information for the customer and how it will benefit them. This technique hits two birds with one stone because not only does your customer find something they want while increasing brand awareness.
Content marketing engages the audience more than traditional marketing
While traditional marketing is where it all started, its methods tend to be one-sided and leave the audience as passive receivers. On the other hand, content marketing transforms consumers into active receivers by engaging them. Online materials are patterned to tap into the emotions and focus on providing the best solutions to specific problems of consumers. Online users are more inclined to learn and connect with the brand.
Building trust with communities about your brand
Content marketing does not stop just producing materials online; it also focuses on forming communities since this helps propagate brand awareness. Communities are great for building trust since members can share their experiences with the brand. From an outsider's perspective, they can see that the brand performs well according to other customers' feedback, which invites them to know more about what they have to offer.
Boosts search rankings
Content marketing works best when you pair it with good search engine optimisation. Applying keywords to your text and optimising the loading speed are key areas that can provide a better user experience. The bottom line is: you need to build trust with your potential customers by establishing a proper image of your casino site. A credible image will attract people to subscribe to your site's services and offers.
Tips in marketing in Japan: How to reach Japanese players
Digital and content marketing go hand-in-hand; the former uses online platforms to your advantage, while the latter aims to reach your target audience through content. Moreover, content marketing is the strategy and execution of online material such as videos, blogs and photos that contain information valuable to your audience. It's also about understanding the consumers and providing what they need. Here are some content marketing strategies to reach Japanese players:
Localisation
Localisation is essential to adapt to a country's culture and your customers' lifestyle. Localising your casino content can pique the interest of your potential customers and transform your materials into something they can understand. In Japan, Nihongo is spoken natively by the majority of the country's population. However, localisation isn't simply about word-per-word translating. Instead, you must ensure that the context is not lost in translation by verifying your materials.
Focus on content tailored to your target audience
The general rule of thumb for marketing is to produce content your target audience will like. After all, your goal is to catch your audience's attention and what better way to do that than to follow their interests? Since most of what you produce is casino content, identify which type of content best engages your audience and maintain the momentum you built for your brand.
It can include bonuses, promotions and offers that will engage their attention. Nevertheless, experiment with multiple materials and assess your audience's reception whether the content is received well or poorly. From there, their feedback will help you improve your next content and make it more effective.
Learn from your customers
Using customer feedback helps you improve your marketing strategy. Connecting with your customers is one way of knowing the likes and dislikes of your target audience. Hearing what they say about your brand's services and marketing techniques will give you valuable data on how to improve your business.
Build a marketing calendar localized for Japan
Japan has events for every season. Make the most out of this by creating a marketing calendar. Note all the important dates for Japanese consumers and the trends for these events. From there, pattern your casino content to what will appeal to people the most. For example, events such as Halloween can be maximised by offering bonuses/promotions for specific games. Create engaging content in-line with the theme to pique your readers' interest.
Keeping up with the trends
As an innovation hub, trends in Japan change frequently, so always keep your product and services updated. Research your target market's cultural conventions, local trends and pop culture. Doing so will help you connect with your consumers deeper and produce better casino content that fits their needs.
Learn from your competitors
Observing your competitors is an excellent opportunity to learn how you can improve your marketing strategies. Studying successful strategies and how consumers received it can hint at the possible approach and campaigns you can do. Additionally, taking note of your competitors' casino promotions and offers can help you form better ones that will attract more customers.
Recommendations
Since Japan is newly-transitioned to digital marketing, Japanese consumers value reputation and word-of-mouth recommendations rooted in their traditional marketing methods. Employ SEO Reputation Management techniques to use feedback you receive from your customers to improve brand awareness.
Marketing trends popular in Japan
As Japanese companies move away from traditional methods of advertising, they experiment with various online marketing trends. Using these for your casino content can attract more customers and generate leads. Here are some of them:
Omnichannel marketing
Omnichannel marketing is a strategy wherein businesses utilise various channels to connect with their consumers. Companies use physical stores, websites, social media platforms, and the like. It is all about connecting with customers to create a seamless user experience and ensure their satisfaction.
In using omnichannel marketing, you need to keep the following elements in mind:
Focus on targeting and personalisation
Check what kind of channels work best for your business
Establish a single and consistent voice and brand presence.
Search engine marketing (SEM) and search engine optimization (SEO)
SEO and SEM go hand-in-hand with making your brand visible online; these are the best methods to target a niche audience. The former focuses on optimising your website and making it appear on the top page of search engine results. On the other hand, SEM uses SEO, pay-per-click and different paid strategies to bring organic and paid traffic to your site.
Google and Yahoo Japan are the top two search engines in the country, which means this is where you should make your brand more visible. You can improve your site's SEO optimisation through link building, SEO tools and keyword research to tailor your content to your target audience.
Video Marketing
Video marketing combines narrative and attractive visuals to engage your audience. Moreover, based on Japanese consumer behaviour, most of their time online is spent watching videos on platforms such as Youtube, Instagram and TikTok. Create short yet compelling videos and catch their attention with attractive and engaging infographics and content related to your industry, products or services. Additionally, this is your chance to make your online casino site attractive by combining related graphics to your video and information regarding your current promotional offers.
Social media marketing
Social media marketing promotes your brand on social networks such as Facebook, Twitter and Instagram, enabling customer engagement. With this strategy, businesses retrieve customer data and produce content that their target audience will resonate with.
The top social media platforms in Japan are LINE, Facebook and Instagram. These apps allow tracking online customer behaviour for efficient data gathering. That said, creating an account on these platforms will make it easier for people to spot your online casino. Promoting your casino content on these applications can also increase your leads.
Influencer marketing
Influencer marketing utilises endorsers to promote your brand. These individuals have significant followers and are recognised as experts in their niche. Investing in local influencers in Japan will make it easier for you to enter the market. Letting them review your products and provide honest feedback is enough to generate brand awareness. Their audience is motivated to check your brand and generate new leads. On top of that, it would be beneficial to find personality figures who are known to be in the gambling industry. Having them promote your casino site will convince their fans to check out your bonuses and offers.
Affiliate marketing
Affiliate marketing allows brands to increase sales by partnering with personalities with the same target audience. This partnership benefits both because the affiliate can also get a commission for their efforts. Simultaneously, the product owner gets brand recognition and sales.
This marketing strategy is a great way to enter the Japanese market. Choosing people who follow the same goals as your brand will make it easier for them to recommend your products to their followers. Applying such a method to your casino site will spread the word about the greatness of your offers and promotions.
QWERTYlabs can give you the help you need!
Marketing in Japan is challenging, but QWERTYlabs is here to make your brand stand out in Japan. With our services, you can hit targets without missing a beat. Find out more about how we can help you by contacting us now.