In the European market, Germany is considered to have the highest economic standing and the fourth among developed countries with the highest GDP globally. With the country's open market, dynamic economy, stable political climate, and innovative pursuits in several industries, it is one of the ideal nations in the region to expand your online casino brand.
According to data from an economic development agency Germany Trade and Invest, online advertising is Germany's most extensive form of marketing. However, this comes with challenges. As you enter an entirely new market, there are key aspects of marketing you need to apply to ensure your online casino's success, starting with the right avenue for marketing.
That's why before launching your marketing campaign, it's essential to understand factors such as the e-commerce landscape, trends, and habits of consumers. Knowing these key factors aligns your brand to meet the needs and wants of your target audience through various digital marketing strategies. Read on to find out more about it with the help of QWERTYlabs.
Introducing the DACH market
German commerce is often grouped with other German-speaking countries such as Switzerland and Austria. These three countries make up DACH, the acronym for Deutschland, Austria, and Confoederatio Helvetica. Despite their similarities, the market of each of these countries grows at its own pace.
Germany has the most considerable reach of the three since, according to data from E-commerce Germany, the country makes up 4.54% of the global economy. It also has one of the largest e-commerce markets in Europe, ranking after France and the United Kingdom.
Data insight: Germany by the numbers
When gauging how to market your business anywhere, you should look at all available data to align your branding with the country's present market and trends. To do this, you must first gather relevant data and figures concerning your business.
Since we're primarily looking at the online casino market in Germany, it's key to gather data such as the country's overall population, how many have access to the internet, and how the present online casino industry looks among internet users.
Germany's population
Based on the latest data from the Federal Statistical Office of Germany, the country's current population is 83.6 million as of March 2022. It is the most populous country in Europe and the nineteenth most populous in the world. Based on the data from the Federal Statistical Office, the country's population by age group, the most significant demographic group is people ages 40 to 60, with over 23 million people. In contrast, those aged 20 to 40 come second with 20.3 million.
Internet users in Germany
According to a report from DataReportal, 78.02 million out of the country's entire population were also internet users in January 2022. According to analysis from strategy consultancy Kepios, this figure decreased by 1.6 million between 2021 and 2022. On the other hand, Kepios analysis shows that there were about 72.6 million social media users in the country by January 2022, which is a 10% increase from the previous year.
The online casino industry in Germany
It's difficult to estimate the number of online casino players in Germany because there was a ban on online gambling until new regulations were imposed in 2021. Through the German Interstate Treaty on Gambling, called ISTG 2021, private casino operators can apply for licences for online poker, slot machines, and sports betting. In light of this data from a 2021 Delasport study, the nation's iGaming market is set at €2.8 billion, and it is expected to grow to €3.3 billion by 2024.
What does the data tell you?
Although the country has the most significant market share in Europe and a large percentage of its population has internet access, its online gambling industry is still relatively small.
The industry is expected to grow with the new Interstate treaties that provide a legal structure for online gambling. As an online casino brand, it's essential to understand and adhere to such legislation to protect your business.
In the context of marketing, the data will help you outline a marketing strategy to target the appropriate demographic and make sure that your promotional efforts stay within the regulations in place. 

The digital landscape in Germany
Once you clearly understand the online casino market in Germany, the next step is to look at the nation's digital landscape to align your marketing strategies appropriately. To do this, you need to know the most viable marketing tools used in the country.
Digital marketing trends in Germany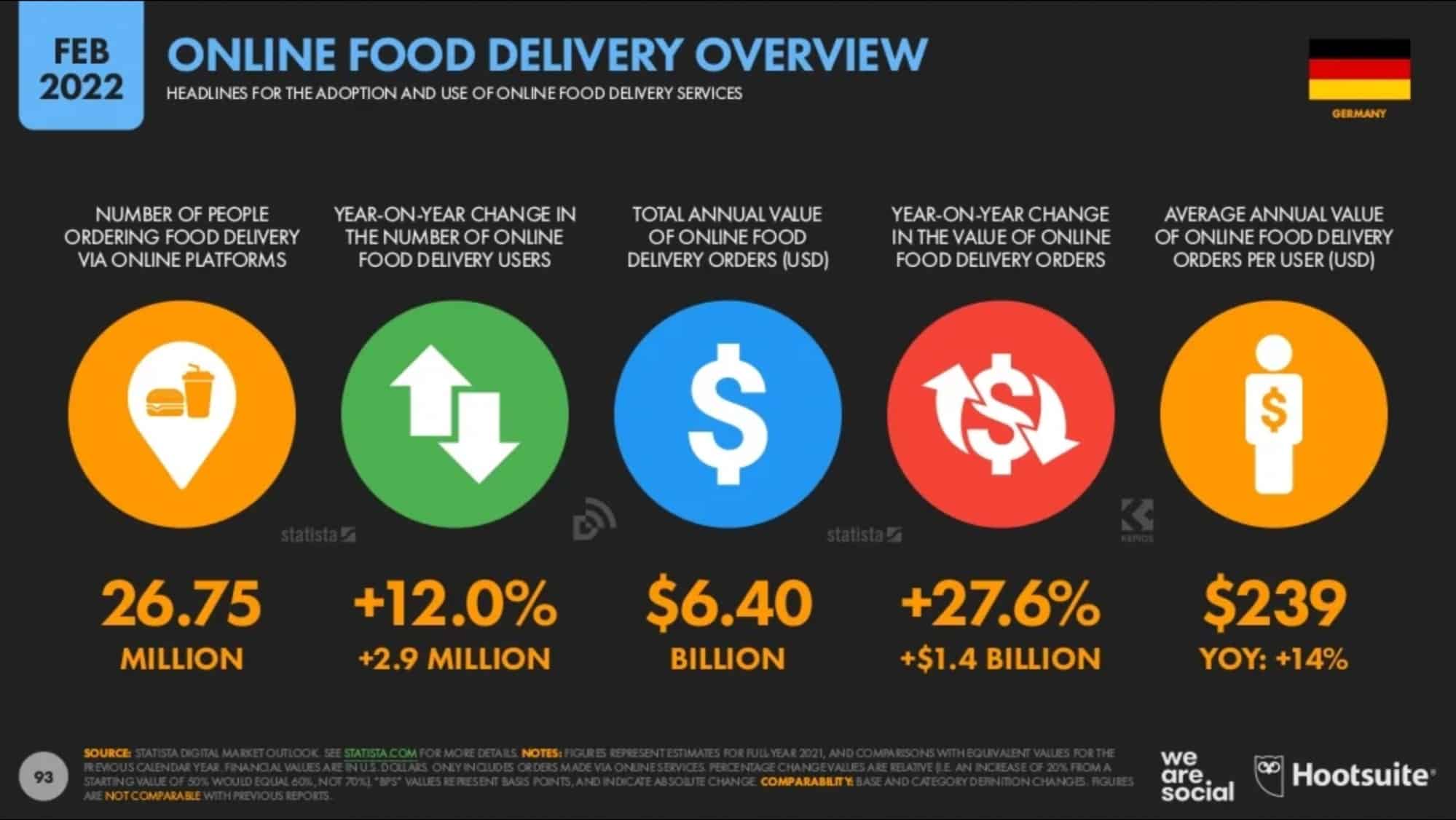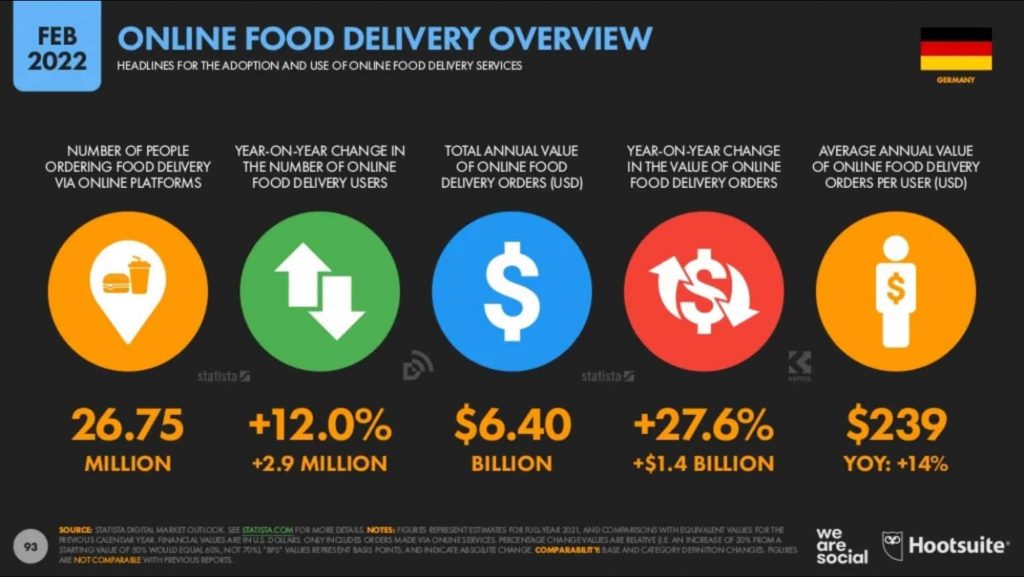 Source: https://datareportal.com/
Looking at the data provided above, you'll see that 56.7% of online users conduct research before purchasing a product or service. Coming in second is the number of internet users that visited a brand's website at 51.1%.
This data tells a powerful story of how people engage with products in the current digital climate. The primary goal of a consumer is to gain factual information about a product or service and brand before they commit to it.
As a digital marketer, it's your job and responsibility to provide such information for your target audience, which is where content marketing comes in. As an online casino brand, you need to maintain a blog where you provide information about the casino industry at large and more niche topics that your target audience is likely to research.
Email marketing trends
At this point, email marketing might sound like an ancient tool, but it remains one of the most effective ways to promote your business. According to data from Statista, 87% of the German population used email to send or receive messages in 2020.
Within this percentage of email users, 13% of daily users and just under 20% use emailing platforms several times per week. Though these numbers have declined when compared to the 2017 data, these are still solid figures in the context of Germany's population.
Email platforms remain a viable marketing tool due to their feasibility and the opportunity to build relationships with prospective consumers. However, before you can benefit from this tool, it's essential to learn about the General Data Protection Regulation within the country, which outlines the rules when creating campaigns for direct marketing through emails, telephones, and other traditional means.
SEO trends
Like the rest of the world, offering straightforward and quality content is the best way to rank up in search engines. This can be done by using SEO techniques to boost traffic and discoverability of your business.
Search Engines play a crucial role in brand discoverability in Germany, with more than 70% of Germans using the tool for research purposes. Among these users, 40% use Search Engines for price comparisons, while more than 30% use them to find consumer reviews.
In addition, data from a similar web shows that Google is the primary search engine used in the country, with a total of 88.36% market share as of August 2022. It offers a significant percentage, especially compared to the search engine Bing, which comes in second with a 4.22% market share.
This data proves why it's vital for your business to apply the appropriate SEO techniques to maximise this free tool to increase your brand's traffic and visibility. To do so, you need to develop a solid content marketing strategy that engages your audience.
It's also important to remember why niche-specific content is a big deal for your brand. Among the most prominent reasons include finding your audience easily, building your credibility with them, and thereby helping you improve your brand visibility.
For example, as an online casino brand, you need to target your audience by producing content in your niche that will offer them value. Providing them with information about the best online casino games, casino gaming strategies, and more help them resolve their inquiries. Still, it enables you to establish yourself as an authority in the niche.
Social media marketing trends
Based on data from Statista, 60.88 million people use social media, just below 80% of the country's overall population. Due to easier accessibility, 96% access their social media through mobile devices, according to Gaasly.
Among the list in this category, only social media has a wide range of platforms marketers can use to market their business. We've listed the top-performing social media platforms used in the country with accompanying data.
WhatsApp
About 87% of social media use WhatsApp, an internet messaging platform in Germany. A big reason for its popularity compared to SMS is the ability to communicate through text, video, and audio with everyone for free.
Youtube
Data from Google's advertising resources said that Youtube had 72.60 million German users in early 2022. In addition, they reached 93.1% of the country's overall internet user base.
Facebook
According to data from Meta's advertising resources, there will be 25.75 million Facebook users in Germany in early 2022. The platform is popular among users ranging from ages 25 to 34.
E-commerce trends
Regarding e-commerce, Germany has one of the largest markets in Europe. Based on data from the country's International Trade Administration, there was a total sale of 127.5 billion in the industry during 2021, a 24% increase from the 2020 data.
Among the retailers favoured by online users in 2020, Amazon.de was on top of the list, followed by otto.de, zalando.de, mediamarkt.de, and lidl.de. These five make up about 47% of the e-commerce market.
You'll notice from the list of retailers that there are several fashion retailers. In Germany, 76% of online shoppers purchase clothing and 73% purchase shoes. Following this, the next most significant purchases are food and drinks at 69%. Since online shopping requires payments over the internet, it's also essential to consider the country's most popular mode of payment.
According to UnitedAds, 80% of German customers prefer payment using invoices which is why this mode is available in about 90% of online merchants. Following this are Paypal and other eWallets such as Apple Pay and Google Pay.
Tips on content marketing in Germany
It's not enough to know the online marketing tools you can use to grow your business, you also need to learn how to use them properly to ensure you're taking the right steps in reaching your target audience. You can do this by following these essential tips in marketing in Germany:
Know your audience
Like any good marketing strategy, the key to conducting a successful campaign is doing research to know your audience. It means understanding your audience's age, gender, education level, and online buying habits, which can be done by creating a buyer persona. When doing this, you also need to hone in on how their culture affects their online purchasing behaviour to align your content to them instead of simply gearing it to a general audience.
Localise your content strategy
In line with the first item on the list, knowing your audience allows you to localise your content strategy, which is ideal when you're targeting a specific country. It includes creating content in the language, offering your audience's preferred payment method, and making sure that your business has customer service representatives that are either German or know the country and its culture well.
Adhere to the country's consumer laws and regulations
Regardless of whether you're an international brand or based in Germany, you must be aware of the consumer protection laws in place to ensure that your company's processes are above-board. These laws are in place to make sure that consumers receive fair and honest service, quality goods to purchase, and accountability.
In content marketing, consumer laws ensure that you're conducting a responsible marketing strategy and providing accurate information about the products and services you offer to increase your brand trustworthiness.
Make sure your content is credible
In content marketing, it's important to remember that providing your target audience with a solution to their problems is the goal. That's why you need to ensure that you're providing them with valuable, relevant, and accurate information they can use when making content.
Showing credibility through accurate content convinces your audience that you're an expert in your business and field. Though you're not directly marketing your product or services to them, offering them viable solutions through your content will encourage them to turn to you whenever they need a solution to relevant problems.
Be consistent with your content
Publishing sporadic content is one of the pitfalls of content marketing since this leaves a bad impression on your target audience. It is significantly worse if you only appear when you need them to purchase your product or service.
In the digital space, brand success is rooted in trust and loyalty. Consistency in frequency and substance ensures your audience that you provide credible information in your niche without fail.
When you prove that you can offer them solutions to their problems every time, they're more likely to engage with you when you directly advertise your product or service.
Be accessible to your target audience
As an online casino brand, being accessible to your target market comes in more ways than one. The most significant way to ensure you're accessible to your audience is by following all the guidelines and regulations required to operate in their region.
In Germany, that means applying for a license and adhering to its rules. Once you've ensured that, the next step is finding and retaining your audience by providing them with valuable content they can freely access without strings attached.
One way casinos do this is by providing niche-related content that your audience can access through your site. Not only does this improve your web traffic, but it also helps prove that you're an expert in the industry.
Aside from using SEO to rank up in search engines, you also need to learn their online habits and the platforms they use. Once you've identified their online patterns, you'll know which platforms they use frequently and how they interact with Search Engines. You can use this knowledge to your advantage by ensuring you have a presence in these channels so they can quickly discover you.
In addition, you need to make sure your platform is accessible across several devices. This means ensuring that your website has an exemplary user interface that your target audience can easily navigate and that your social media pages have engaging posts that directly target them.
Keep track of forecasts on the country's digital market
Just as your business grows, so does your target audience. With the digital space constantly evolving, it's only natural that the habits and behaviours of your audience will also change. When this happens, you must be adaptive and improve your marketing strategies to align with the current trends.
More than being adaptive, you need to be prepared and get ahead of the change to save time scrambling for new strategies. Though it might seem impossible to predict how consumer behaviour will change over time, there are many data forecasts you can inspect to see the market trend projections in any given industry. Constantly checking these projections allows you to develop strategies ahead of time and prepare your business for future changes.
Employ good SEO strategies
While applying relevant keywords is a crucial part of employing SEO strategies, it provides your target market with valuable content that truly helps you gain and retains traffic on your website for better brand visibility.
To help you along, you need to identify the top SEO tools your business needs to grow and reach as much of your audience as possible. The most common tools you'll need include Google Analytics, Ahrefs, Semrush, and more.
How to develop brand favourability with German consumers
With the help of QWERTYlabs, your online casino platform will have many marketing tools to help build your brand visibility and consumer loyalty. It can be accomplished with our wide range of services, including smart content creation, link building, and brand protection.
Reach new heights in content marketing in Germany with QWERTYlabs
When done right, Digital marketing will bring endless benefits to your online casino brand. This includes building a large consumer base, increased brand and product engagement, and deep brand loyalty.
However, this is a challenging feat to accomplish. Creating a relevant marketing campaign requires a lot of research and resources. The good thing is that dedicated firms like QWERTYlabs can help you achieve your marketing goals and make your brand stand out in Germany.
Once you're ready to grow your online casino business, be sure to contact us so we can begin the process of making your brand the best it can be.